This article first appeared in Personal Wealth, The Edge Malaysia Weekly, on December 23, 2019 - December 29, 2019.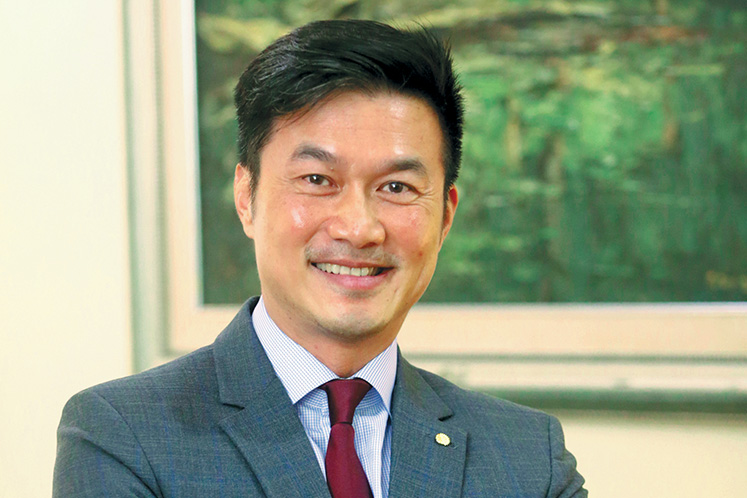 Seeking high-quality care, some Malaysians choose to have medical treatment overseas. However, the process — from the initial inquiries to travel arrangements and follow-up care — can be troublesome and costly.
Yet, some people still prefer to have treatments abroad, possibly because of the long wait they may have to endure just to see a specialist at a public hospital in Malaysia, according to a 2018 Sun Life Financial Asia survey.
"More often than not, the best medical expertise is in public hospitals. However, as Malaysia's public healthcare system is overburdened, patients have to go through a long waiting period to see a specialist and seek the right treatment," says Raymond Lew, CEO and country head of Sun Life Malaysia.
Last month, the insurer and CIMB Bank Bhd rolled out Sun Prestige Health (SPH), a non-participating universal life plan, to resolve this pain point. Targeted at the mass affluent, the product provides protection from early to advanced stage illnesses and access to medical treatments abroad, along with full concierge services.
"SPH includes high annual and total limits, allows another person [from the insured party's side] to accompany the patient abroad, makes all the necessary logistics and administrative arrangements, provides a daily hospitalisation allowance and covers follow-ups after returning to Malaysia. We believe this tailor-made protection solution caters for the growing needs and demands of the segment by meeting their specific requirements for premier medical benefits and services," says Lew.
SPH customers can enjoy an RM8 million annual limit and RM16 million lifetime limit at hospitals around the world for selected conditions and procedures. They will receive RM800 per day for hospitalisation, as well as early-stage illness and reset benefits. SPH does not cover hospitalisation or treatments in Malaysia.
The covered conditions include treatment or surgery and all medical expenses related to cancer, coronary artery bypass surgery, heart valve surgery, neurosurgery, live-donor organ transplant and bone marrow transplant.
There are other products in the market with similar goals, albeit with different structures and breadth. For instance, Citi Malaysia's premier service — Citigold — has the InternationalExclusive plan with AXA Affin General Insurance Bhd, which provides global medical coverage. Prudential Malaysia has a PRUMedic Overseas rider that covers treatments for five illnesses in three countries. There are also international health plans for those who travel often or live abroad.
Lew says SPH is different in the end-to-end full concierge services it provides to customers. "Everything starts with a simple phone call. Once the customer is diagnosed with any of the covered illnesses, he can call us or our third-party administrator for a claim. Upon the claim approval, our third-party administrator will undertake all the necessary arrangements for the customer and his companion."
These services include getting a second medical opinion from medical experts globally, identifying the most appropriate hospital abroad for treatments and arranging the logistics or accommodation. Translation services will be provided if necessary.
"Upon completion of the treatment abroad, return flight and follow-up care — if necessary — will be covered. All other expenses related to our services will also be borne by us. The full concierge services will ensure peace of mind for our customers so they can fully focus on their recovery," says Lew.
While SPH is targeted at the mass affluent, it is open to all customers who want to invest in an insurance product that gives them access to medical treatments globally. However, the mass affluent market is a growing one and may find these kinds of products particularly appealing.
"As Malaysia's economy grows, we expect the number of affluent individuals to increase as well. Many of our competitors have launched products targeting this segment. It is one of the more lucrative segments, which currently holds 20% to 40% of household wealth in Southeast Asia and is likely to increase to 40% to 65% in the next 10 years. Affluent individuals do not mind paying more for a good product, especially when they see real value in it," says Lew.
As its bancassurance partner, CIMB is the sole distributor of the product. SPH is open to its private banking clients as well.
"In Malaysia, CIMB Preferred has about 150,000 customers in the mass affluent group, with RM250,000 and above under management. This segment seeks exclusivity, new experiences and emotional connections when making purchases. With reference to the findings of the health protection gap survey, we believe there will be a demand for medical treatments overseas from this segment," says Samir Gupta, CEO of group consumer banking at CIMB.