This article first appeared in Capital, The Edge Malaysia Weekly, on April 30, 2018 - May 06, 2018.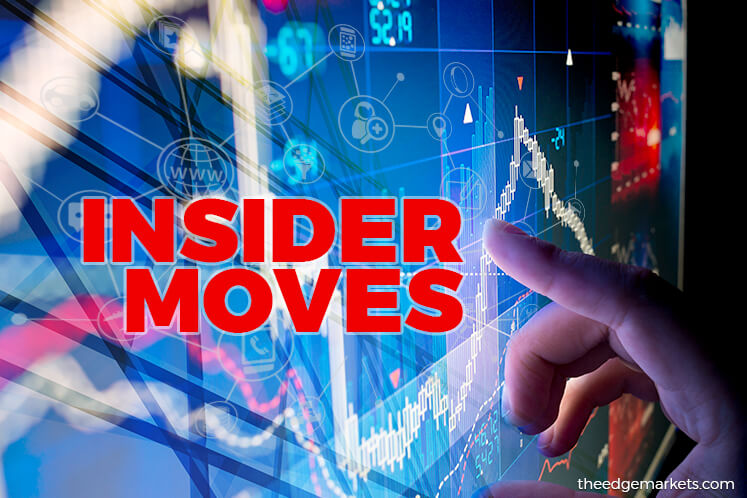 Notable filings
FROM April 16 to 20, notable shareholding changes included that at SMRT Holdings Bhd. The ACE Market-listed education and human resources training provider announced on April 16 that Fikir Wawasan Sdn Bhd ceased to be a substantial shareholder after disposing of 34.2 million shares or a 8.47% stake via a direct business transfer on April 13.
The buyer of those shares was Dayatahan Sdn Bhd, which now directly holds 57.3 million shares or a 14.19% stake, making it SMRT's second largest shareholder.
Bloomberg data shows the shares were sold in a single tranche at 16 sen apiece — a discount of 5.88% to its closing price of 17 sen on the open market that day — for a total sum of RM5.47 million. SMRT closed at 15.5 sen last Wednesday. Dayatahan is owned by two individuals, Roslan Abdul Ghani and Ahmad Najmi Kamaruzaman.
A few days later, the biggest shareholder, Special Flagship Holdings Sdn Bhd, acquired 250,000 shares on the open market — on April 18 and 19 — raising its direct interest in SMRT to 59.08 million shares or a 14.63% stake. Special Flagship's shareholders include SMRT's founder and chairman Tan Sri Palaniappan Ramanathan Chettiar and his wife Puan Sri Kamatchi Malayandi.
Last month, SMRT and Creador II LLC — a private equity firm led by Brahmal Vasudevan — mutually terminated their collaboration agreement in relation to a proposed conditional takeover of Asiamet Education Group Bhd, without citing a reason for the termination.
Over at Acme Holding Bhd, the plastic component manufacturer and property developer announced on April 16 that Inspire Sense Sdn Bhd had emerged as its third largest shareholder. Inspire Sense bought 41.94 million shares, or a 18.24% stake, from Supptech Holdings Sdn Bhd in an off-market transaction on April 11. The shares were exchanged at 34 sen each, a 0.5 sen premium over its closing price of 33.5 sen that day.
Supptech, the private vehicle of Acme chairman Datuk Seri Dr Lee Kuang Shing, has been paring its stake in the company. It now holds a 20.07% stake. There are two individuals behind Inspire Sense, namely Tang Tiam Hock and Ooi Kian Chuan.
Meanwhile, Yong Tai Bhd's executive director Datuk Seri Lee Ee Hoe disposed of 4.2 million directly-held shares, or 0.87% shareholding, on the open market over April 16 and 17 for RM6.35 million in total. He is left holding a direct 6.09% stake in the Melaka-based property developer as well as another 1.85%, indirectly.
The company, which is building the multi-billion ringgit Impression City in Melaka, had a few days earlier set up a RM1 billion 20-year sukuk programme to help finance its activities.
Notable movements
Shares of Inari Amertron Bhd, a player in the electronics manufacturing services segment, have been volatile this month. The stock, which hit a year-to-date (YTD) bottom of RM1.593 on April 4, then went on to gain 29.9% to April 13 (RM2.07) — off its YTD high of RM2.514 on Jan 8 — before trending down again. It closed at RM1.77 last Thursday.
The Employees Provident Fund ceased being a substantial shareholder of the company after disposing of two million shares on April 11. Inari's director and largest shareholder, Datuk Seri Thong Kok Khee, sold 300,000 shares (0.198%) on the open market on April 20, leaving him with a total interest of 19.84%.
Kumpulan Wang Persaraan (Diperbadankan) has recently been raising its stake in the company, "through bonus issues shares received due from stock borrowing and loan activity received in the open market", according to a stock exchange filing on April 23, bringing its total shareholding to 14%.
As for Berjaya Assets Bhd (BAssets), the stock has climbed steadily since April 4, gaining 16.3% over three weeks to close at 46.5 sen on April 26 — not far off its YTD high of 48 sen. Filings show the Sultan of Johor Sultan Ibrahim Sultan Iskandar actively bought shares on the open market. Between March 30 and April 23, he bought some 21.2 million shares, raising his directly-held stake in the developer of Berjaya Times Square to 11.79% or 301.68 million shares.
Save by subscribing to us for your print and/or digital copy.
P/S: The Edge is also available on Apple's AppStore and Androids' Google Play.