This article first appeared in Capital, The Edge Malaysia Weekly, on September 11, 2017 - September 17, 2017.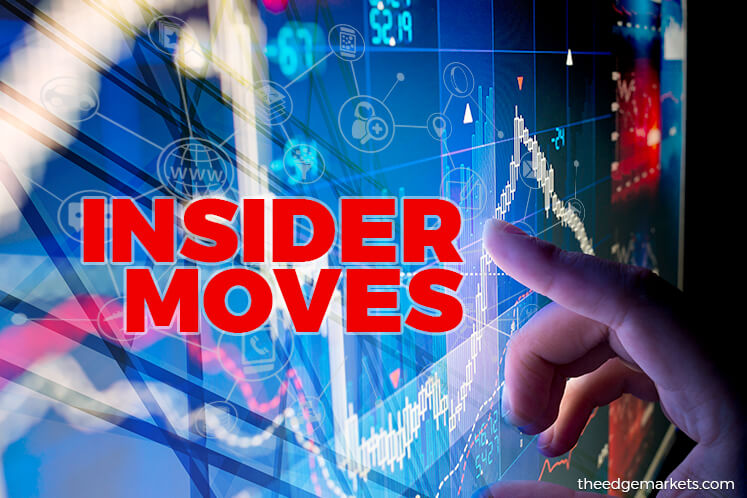 Notable filings
IN the holiday-shortened week of Aug 28 to 30, notable filings included that on the emergence of a new substantial shareholder, Duta Global Sdn Bhd, in tile manufacturer Seacera Group Bhd.
Duta Global acquired 90 million shares or a 26.81% stake on Aug 29 via a share issuance at RM1 each, being partial payment for 250 acres in Semenyih that Seacera purchased from its subsidiary. The land is part of a 501-acre tract earmarked for a township development that has an estimated gross development value of RM10 billion and will take 10 to 15 years to complete. Duta Global is controlled by Datuk Ismail Othman and Datin Zainab Mansor.
At its close of 94 sen last Wednesday, Seacera was down 41.6% from its peak of RM1.61 on May 8.
Meantime, veteran construction player Datuk Ng Kee Lin ceased to be a substantial shareholder in Gabungan AQRS Bhd after selling 1.53 million shares between Aug 25 and 30. Ng, who became a substantial shareholder in August 2014 following a private placement, would be left with 20.44 million shares or a 4.76% stake.
The counter has performed well this year, up roughly 86.8% year to date as at last Wednesday's close of RM1.70. It continued to rally despite the exit of founder Lim Kok Ann in March after selling his 8.9% stake.
According to an Aug 28 filing, Sultan Ibrahim Sultan Iskandar acquired 887,100 shares in 7-Eleven Malaysia Holdings Bhd on Aug 24 and 25. This, plus another purchase of 2.45 million shares last week, bumped up his holding to 9.22%. The Sultan of Johor had emerged in 7-Eleven Malaysia Holdings in early August with a 8.44% stake or 93.7 million shares. The counter gained 2.9% from Aug 1 to close at RM1.41 last Wednesday.
Filings also show the Employees Provident Fund upping its stake in a number of banking stocks. It had bought a total of 6.52 million shares in AMMB Holdings Bhd as at end-August, increasing its stake to 9.76%. The EPF also bought 6.9 million shares in Malayan Banking Bhd, bumping up its holding to 1.26 billion shares (about 11.9%) as at Aug 30. In Public Bank Bhd, the EPF acquired 9.5 million shares to raise its equity interest to 509.9 million shares (about 13.2%) as at Aug 30. The banking stock is up roughly 6% year to date.
Both the EPF and Kumpulan Wang Persaraan Diperbadankan bought 4.06 million and 4.5 million shares respectively in CIMB Group Holdings Bhd amid a 50.3% rally year to date.
That said, the EPF sold some 697,900 shares in BIMB Holdings Bhd while the bank's controlling shareholder, Lembaga Tabung Haji, bought 30.2 million shares on Aug 29, increasing its stake to 870.04 million shares (53.12%). BIMB Holdings has risen 12% year to date.
Murali Nair surfaced as a new substantial shareholder with an 8.77% stake in ACE Market-listed Systech Bhd, following a share issuance at 87 sen each as partial payment for a 51% stake in Singapore company Post Link Pte Ltd. At its close of 40 sen last Wednesday, Systech had rallied more than 145% year to date.
Notable movements
Kerjaya Prospek Group Bhd's closing price of RM3.64 last Wednesday indicates that it is trading at multi-year highs. Year to date, it has risen over 68%.
On Aug 23, the Tee family's Amazing Parade Sdn Bhd sold 15 million shares (a 2.7% block) in the company to the EPF at RM3.48 apiece off market. This was at a 5.2% discount to Kerjaya Prospek's closing price of RM3.67 that day. Following the sale to the EPF, the Tees, together with another family vehicle Egovision Sdn Bhd, control 70.31% of Kerjaya Prospek.
At its close of RM4.07 last Wednesday, Unisem (M) Bhd had gained roughly 72.5% year to date. This added about RM1.26 billion to the company's market capitalisation of RM2.99 billion. Chairman and group managing director John Chia Sin Tet has been steadily increasing his stake in the company. In the last week of August, he bought 436,500 shares, raising his direct holding to 7.3%. He holds another 16.6% indirectly.