This article first appeared in Capital, The Edge Malaysia Weekly, on May 27, 2019 - June 02, 2019.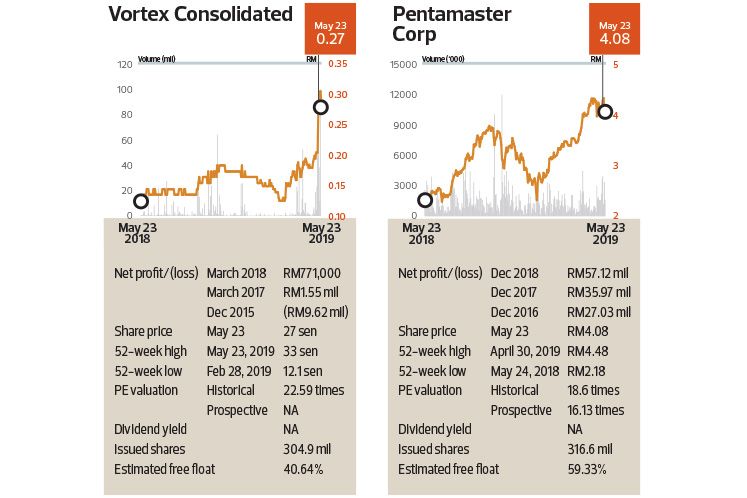 Notable filings
FROM May 13 to 17, notable filings included those at MQ Technology Bhd. On May 13, the industrial mould manufacturing company announced that Teh Eng Huat had ceased to be a substantial shareholder after disposing of 3.5 million shares or a 0.55% stake on May 10. It is not known at what price and to whom the shares were sold.
Then, on May 21, MQTech announced that Teh had re-emerged as a substantial shareholder after acquiring 4.5 million shares or a 0.7% stake on the open market on May 17. To date, Teh holds a 5.527% stake in the company.
On May 13, substantial shareholder Heng Yong Kang @ Wang Yong Kang disposed of 18.99 million shares or a 2.96% stake in MQTech on the open market, retaining 11.21% equity interest.
Heng continued to pare down his holding on May 16, disposing of 30 million shares or a 4.67% stake. The disposals left Heng — the second largest shareholder after Gerald Nicholas Tan Eng Hoe, who has a 10.74% stake — with 6.54% equity interest as at May 21.
Over at Bumi Armada Bhd, the Employees Provident Fund (EPF) sold a total of 104.57 million shares or a 1.78% stake in the floating production, storage and offloading vessel provider to the oil and gas industry between May 8 and 13. This reduced its holding to 5.57%.
The counter has been inching up so far this year, reaching 19 sen last Tuesday from 15.5 sen at the start of the year and giving the group a market capitalisation of RM1.12 billion. While this is far off from its five-year peak of RM3.85 per share, the stock had added 22.6% to its value so far this year.
Meanwhile, Prosper Palm Oil Mill Sdn Bhd (PPOM) acquired a total of 2.16 million shares or a 1.03% stake in United Malacca Bhd between May 9 and 13.
As at May 15, PPOM held a 10.38% stake in the oil palm plantation company — both directly and indirectly via Prosper Trading Sdn Bhd. This makes PPOM the second largest shareholder after Oversea-Chinese Banking Corp Ltd, which has a 19.8% stake.
Prosper Trading is also the second largest shareholder of oil palm plantation company Far East Holdings Bhd with a 23.73% stake, behind Perbadanan Kemajuan Pertanian Negeri Pahang that holds 25.18% equity interest.
Notable movements
During the period in review, the share price of Vortex Consolidated Bhd rallied 48.78% to 30.5 sen, giving the IT products retailer and property development company a market capitalisation of RM372 million.
On May 14, Pentagon Parade Sdn Bhd acquired 10.966 million shares or a 0.9% stake in Vortex on the open market, emerging as a substantial shareholder with 7.988% equity interest. Pentagon Parade is the investment vehicle of Goh Eugene, an executive director at Vortex.
Last December, Vortex diversified into property development, with its maiden project being the mixed-use The Louvre @ Country Heights in Kajang worth RM341.81 million. The group is also diversifying into the money-lending business.
Pentamaster Corp Bhd's share price increased 5.6% to RM4.34 during the period in review, giving the semiconductor and other electrical testing company a market capitalisation of RM1.376 billion.
In the same period, Kumpulan Wang Persaraan (Diperbadankan) sold a total of 1.91 million Pentamaster shares or a 0.6% stake, leaving it with 8.97% equity interest. KWAP is the company's second largest shareholder after Chuah Choon Bin, who has a 19.64% stake.
In the first quarter ended March 31, 2019, Pentamaster's net profit jumped 170.7% to RM19.56 million, on the back of a 19.5% increase in revenue to RM118.76 million. Year to date, the counter has rallied 47.5%, closing at RM4.10 last Tuesday.