This article first appeared in Capital, The Edge Malaysia Weekly, on September 24, 2018 - September 30, 2018.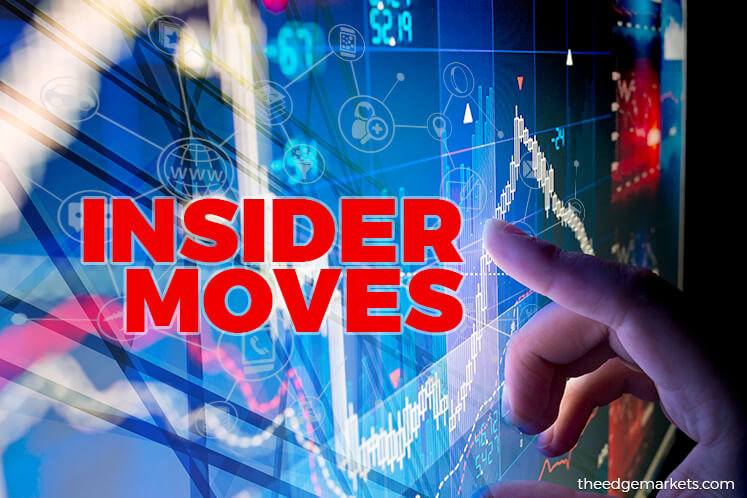 Notable filings
NOTABLE filings on Bursa Malaysia between Sept 7 and 14 included the abrupt exit of Gemtek Investments Co Ltd from apparel manufacturer turned ICT player G3 Global Bhd.
Taiwan-listed Gemtek sold all of its 123.75 million G3 Global shares, or a 30% stake, for 31 sen apiece in five off-market transactions, worth a total of RM38.36 million.
Gemtek had first emerged with a 12.5% stake in G3 Global (known at the time as Yen Global Bhd) in June 2016 via a private placement.
Some of the shares sold were likely picked up by executive director Goh Kok Beng, who now has 24.25% shareholding. His vehicle, Global Man Capital Sdn Bhd, acquired 46.75 million shares off-market on Sept 7, a volume that matches one of the Gemtek transactions.
Meanwhile, Datuk Tiah Thee Kian, the major shareholder of TA Enterprise Bhd, continues accumulating shares despite his failed mandatory takeover offer (MGO). He added 3.3 million shares to bump up his stake to 38.53% on Sept 12, the day the company announced his MGO had failed and that shareholders who had accepted the offer would get their shares back, filings with Bursa show.
Tiah had launched a RM755 million MGO at 66 sen per share in July after his interests and those of persons acting in concert collectively crossed the 33% threshold. Independent adviser BDO Capital Consultants Sdn Bhd had advised shareholders to reject the offer as it was "not fair and not reasonable" since Tiah intends to keep TA Enterprise listed.
At Rimbunan Sawit Bhd, non-executive director Tiong Kiong King sold 492,400 shares, according to several Bursa filings between Sept 12 and 14. That brings his total disposals since March to 901,500 shares, leaving him with a direct shareholding of 23.24 million shares, or 1.64%.
Kiong King is the brother of Tan Sri Tiong Hiew King, executive director of Rimbunan Sawit. Hiew King is also founder cum executive chairman of the Rimbunan Hijau Group and dual-listed Media Chinese International Ltd.
Notable movements
On Sept 13, OCK Group Bhd closed at 57 sen per share, its lowest closing price since December 2014, and nearly a four-year low. A Bursa filing on the same day showed major shareholder Aliran Armada Sdn Bhd picking up 330,000 shares the week before in the telcommunications network services provider (TNS), bumping up its direct shareholding to 37.21%.
Aliran Armada is the vehicle of managing director Ooi Chin Khoon, who controlled a 37.58% stake as at Sept 19. Ooi had begun the year with an overall shareholding of 36.7%.
Publicly available data shows that Aliran Armada has been buying up OCK Group shares over at least the past 12 months, amid a downtrend that has seen Malaysia's largest TNS player lose over 35% of its market capitalisation.
OCK Group saw margins squeezed last year as net profit fell 7.5% to RM24.57 million despite revenue growing 20.9% to RM485.43 million. Its net profit for the six months up to June 30 this year was down 12.65% to RM9.35 million as revenue dipped 5.6%.
At Press Metal Aluminium Holdings Bhd, co-founder and executive director Datuk Koon Poh Tat pared his holdings by two million shares on Sept 6, a Bursa filing on Sept 7 shows.
That left him with 125.79 million shares or 3.2% direct shareholding in the aluminium smelter and extruder. On that day, the counter ended trading at RM4.86, 30.29% higher than its closing price of RM3.73 a year before.
However, the stock has seen some volatile movements within the 12 months. From a year's high of RM5.80 in end-February, it fell as much as 33.62% to RM3.85 on April 6. It then staged a sharp rebound, gaining RM1.38 or 35.84% over the subsequent two weeks to touch RM5.23 on April 19.
Interestingly, Koon had been accumulating the stock between March and August. His last disposal of 140,000 shares in January had left him with 119.76 million shares.
Save by subscribing to us for your print and/or digital copy.
P/S: The Edge is also available on Apple's AppStore and Androids' Google Play.