This article first appeared in Capital, The Edge Malaysia Weekly, on February 24, 2020 - March 01, 2020.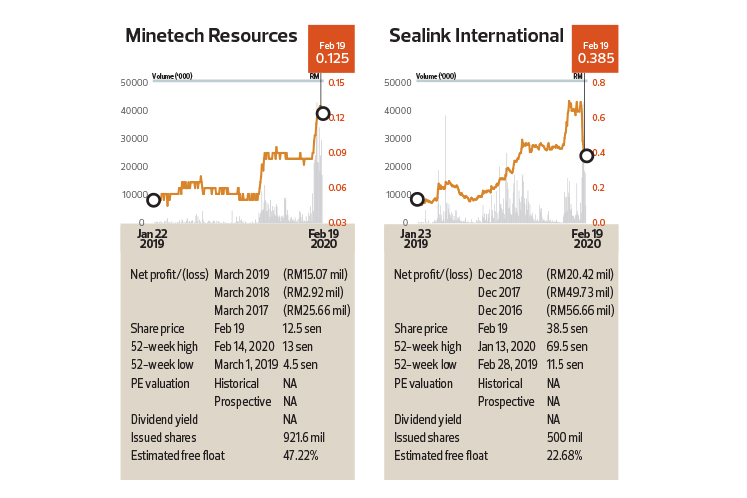 Notable filings
BETWEEN Feb 10 and 14, notable filings of shareholding changes in Bursa Malaysia-listed companies included that at Euro Holdings Bhd, which saw the emergence of a new shareholder — SPA Furniture (M) Sdn Bhd — after the latter acquired 136.32 million shares, or a 51% stake, in the office furniture maker.
SPA Furniture is held by Datuk Seri Lim Teck Boon and his father, Lim Chaw Teng. With the acquisition of the shares, a mandatory general offer (MGO) has been triggered for the shares they do not own.
The shares were acquired at 20 sen each from eight Euro Holdings shareholders, including its managing director, Datuk Seri Choong Yuet Keong @ Tong Yuen Keong, who sold his entire direct stake of 11.5%.
SPA Furniture is now obligated to make an MGO at 20 sen per share. The Lims intend to keep the company listed on the stock exchange.
Meanwhile, Goodway Integrated Industries Bhd executive director Tai Qisheng increased his stake in the company by 16.6%, or 24.31 million shares, as a result of a private placement arrangement undertaken by the company.
According to a circular issued by the company, the shares were subscribed at 16 sen per share, or  RM3.89 million, which was fully satisfied through cash.
In the first quarter ended Sept 30, 2019, Goodway, which makes rubber compound and related products, posted a deeper net loss of RM4.53 million as revenue declined to RM5.28 million from RM20.7 million a year ago.
At Gunung Capital Bhd, which is involved in chartering out land-based transport assets, managing director and CEO Datuk Syed Abdul Hussin Hafiz Syed Abdul Fasal exited as shareholder during the period in review.
On Feb 14, filings showed that Syed Abu Hussin had disposed of his entire stake of 7.45 million shares in the company through Caturan Gama Sdn Bhd and had ceased to have any deemed interest in the securities of the company through Caturan Gama.
Syed Abu Hussin had been paring down his stake in the company since December 2019. This has prompted talk that a new shareholder could emerge in Gunung Capital.
Mobile and digital solutions provider MNC Wireless Bhd's substantial shareholder Chen Huei Ping disposed of 24.75 million shares, or a 2.71% stake, in the company during the period in review. Post-disposal, Chen has 57.72 million shares, or a 5.07% stake.
Notable movements
Minetech Resources Bhd's share price surged 53% between Jan 30 and Feb 17, from 8.5 sen to 13 sen. Recently, Datuk Awang Daud Awang Putera emerged as a shareholder in the company, which offers quarry services, after he purchased 57.5 million shares, or a 6.24% stake.
The shares were acquired on the open market from Feb 11 to  13 when they ended trading at 12 and 12.5 sen respectively.
Last month, Minetech Resources announced that it had bagged a RM27.69 million contract to undertake upgrading works at the Cheras-Kajang Expressway for the proposed Emerald 9 Cheras development in Cheras, Selangor.
Over at Sealink International Bhd, Awang Daud disposed 12.62 million shares, paring his stake in the company to 27.47%. The disposal came at a time when Sealink's share price was sliding.
Sealink is in the oil and gas sector and has an offshore support service business in Miri.
Between Feb 7 and 18, Sealink's share price fell 40% from 69 sen to 39.5 sen. Awang Daud's shares were disposed of on the open market on Feb 12 and 13, when the stock ended trading at 47 and 45 sen respectively.
His entry into Sealink came last October, when he purchased 150 million shares, or a 30% stake, in the company. The shares were acquired via an off-market deal from the Yong family, who founded Sealink, at 36.5 sen apiece.