This article first appeared in Capital, The Edge Malaysia Weekly, on November 4, 2019 - November 10, 2019.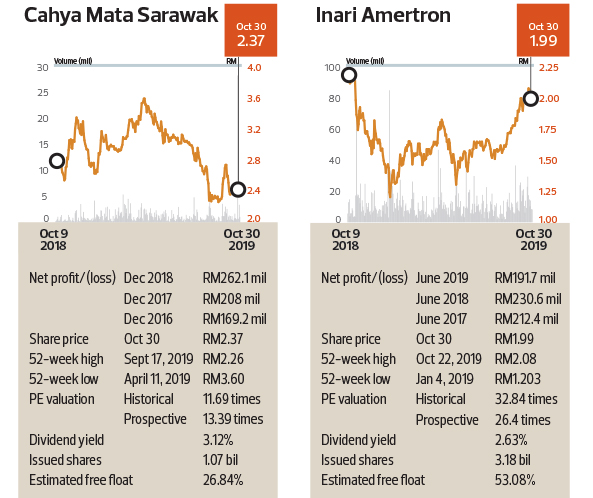 Notable filings
BETWEEN Oct 21 and 25, notable shareholding changes in companies listed on Bursa Malaysia included that at Eco World Development Group Bhd, which saw an off-market disposal of 276.99 million shares, or a 9.4% stake, by executive director Liew Tian Xiong on Oct 22.
The shares were bought by his father, Tan Sri Liew Kee Sin, at 46.6 sen apiece, or RM129.08 million in total. The disposal by Tian Xiong was for "family estate planning" purposes, the company says in a filing.
On the day of the transaction, the counter closed at 67 sen. At last Tuesday's close of 65 sen, EcoWorld's market capitalisation was RM1.914 billion. Year to date, the stock has retreated 28.6%.
Post-acquisition, Kee Sin owns 9.407% equity interest directly and is deemed interested in a further 5.77%. Tian Xiong retains 225.78 million shares or a 7.67% stake.
Over at loss-making planter TH Plantations Bhd, the Employees Provident Fund pared its stake by 2.36 million shares between Oct 16 and 18, according to filings.
The transactions left the EPF with 57.76 million shares, or a 6.54% stake, as at Oct 23. The provident fund had begun the year with 61.62 million shares or 6.97% equity interest. Over the past one year, TH Plantations has lost 40.35% of its market value.
The EPF remains the second largest shareholder of TH Plantations, which is 73.84%-controlled by Lembaga Tabung Haji.
PUC Bhd's share price has declined 42.86% over the past one year. At last Tuesday's close of six sen, the media planning, advisory and social media solutions firm was valued at RM135.21 million.
On Oct 18, its biggest shareholder, RedHot Media International Ltd, sold 60 million shares, or a 2.67% stake, on the open market. It retained 309.14 million shares or 13.72% equity interest after the sale.
RedHot Media is the vehicle of group managing director Cheong Chia Chou, a Singaporean who was appointed to the post in April 2016.
In the first half of its financial year ending Dec 31, 2019 (FY2019), the company saw its unaudited net profit grow 65% y-o-y to RM4.41 million, even though its revenue slipped 4.9% to RM30.5 million.
It attributed the higher profit to a write-back of RM3.93 million in impairment on trade receivables previously recognised.
Notable movements
An Oct 23 filing shows that Datuk Seri Sulaiman Abdul Rahman Taib acquired 180,000 Cahya Mata Sarawak Bhd (CMS) shares on the open market on Oct 18 and 22.
The purchases bumped up his holding to 101.61 million shares or a 9.47% stake. Past filings reveal that Sulaiman has been accumulating the company's shares in recent months. As at end-May, his holding stood at 83.5 million shares or just under 8% equity interest.
Sulaiman's acquisitions have sparked talk that he could be seeking a comeback to the company's board. Early last month, his brother-in-law, Datuk Syed Ahmad Alwee Alsree, retired as executive director after 15 years on the board. Group CEO (corporate) Datuk Isaac Lugun was appointed group managing director.
Over the past 12 months, CMS' share price has declined 13.5%. The counter closed at RM2.35 last Tuesday, 36% lower than its last peak price of RM3.68 in mid-April.
The EPF pared its stake in Inari Amertron Bhd by 10.09 million shares between Oct 16 and 21. It still holds 209.37 million shares or a 6.58% stake after the sale.
Filings also show that non-executive director Datuk Seri Thong Kok Khee sold 1.15 million shares on the open market. Thong retains 3.03 million shares or a 0.095% stake directly and another 19.15% in indirect interest.
Last Tuesday, Inari Amertron closed at RM2.01, having risen 52.27% from its low of RM1.32 on May 23.