This article first appeared in Capital, The Edge Malaysia Weekly, on January 6, 2020 - January 12, 2020.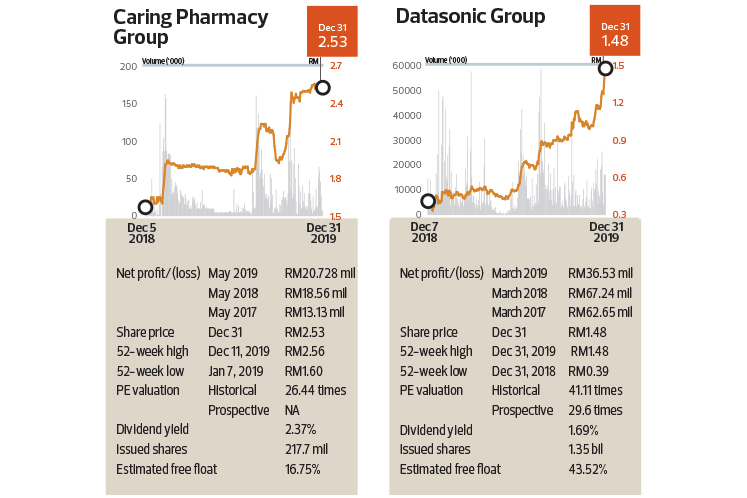 Notable filings
BETWEEN Dec 23 and 27, notable shareholding changes in companies listed on Bursa Malaysia included that at Penang-based contract manufacturer D'Nonce Technology Bhd.
Locally listed acrylic products manufacturer Asia Poly Holdings Bhd ceased to be a shareholder of D'Nonce after disposing of its entire 24.485 million shares or 9.37% of the company on Dec 20.
The buyer is likely to be Toe Teow Heng, a Singaporean who surfaced in D'Nonce as a substantial shareholder on the same day with a 9.37% stake.
In a Dec 23 filing with Bursa, Asia Poly says it sold the shares for RM10.28 million and registered a loss of RM3.08 million, as the company had bought its stake in D'Nonce for RM13.37 million.
The disposal, according to Asia Poly, was carried out following a review of market conditions, and the sale proceeds will be used to repay its bank borrowings by Dec 31, 2019.
Meanwhile, Rangkaian Jiwa Sdn Bhd emerged as a substantial shareholder in Penang-based property developer Iconic Worldwide Bhd — formerly Sanbumi Holdings Bhd — after acquiring 24 million shares or a 7.41% stake via a married deal on Dec 20.
Rangkaian Jiwa is ultimately owned by Mohd Shah Rizal Mohd Jan, who is said to be linked to Aset Kayamas Sdn Bhd founding managing director Tan Sri Chai Kin Kong.
The seller is likely to be Datuk Chua Tiong Moon, who ceased to be a substantial shareholder of Iconic Worldwide on the same day after disposing of 24 million shares via a married deal.
Interestingly, Chua and Chai co-own Rimba Aktif Sdn Bhd, which indirectly owns a private plantation estate in Terengganu.
Mohd Yusri Md Yusof ceased to be a substantial shareholder of Green Ocean Corp Bhd after disposing of a 1.31% stake or 3.801 million shares at 11.79 sen apiece on the open market on Christmas Eve.
The 49-year-old has been the managing director of Green Ocean since December 2017.
The Employees Provident Fund is no longer a substantial shareholder of Eonmetall Group Bhd after offloading 820,000 shares or a 0.44% stake in the metalwork machinery and equipment manufacturer on Dec 23.
At press time, the buyer and transaction price were not known, but the country's biggest retirement savings fund remains a ­shareholder of Eonmetall with a 4.84% stake.
Over at mobile content provider M3 Technologies (Asia) Bhd, DGB Networks Sdn Bhd surfaced as a substantial shareholder in it after subscribing for 58.428 million shares or a 9.09% stake through private placement on Dec 19.
DGB Networks is owned by locally listed software and engineering solutions provider DGB Asia Bhd.
Personal and commercial insurer Tune Protect Group Bhd saw River and Mercantile Asset Management LLP cease to be its substantial shareholder as the London-based investment management services firm disposed of 490,100 shares or a 0.06% stake on Dec 19 on behalf of its discretionary clients.
Following the share disposal, River and Mercantile remains as a shareholder with a 4.94% stake.
Notable movements
Community pharmacy chain operator Caring Pharmacy Group Bhd saw its share price gain 49% year to date to close at RM2.53 last Tuesday. This gave the company a market capitalisation of RM550.8 million.
Perbadanan Nasional Bhd (PNS) — the government agency spearheading the growth of Malaysia's franchise industry — divested 5.01 million shares or a 2.3% stake in Caring Pharmacy off market on Dec 26 and 27.
To date, PNS still owns 11.91 million shares or a 5.47% direct stake in the company.
Meanwhile, Datasonic Group Bhd, which is involved in ICT solutions, including smart card personalisation, saw its share price more than triple year to date to close at a 52-week high of RM1.48 last Tuesday. This translated into a market capitalisation of RM1.998 billion for the company.
Filings with Bursa on Dec 27 show that Datuk Abu Hanifah Noordin divested 70.416 million shares or a 5.21% stake via a direct business transaction on Dec 27.
He still owns 66.923 million shares or a 4.95% stake in the company.