This article first appeared in Capital, The Edge Malaysia Weekly, on July 2, 2018 - July 08, 2018.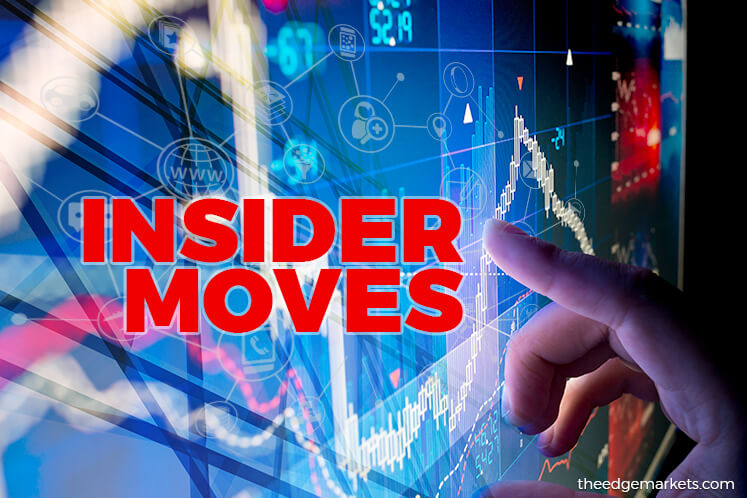 Notable filings
DATUK Seri Sulaiman Abdul Rahman Taib bought an additional 1.02 million shares in Cahya Mata Sarawak Bhd (CMS), whose share price had tumbled after the 14th general election on May 9. The purchase raised Sulaiman's shareholding to 91.6 million shares, or a 8.5% stake, on June 21 and 22, according to Bursa Malaysia filings.
Meanwhile, the Employees Provident Fund (EPF) bought 870,200 CMS shares between June 7 and 14, and Lembaga Tabung Haji acquired 500,000 shares on June 19.
Over at Destini Bhd, its second largest shareholder, BPH Capital Sdn Bhd, sold 4.82 million shares on June 13, leaving it with 192.97 million shares, or a 16.7% stake.
Meanwhile, at Excel Force MSC Bhd, 4.28 million shares were sold by Brahmal Vasudevan, the CEO of private equity firm Creador, after its share price plummeted by three-quarters to 40.5 sen on May 30 from its peak of RM1.61 on Jan 8. The stock closed at 41 sen last Wednesday.
Brahmal bought into the IT-based firm in May 2016 and still owns 27.3 million shares, or a 6.59% stake, making him the third largest shareholder after Asia Internet Sdn Bhd with 21.77%, and Mohamed Nizam Abdul Razak, who has 8.05%.
At M-Mode Bhd, major shareholder Corvina Sdn Bhd disposed of 50.88 million shares, or a 31.2% stake, via a direct business transaction on June 22 and ceased to be a substantial shareholder. This took place after M-Mode's share price gained more than 50%, surging from 25 sen on May 31 to 38.5 sen on June 22.
On the same day, E&J Venture Sdn Bhd and Ecobuilt (M) Sdn Bhd emerged as substantial shareholders after buying 4.83 million and 18.19 million shares respectively via off-market transactions.
At Meda Inc Bhd, newly appointed executive director Datuk Yap Ting Hau bought 21.55 million shares, or a 4.46% stake, on June 8, according to a June 18 filing.
Taliworks Corp Bhd's controlling shareholder Datuk Lim Chee Meng mopped up 20 million more shares on June 20, raising his direct stake to 46.8 million shares, or a 3.87% stake.
Federal Investment Corp Sdn Bhd (FIC), the investment arm of the Federal Land Development Authority (FELDA), sold 22.5 million shares in Iris Corp Bhd on the open market on June 13 and 19. FIC remains the single largest shareholder in Iris with 398.36 million shares, or a 15.96% stake.
Notable movements
Barakah Offshore Bhd's share price has rebounded after falling to an all-time low of 8.5 sen on May 18. It climbed to 22 sen on June 7  but subsequently reversed its upward trend.
The drop could be because its former major shareholder, FIC, has been selling its shares on the open market. Year to date, Barakah's share price has plunged 58.6%, or 17 sen.
Filings with Bursa Malaysia show that FIC disposed of 13.3 million shares in Barakah between June 13 and 18, and ceased to be a substantial shareholder.
Gabungan AQRS Bhd also staged a strong rebound, from a record low of 64 sen on May 31 to a high of RM1.26 in slightly more than two weeks.
Last week, the company announced a proposed bonus issue of warrants B on the basis of one warrant for every four existing shares held. The stock had rallied before the bonus issue was announced.
The construction firm's continuous efforts to buy back shares on the open market, which began in late April, might also have lent support to its share price.
Filings with Bursa Malaysia show that the company bought a total of 4.68 million of its own shares between June 18 and 21. Meanwhile, substantial shareholder Datuk Azizan Jaafar, who is also the CEO, acquired an additional 300,000 shares on June 21.
Save by subscribing to us for your print and/or digital copy.
P/S: The Edge is also available on Apple's AppStore and Androids' Google Play.