This article first appeared in Capital, The Edge Malaysia Weekly, on November 5, 2018 - November 11, 2018.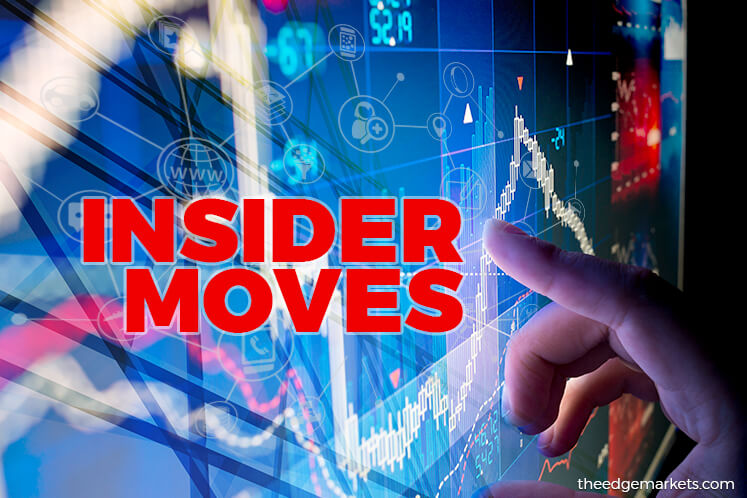 Notable filings
BETWEEN Oct 22 and 26, notable filings included those at Aturmaju Resources Bhd, which saw Yeo Gee Kuan cease to be a substantial shareholder after disposing of 2.905 million shares, or a 4.322% stake, at 45 sen apiece.
The shares represented Gee Kuan's entire shareholding in the company, which is involved in manufacturing wood products and contract logging. Gee Kuan, who is an executive director, is the son of Aturmaju's largest shareholder, Datuk Yeo Wang Seng, who controls 34.92% of the company, directly and indirectly.
On the same day, executive director Datuk Liew Kok Leong acquired 1.57 million shares through Ukay One Sdn Bhd, raising his shareholding to 6.73% from 4.83%, making him the second largest shareholder after the Yeo family.
Over at Prestariang Bhd, AIA Bhd ceased being a substantial shareholder of the local software provider after disposing of 27.86 million shares, or a 5.78% stake, as filings on Oct 22, 24 and 25 show.
No disposal price was given in the announcements on shareholding changes. However, Prestariang was trading at between 42.5 sen and 48 sen on Oct 23, the day AIA ceased being a substantial shareholder.
At Sanbumi Holdings Bhd, second largest shareholder Tan Sri Chai Kin Kong disposed of 10 million shares or a 4.42% stake at 31 sen per share on Oct 19.
The disposal reduced Chai's stake in the travel and tourism services company to 6.16%, from 10.58% on June 29. It is not known who the buyer is. Despite being in the red, Sanbumi's share price has risen 20.83% so far this year, closing last Tuesday at 29 sen per share.
Sanbumi has submitted an application to Bursa Malaysia for the listing of 22.64 million placement shares, to be issued at 17.3 sen per share. This will raise about RM3.92 million for working capital requirements and future business investments.
Meanwhile, at Tiger Synergy Bhd, Datuk Tan Wei Lian disposed of a total of 21.495 million shares, representing 3.56% of the group's share base, on Oct 17, 23 and 25. The transactions reduced his stake to 7.696% from 9.184% on Oct 17.
Tan disposed of 3.5 million shares on Oct 26, further trimming his stake to 7.117%. He is the largest shareholder of Tiger Synergy, which is involved in property development and manufacturing of wood-based products.
Notable movements
Iris Corp Bhd's share price fell 17.14% to 14.5 sen in the week under review. Over the last 52 weeks, the counter has shed 12.12% of its value to close at 14.5 sen last Tuesday, giving the company a market capitalisation of RM430.07 million.
On Oct 23, the e-passport maker's largest shareholder, Felda Investment Corp Sdn Bhd (FIC), disposed of 15 million shares or 0.51% of the group's share base on the open market, paring its stake to 11.658%.
On Oct 25, Datuk Rozabil Abdul Rahman, a substantial shareholder of Iris, sold five million shares, or a 0.169% stake, on the open market, trimming his shareholding to 10.62%.
The share price of My EG Services Bhd (MyEG) rose 7.96% during the week of Oct 22 and 26 to RM1.22, following the group's clarification that it was not under investigation by the Malaysian Anti-Corruption Commission after former deputy prime minister Datuk Seri Zahid Hamidi was charged with money laundering, criminal breach of trust and accepting bribes.
Over the last one year, MyEG's share price has shed 45.79% of its value to last Tuesday's close of RM1.19 apiece.
On Oct 24, its second largest shareholder, Asia Internet Holdings Sdn Bhd, disposed of 50 million shares, or 1.41% of the group's share base, as part of a financing arrangement. The company is controlled by Datuk Dr Norraesah Mohamad and Wong Thean Soon.
Save by subscribing to us for your print and/or digital copy.
P/S: The Edge is also available on Apple's AppStore and Androids' Google Play.