This article first appeared in City & Country, The Edge Malaysia Weekly, on December 27, 2021 - January 09, 2022.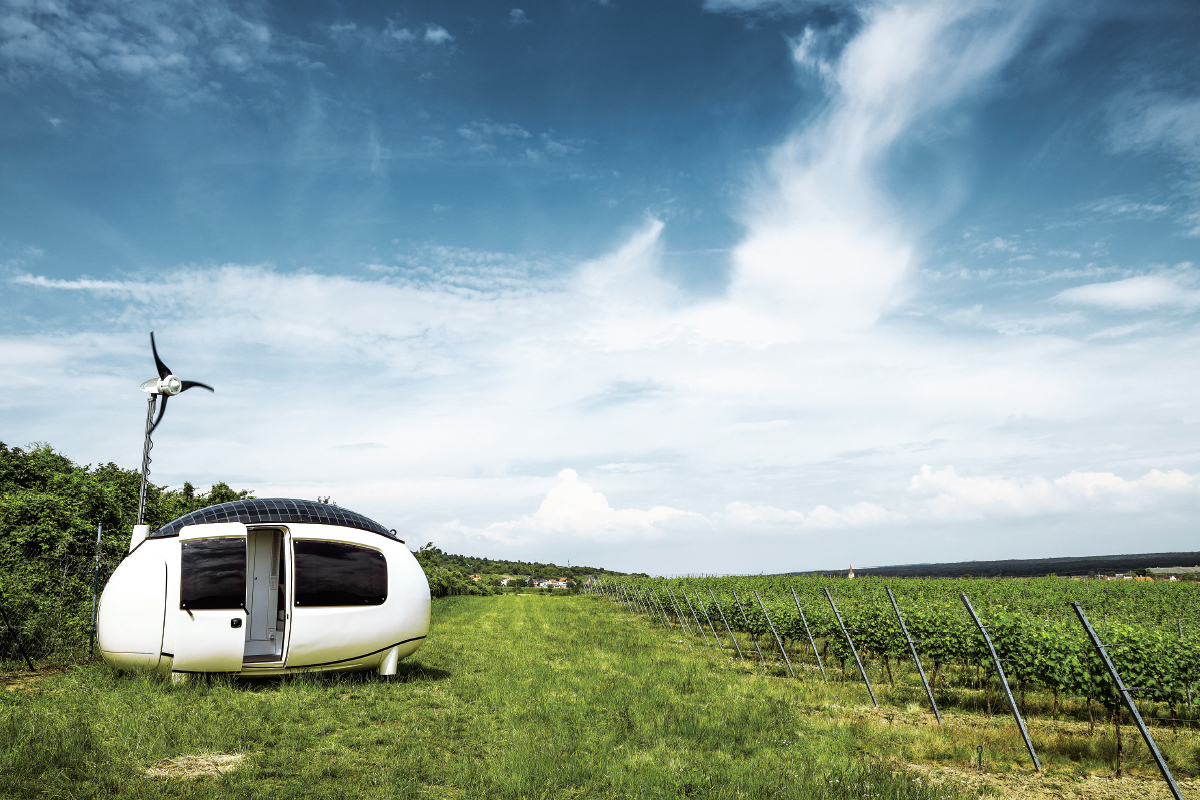 Ever dreamed of getting away from the hustle and bustle of the city and taking a break in nature? Ecocapsule — a unique egg-shaped, self-sustainable mobile home that harnesses solar and wind energy — would be an ideal choice.
Tomas Zacek, founder and innovation director of Slovakia-based Ecocapsule, tells City & Country via an email interview that he designed the product with his associates from Nice & Wise Studio (formerly known as Nice Architect, a firm from Bratislava, Slovakia) for an architecture and design competition in 2008. While Ecocapsule did not win, it was selected as one of the most interesting designs in the competition by inhabitat.com. The architects received enough positive feedback and interest from the public to encourage them to build the capsule. In 2015, the first Ecocapsule model was completed.
"The initial intention was to build a home for people who wanted to live off-grid in nature for a certain period of time, such as park rangers, professional photographers and scientists, or as a quick housing solution for emergency rapid response needs. It quickly became apparent, however, that the Ecocapsule could be opened up to a wider public and even used in cities such as New York and in Silicon Valley, where the density of living and rent is high," says Zacek.
The Ecocapsule has four small wheels extendable from the base, which can be rolled or moved on smooth surfaces. It serves as a mid-term accommodation for one or two people, and can be used as a cottage, pop-up hotel, mobile office or research station. Zacek explains that a unique feature of the capsule is that it does not need to be plugged into traditional power and water supply, as it is self-sustaining and can generate both resources from the surrounding environment.
"The unique and original design makes Ecocapsule a piece of art that stands out in every environment. Its outer shell coating is extremely durable, offering protection from harsh weather conditions. The structure, which has thick walls of 7.8in, is able to withstand temperatures as low as -10°C and as high as 40°C," says Zacek.
"The surface material has a very good mechanical and chemical resistance, and one can choose from a variety of colours and combinations, such as oyster white, signal white, pale green and signal white with a light pink base. The pattern design can also be customised based on an individual's preferences, which will be charged separately."
Smart and self-sustaining
According to Zacek, the original Ecocapsule measures 15ft in length, 7.2ft in width, 8.2ft in height, and has a total built-up area of 88 sq ft. Priced at €79,900 (RM380,000) excluding value-added tax (VAT), the tiny home can comfortably fit two occupants and operate entirely off the grid with 880 watts of solar cells. In addition, a low-noise wind turbine of 770 watts can deliver electricity daily. The shape of the Ecocapsule can collect rainwater, which is diverted into a water tank and filtered for consumption and showers.
In the case of reduced solar or wind activity, a dual power system and a high-capacity battery pack ensure that the pod will have enough power. The fully charged 10kwh battery is expected to provide electricity for at least four days at an average rate of 2.2kw per day of consumption. Manual water pumps have been installed, which serve as a backup system if the battery is depleted.
Zacek says, like many other micro-homes, the original model includes all the amenities that one or two people could possibly need, such as a retractable double bed, a reclinable desk, a kitchenette, a shower and a composting toilet, in which bio waste is collected. Its interior is well lighted naturally and predominantly white with blond wood accents.
He says the pods are lined with LED lighting, and can be outfitted with network connectivity and heating to accommodate different environments. In addition, the windows provide ventilation in more temperate climates. If ventilation from the windows and passive heat recovery unit is not sufficient, a low-energy air conditioner can be installed. 
It comes with smart home accessories and sensors, which are controlled by an application on one's mobile device that monitors all systems, as well as a physical control panel.
"We understand many people find the price of the Ecocapsule slightly pricey, but it is all about the most recent smart and sustainable technologies. You do not leave any carbon footprint when using Ecocapsule the way it should be, which is a breakthrough," says Zacek.
In response to demand for a more affordable option, a tinier companion unit called Space was launched last year, which has a smaller built-up area of 68 sq ft and is priced lower at €49,900. It is designed semi off-grid with a removable solar panel in place of the wind turbine, and can be installed alongside the original Ecocapsule — as an extra guest room, part of a bigger campsite of pods, a home office or simply a personal space.
"We have made Space affordable for a broader customer scale, and more comfortable to use. Apart from the green energy collected by solar panels, Space can also use energy from the grid, which makes it more user-friendly. When hooked up to the grid, the solar panels can be detached for lighter/reduced carbon footprint," says Zacek.
Space, which also sleeps up to two people, features an open layout concept and is self-reliant, whereby it gets power from its 200-watt solar panel mounted on a pole that is connected to batteries. It can be connected to the grid with a traditional recreational vehicle-style hook-up, and is also incorporated with a rainwater collection system.
Zacek explains that Space has the same dimensions and exterior as the original model, which is a white fibreglass shell that covers a steel frame and polyurethane foam insulation, while access is gained by a small sliding glass door.
The only thing different is the interior, he notes. "The original model's interior is designed as a micro-home and is fully furnished. Space, however, is almost entirely bare, consisting of a sleeping area, built-in wall-sized cabinet and wooden flooring. It can be customised with a bed, additional furniture, air conditioning, and a bathroom at extra cost. This unit will be better suited for glamping, or as an office or a spare bedroom.
"As a start-up, we started everything from scratch, from conceptualising and designing the product as well as securing financing for the development of the product. We managed all these tasks with great teamwork. We intend to sell as many Ecocapsules as possible globally. At the moment, our exports are manu­factured in a small facility in Slovakia and our buyers have been mainly from the US, Europe and Caribbean, comprising hipsters aged about 30, older folks over 60, as well as hoteliers."
Zacek says the Ecocapsules are shipped in containers. "Two Ecocapsules will be able to fit into a 40ft-high cube container, thus they can be transported to any port or exact location at relatively low shipping costs. Throughout Europe, the Ecocapsules may be shipped by cargo trucks. The indicative shipping fee ranges from €2,500 to €3,600 for New York, Sydney, Houston, Auckland and Oakland ports; for Berlin, Oslo and Madrid, it is from €1,700 to €2,300.
"We developed a customised trailer that can be easily attached to any Ecocapsule, enabling you to tow the unit behind your vehicle. All Ecocapsules are prepared for trailer attachment." The Ecocapsule also has two hooks on the roof so it can be lifted using a crane, forklift or helicopter.