This article first appeared in Enterprise, The Edge Malaysia Weekly, on May 14, 2018 - May 20, 2018.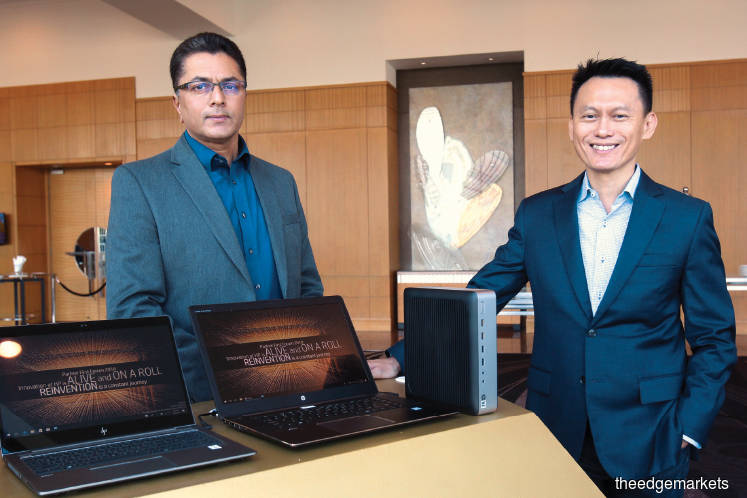 When one thinks of technology companies nowadays, Hewlett-Packard (HP) may not be the first that comes to mind. Instead, companies such as Amazon and Google have dominated the headlines with their innovative solutions for enterprises.
Meanwhile, tech giant HP has suffered over the past few years as it struggled to keep up with the growing consumer demand for smartphones and cloud technology over traditional personal computers (PCs) and servers. As a result, it split the company in 2015 to serve the different markets. HP Inc focuses on PCs and printers while HP Enterprise Co provides servers, storage and corporate services.
HP Inc is now driving a transformation plan that goes beyond strengthening its core business of PCs and printers. It has one advantage — the intellectual property (IP) it has generated over the years.
Koh Kong Meng, general manager and managing director of HP in Southeast Asia and South Korea, says the company will pursue growth aggressively in areas such as gaming and A3 printers. The latter is a US$55 billion market that had not been tapped by HP until recently, he points out.
"Two things happened. One was the HP Inc separation from the Hewlett-Packard Company that enabled us to make the necessary investments to go after that market. The result of this was the acquisition of Samsung's print business last November," says Koh.
Samsung's experience in building PCs and printers, along with its own IPs, have come in handy to help HP Inc develop new products.
Transforming the design process
HP is looking at venturing into the use of blended reality in the design process. This combines virtual reality (VR) with 3D printing technologies.
"We will be leveraging our traditional strengths in computing and printing and extending them to blended reality. When people think of VR, it is usually about putting on a headset that transports you to a virtual environment," says Koh.
"Augmented reality is sort of a mix. You put on a headset that allows you to see the real world, augmented with virtual objects. With blended reality, we have enabled technology to bring objects from the real world. You can scan a pair of spectacles and convert it into a digital format that users can edit."
The digital object can be edited using a VR headset or over a normal screen, and the end product can be manufactured using a connected 3D printer.
The company already has a VR backpack product that enables designers to experience their creations in virtual reality. There are two versions of the product — for consumers (mainly for gaming purposes) and for enterprises.
"The application is in the automotive, engineering and construction environments. If you are an architect, you can either enter into the virtual building or fly around in it at scale to see how things fit," says Koh.  
"Another area is automotive design. Designers like to see where things fit, whether they are within the reach of the driver, or even the ergonomics of the car."
He adds that with this product, designers do not have to build a full-scale model.
The future of manufacturing
HP's vision is to scale up its 3D printers to change manufacturing trends in the future. By utilising some of the technology in its traditional printers, the company has designed a range of products called Multi-Jet Fusion 3D printers, which can mass-produce 3D-printed products.
"Here is our vision: We want to democratise 3D printing. Today's 3D printers are very expensive and slow. Because of that, people can only use it for prototyping. We want to make it low cost and high speed so it can be used for mass manufacturing," says Koh.
"Today, a lot of stuff gets manufactured in big factories and then shipped all over the world. Our vision is to reverse that. Instead of moving parts around, we want to move data around."
So, rather than having products manufactured in another country and then shipped back, they can be printed locally. This reduces shipping time and cost. 3D printers can also enable digital customisation at no cost compared with the traditional die-and-mould method.
"The printers leverage our PageWide technology to print 3D objects up to 10 times faster than any other 3D printer out there. The second is material. Today, for most 3D printers, if you are printing plastics, they are too soft to be used in a production environment. They are good for prototypes, but not if you want to use the objects on an everyday basis. So, we are leveraging our IP in materials (it uses nylon plastics in its printers) and our ability to print at very high speeds using our technology and putting that in our 3D printers," says Koh.
HP is working with large companies such as General Electric and shoe manufacturers to bring the technology forward. In the future, there will be 3D printers for metals and a full range of plastic printers. The company has already shipped out 3D printers (which cost about US$250,000 each) to its partners, who are working with large corporations and local manufacturers in countries such as Thailand and South Korea.
At this stage, no company owns a huge fleet of 3D printers for mass manufacturing yet. Most of them are still learning about the possibilities of this technology.
"It is not just about selling a 3D printer. it is about redesigning the entire value chain. What we are selling is an ecosystem that starts with the design. When you have a 3D printer, you can design very weird and wonderful things that would be impossible using conventional technology. You can create very organic shapes that are also very strong. It requires designers and engineers to think differently," says Koh.
HP launched its first Smart Manufacturing Applications and Research Centre (Smarc) in Singapore last December. The facility is run by engineers who will use technologies such as 3D printing, robotics and data analytics to transform HP's supply manufacturing lines around the world.
Advice for SMEs
HP Inc is hoping to market to small and medium enterprises (SMEs) in Asia. The technology company has traditionally been more focused on the consumer and enterprise sectors.
Koh Kong Meng, general manager and managing director of HP for Southeast Asia and South Korea, says the company wants to bring new technology models to SMEs in this region. One trend it has noticed among SMEs is the move away from owning IT assets.
"Instead of owning a printer, personal computer (PC) or notebook, they are going into managed print services, where you pay per print, or notebooks where they pay per seat because they do not want to have those assets on their books anymore," says Koh.
Owning the assets means the company has to also manage cybersecurity and have an IT team ready to take care of any issues. Some SMEs may not be able to afford that level of support.
"We have a new model called Device as a Service (DaaS), which frees companies from having to buy such assets. So, they pay a monthly charge, for example, for the usage of the asset," says Koh.
"HP or one of our partners will own the asset and manage it, taking care of the security, the updates and even the helpdesk. At the end of the agreement period, you can choose to replace the machine with a brand new one and extend the contract."
This programme has already been rolled out via HP's partners in various countries.
Another issue that Koh says SMEs should look out for is the security of their devices, especially with printers. While most individuals are aware that computers can be hacked, they do not realise that printers are actually one of the most vulnerable entry points into a network. In February last year, thousands of printers were hacked by an individual.
"In the network environment, the printer is a trusted device. Hackers take advantage of that and gain entry into the network. And once they have gained entry, the whole network is vulnerable. We have implemented a few standard features on our printers to prevent that," says Koh.
"The reason we put a lot of security in printers is because we know what can be done on a printer. Many printer companies out there do not have our background and therefore could be vulnerable."
On the PC side, HP has implemented measures to prevent visual hacking. With the touch of a button, a security filter is launched and anyone in the surrounding area will not be able to see the screen.