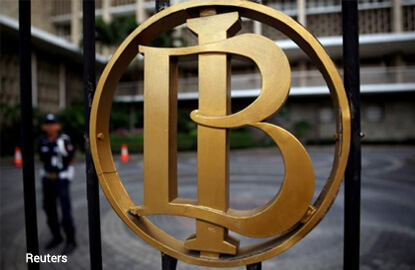 JAKARTA (March 15): Indonesia's central bank is widely expected to keep its policy interest rate unchanged on Thursday to support growth, while it guards against rising inflation and capital outflow pressures.
The Federal Reserve is due to announce its policy decision just hours ahead of Bank Indonesia's (BI) own meeting, at which the U.S. central bank is expected to raise interest rates and signal the pace of future rate hikes.
All 20 analysts in a Reuters poll said BI would likely keep the 7-day reverse repurchase rate at 4.75% for the fifth consecutive policy review.
Trade is picking up on stronger exports of commodities, but Southeast Asia's biggest economy has been hampered by weaker growth in some of its main trading partners, tepid foreign direct investment and slow infrastructure spending at home.
"They are caught between the wish to support growth with easier monetary policy and the need to ensure currency stability, especially amidst rising inflation," said Credit Suisse's economist Santitarn Sathirathai.
"My call is for them to find intermediate solution by reducing RRR (reserve requirement ratio) later this year, as a way of stealth easing if you will," he added.
More volatility could be in store for Indonesia if a Fed rate hike lures more capital away from emerging markets.
BI Governor Agus Martowardojo said on Monday he was certain the Fed would raise rates and "all countries are in a standby position because of the effect of such decision on the world's financial system stability."
He reiterated BI would be ready to stabilise the rupiah, but declined to comment on monetary policy.
Martowardojo also said BI was monitoring a number of other global events, including elections in some European countries and the impeachment of South Korea's president.
BI cut its benchmark interest rate six times last year, totalling 150 basis points, and relaxed some lending rules for banks in a bid to spur economic growth.
While growth has remained somewhat lacklustre — slowing to 4.94% in the fourth quarter — analysts say BI has limited room for further cuts.
Of nine analysts in the poll who gave views on where the benchmark rate would be at the end of 2017, five forecast BI would remain on hold. The other four predicted rate increases ranging from 25 to 50 bps later this year.
After its February policy meeting, Martowardojo said further monetary easing hinged on internal condition such as inflation readings. But he described the easing space as "not too wide".
Indonesia's annual inflation rate in February was 3.83%, the highest in 11 months and up from the 3.49% recorded in January.