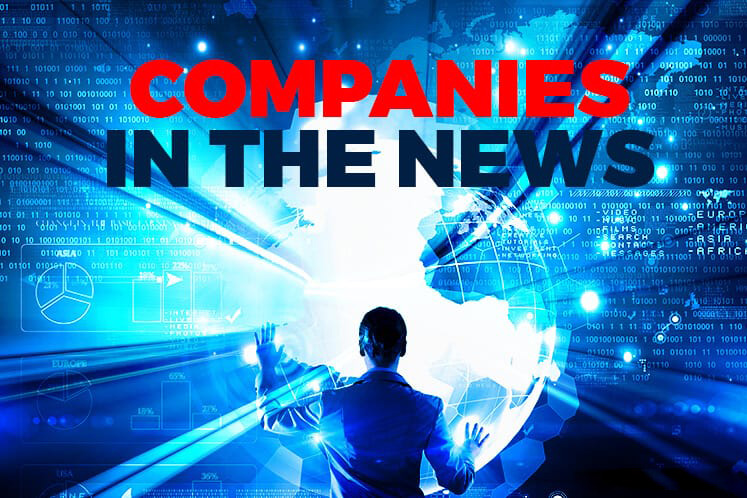 KUALA LUMPUR (April 26): Based on corporate announcements and news flow today, companies in focus tomorrow (April 27) may include the following: Ikhmas Jaya Group Bhd, Ireka Corp Bhd, LPI Capital Bhd, Pavilion REIT, ViTrox Corp Bhd, Choo Bee Metal Industries Bhd, Atlan Holdings Bhd, PPB Group Bhd, Nexgram Holdings Bhd, Tatt Giap Group Bhd, AirAsia X Bhd and Poh Huat Resources Holdings Bhd.
Ikhmas Jaya Group Bhd's audited financial results for its year ended Dec 31, 2017 (AFS 2017) has a variance of RM7.4 million or 51.5% from its unaudited fourth quarter results ended Dec 31, 2017 (4QFY17).
This means the profit attributable to owners of Ikhmas Jaya was only RM6.9 million in AFS 2017, as opposed to the RM14.3 million reported earlier.
"The major cause of the variance in profit attributable to owners of Ikhmas Jaya between 4QFY17 and AFS 2017 was mainly due to the consolidation adjustment made for the capitalisation of depreciation charge on plant and machinery into the project costs," the filing said.
The depreciation amount eligible for capitalisation was revised and a consolidation entry superseding the initial entry was recorded, it added. However, the initial entry was inadvertently omitted in its 4QFY17's reported results.
Ireka Corp Bhd has secured a contract worth RM91.96 million to build an additional structure at Pantai Hospital Ayer Keroh in Melaka.
The job has a contract period of 24 months and should be completed by April 15, 2020.
Ireka said the contract is expected to contribute positively to earnings for the financial years ending March 31, 2019 onwards.
LPI Capital Bhd's net profit for the first quarter ended March 31, 2018 rose 2.75% year-on-year to RM72.5 million from RM70.56 million, driven mainly by Lonpac Insurance Bhd (Lonpac).
Revenue for the quarter rose to RM381 million from RM347.64 million while earnings per share stood at 21.84 sen compared with 21.25 sen previously.
In a statement today, LPI founder and chairman Tan Sri Teh Hong Piow said Lonpac saw its gross premium income for the quarter under review expand by 16.2% to RM483.2 million from RM415.7 million previously, due to organic growth from the group's diversified distribution channels, particularly its agency network.
Lonpac also reduced its management expense ratio to 21.7% from 24.7% partly due to the strong growth of its net earned premium but its commission ratio [crept] up to 3.6% from 2.8%.
Pavilion Real Estate Investment Trust (Pavilion REIT)'s net property income (NPI) rose 13% to RM89 million in the first quarter ended March 31, 2018, from RM78.97 million a year ago.
Gross revenue grew 11% to RM131.51 million from RM118.94 million, as rental income grew 7% to RM104.4 million on higher contribution from Pavilion Kuala Lumpur Mall's tenants following a repositioning exercise, and higher occupancy rate at the Intermark Mall.
Other income grew 26% y-o-y during the quarter to RM27.11 million from RM21.6 million, supported by higher revenue rent from Pavilion Kuala Lumpur Mall and fees received from DA MEN Mall's electricity provider to Pavilion REIT, for collecting the charges incurred by tenants in DA MEN Mall.
Distributable income for the quarter totalled RM69.7 million or 2.29 sen per unit, compared with 2.32 sen per unit a year ago, as the REIT's units in issue grew to 3.035 billion.
ViTrox Corp Bhd's net profit for the first quarter ended March 31, 2018 rose 9.1% to RM20.26 million from RM18.57 million a year earlier, on higher revenue from its automated board inspection (ABI) business.
Total revenue rose 11.07% to RM77.31 million from RM69.61 million previously.
Choo Bee Metal Industries Bhd has proposed to undertake a bonus issue of up to 21.98 million bonus shares on the basis of one-for-five existing shares held to reward shareholders, while enhancing its marketability and trading liquidity.
The entitlement date will be determined later.
As at April 24, being the latest practicable date (LPD), Choo Bee said it had 109.9 million (including treasury shares) shares in issue, and after the proposed bonus issue, the enlarged number of issued shares would amount to a minimum of 130.73 million and maximum of 131.88 million.
Atlan Holdings Bhd's net profit for the fourth quarter ended Feb 28, 2018 more than doubled from a year ago to RM26.35 million mainly owing to the reversal of provision of guarantees amounting to RM14.9 million.
Atlan said the provision of guarantees — credit facilities — previously granted by the group to a financial institution is now no longer required.
It also attributed the increase in earnings to the duty free segment's increase in demand for certain products and sales mix as well as the lower operating and administrative expenses incurred by its property and hospitality segment.
Meanwhile, revenue rose 13.84% to RM223.6 million from RM196.42 million a year ago.
PPB Group Bhd is acquiring the Armed Forces Fund Board's (LTAT's) 16.8% stake in Hillcrest Gardens Sdn Bhd for RM59.06 million.
Hillcrest's audited consolidated net assets as at Dec 31, 2017 stood at RM199.55 million, including 147.78 acres of freehold land in Taman Seri Gombak and Taman Puchong Utama.
The purchase consideration represented a premium of 76% over 16.8% of audited consolidated net assets. In comparison, LTAT's original cost of investment for the stake in 1976 was RM1.2 million.
PPB said it initiated the proposed acquisition to expand its investments in property-based activities and enable the group to continue diversifying its source of earnings. Additionally, the 147.78 acres of land owned by Hillcrest is strategically located and is expected to have good development potential.
Nexgram Holdings Bhd has fixed the issue price of its first tranche of placement shares at 5.9 sen per share, which is at a 9.2% discount to its closing price of 6.5 sen today.
The group said the issue price also represents a discount of 0.57 sen or 8.81%, compared with the five-day weighted average market price of Nexgram from April 19 to yesterday of 6.47 sen per share.
Tatt Giap Group Bhd returned to the black in its third quarter ended Feb 28, 2018 (3QFY18) with a net profit of RM1.4 million or 0.88 sen per share compared to a net loss of RM3.6 million or 2.35 sen per share a year ago on higher gross profit margin and a RM3.85 million gain from the disposal of a 41% interest in Tatt Giap Steel Centre.
Revenue also gained by 8.4% to RM22.5 million from RM20.7 million in 3QFY17, mainly due to higher domestic sales.
However, Tatt Giap remained in the red for the nine months ended Feb 28, 2018 (9MFY18) with a net loss of RM2.1 million.
This compared with a net profit of RM12.5 million a year ago, which included a one-off gain on disposal of assets classified as held for sale of RM16.2 million.
Revenue for 9MFY18 dropped 12% to RM62.1 million from RM70.5 million in 9MFY17 mainly due to lower domestic market sales.
AirAsia X Bhd (AAX) carried 1.59 million passengers in the first quarter of 2018 (1Q18) compared with 1.4 million a year ago — an increase of 13% — on the back of increased capacity as the airline catered to increased travel demand arising from the festive seasons and school holidays during the period.
AAX said its capacity for 1Q18 increased 14% y-o-y, while passenger load factor remained static at 84%. Its available seat per kilometer and revenue passenger kilometres grew 10% and 9%, respectively.
The fleet size of AAX Malaysia stood at 22 Airbus A330s as at end-March 2018.
On the associates, AAX said its Thai unit carried 503,259 passengers in 1Q18, 19% more than the 423,404 passengers it had in 1Q17. Passenger load factor was unchanged at 94%.
AAX Indonesia, meanwhile, carried 124,874 passengers in 1Q18, up more than 100% y-o-y, and posted a load factor of 72%.
AAX Indonesia's fleet size stood at two aircraft, bringing AAX Group's total fleet to 30 A330s.
Poh Huat Resources Holdings Bhd said that compensation for the losses arising from the fire which broke out at one of its factories in Muar, Johor in January, amounted to RM4.31 million, after due assessment by and negotiation with the insurers.
The total net book value of the assets affected by the fire, comprising part of the factory building, machinery and inventories, has been ascertained to be RM3.02 million, which means the group will recognise a gain of RM1.29 million, arising from insurance compensation in the quarter ending April 30, 2018.