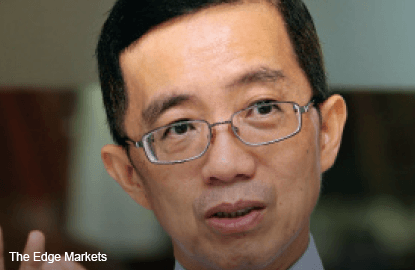 This article first appeared in The Edge Malaysia Weekly, on February 22-28, 2016
IJM Corp Bhd's emergence as Scomi Group Bhd's 24.59% (and largest) shareholder — with the conversion of the latter's bonds into shares — is seen as a much-needed shot in the arm for the oil and gas (O&G) service provider. In fact, when it came to light that Scomi Group was saved from paying the bond redemption, its stock jumped to a three-month high.
But what benefits will Scomi Group bring to the construction conglomerate? It is argued that IJM Corp did not mind the steep conversion price of 36.5 sen per share when the O&G company's market value was only 18 sen because it was looking at the medium to long-term value of the latter.
IJM Corp CEO and managing director Datuk Soam Heng Choon tells The Edge that while the group will need to deliberate and discuss its plans for Scomi Group, ultimately, the goal is for the O&G company to complement the construction giant.
"We need to look at the various possibilities of how best to enhance Scomi Group and we will definitely share them with our shareholders once we have come to a conclusion. More board representation in Scomi Group doesn't necessarily mean its business will improve overnight," he says.
Soam points out that the O&G industry, in general, is facing a downturn, which would then hurt most service providers.
"Looking on the bright side, Scomi Group has RM5.3 billion in its order book and it's bidding for more. Its transport solution business is doing well after turning around in FY2015 (ended March 31)."
Soam also clarifies that the three-year redeemable bonds were not converted at a loss but were automatically converted into Scomi Group shares upon maturity. "In fact, the bonds carried a 5% yield per annum upon conversion," he says.
Instead of a cash redemption, IJM Corp opted to convert its bonds into  348.80 million shares that are worth RM62.8 million based on the market price.
In a note last Friday, Hong Leong Investment Bank Bhd's HLIB Research says Scomi Group might be facing financial constraints in repaying the bond. "Based on Scomi Group's FY2015 annual report, its cash balance stood at RM236 million. However, the bulk of this cash (about 96%) was held by its subsidiaries, namely Scomi Energy Services Bhd and Scomi Engineering Bhd. This could constrain the repayment," says its analyst Jeremy Goh.
After Scomi Group announced last Thursday that its issued share capital was enlarged by 348.87 million to 1.92 billion because of the bond conversion, its shares shot up as much as 23.33% to 18.5 sen on Friday before closing at 18 sen. IJM Corp's shares, on the other hand, fell 2.59% to RM3.39.
The situation almost mirrored what happened in September 2012, when Scomi Group first announced that IJM Corp was going to subscribe for 119.11 million placement shares at 33 sen each. Apart from that, IJM Corp also invested RM110 million in three-year convertible redeemable secured bonds.
At the time, IJM Corp was looking for a vehicle to enter the sizzling O&G industry. Yet, its shares fell 7.05% on Sept 25, 2012 — the day after the share and bond subscription was announced — while Scomi Group soared nearly 9%.
Sceptics will point out Scomi Group's track record and share performance. Even when crude oil was trading north of US$100 per barrel in the middle of 2014, its market capitalisation shrank by half from RM1.44 billion in December 2003.
Today, its market value is a mere RM279.76 million. An investor who had held Scomi Group's shares since Sept 25, 2012, would have lost 52.64% of their value. Besides, there has been no dividend since FY2008.
In Scomi Group's initial public offering document, Frost & Sullivan said the company's drilling fluids business had an 81% share of the market in Malaysia and just a handful of competitors because of the high barriers to entry.
The prospects for Scomi Group seemed bright then, given that more drilling fluid was required as an increasing number of oil exploration projects were approved the world over. Its net profit for financial year ended Dec 31, 2004, multiplied over four times to RM61.49 million in just one year as its purchase of KMC Oiltools Bermuda Ltd gave it instant access to 28 countries.
But Scomi Group's rapid expansion into various markets and businesses backfired in the end. As crude oil prices fell during the 2008/09 global financial crisis and the US dollar traded at its weakest against the ringgit in more than a decade, the company sank into the red from FY2010.
While Scomi Group returned to profitability in FY2014, it is facing challenges again now, given another round of low crude oil prices. Its 1HFY2016 net profit fell 14.56% to RM14.74 million, although its transport solution division's turnaround offset the RM5 million loss suffered by its marine service division due to lower tonnage carried and fewer shipments for all its contracts.