This article first appeared in The Edge Financial Daily, on August 29, 2018.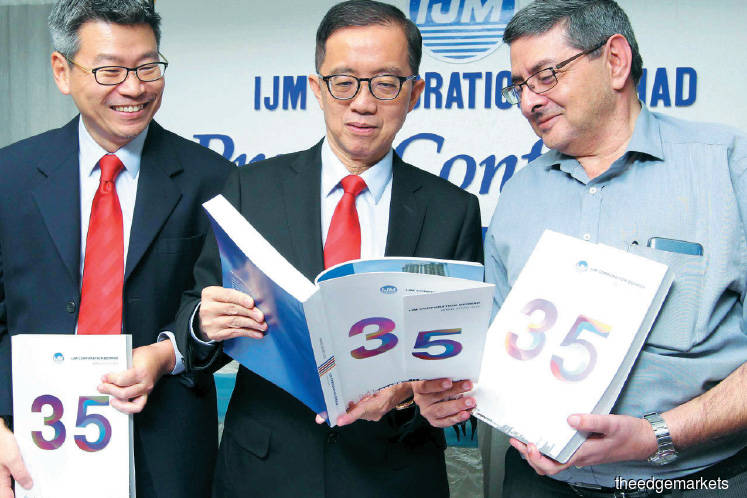 KUALA LUMPUR: Builder and property developer IJM Corp Bhd expects a lower order book replenishment in the current financial year ending March 31, 2019 (FY19) as it already secured some of the jobs in FY18.
"Every year, we target an order book replenishment of between RM2 billion and RM3 billion. In FY18, we got some jobs earlier than expected and that was why we had a [strong] order book of RM3.8 billion," its chief executive officer (CEO)-cum-managing director (MD) Datuk Soam Heng Choon told a press conference after the group's annual general meeting yesterday.
"This year, we expect to replenish our order book by about RM1.5 billion to RM2 billion," he said.
Soam noted that despite the government's review of mega infrastructure projects such as the Kuala Lumpur-Singapore high-speed rail and the East Coast Rail Link, there are still many private sector-driven projects in the market.
"We believe there are still projects to do in Malaysia, although there has been a bit of slowdown over the last two to three months due to the review of mega infrastructure projects.
"Malaysia still needs contractors who are able to execute the work. Today, the 'know-how' is more important than 'know-who'," he said.
"We have the ability to execute. With the government being transparent and everything is put out for tender, I think we may participate in more tenders," he added.
Soam said for FY19, IJM Corp's earnings will be underpinned by its outstanding order book of RM9.4 billion and its property division's current unbilled sales of RM2 billion.
On the group's 27-storey office tower called Menara Prudential in Tun Razak Exchange here, in which IJM Corp is investing RM500 million to develop, Soam said it is currently 93% complete and is on track to be ready by early-2019.
"Prudential Group will move in before the mid of next year. It is doing its interior design works there currently. Tenancy-wise, it is 84% or 85% taken up," he said.
Meanwhile, Soam said the group will continue to invest in its plantation business amid talks that the group has received an offer to dispose of its 56% stake in IJM Plantations Bhd.
"As good corporate citizen, if there is anything concrete, we will make an announcement. So far, there is nothing in writing and thus nothing is required for an announcement," he said.
"Every now and then, we are approached by many parties for many aspects of our businesses. The board of directors always goes through all the investments and assets, it is an ongoing thing.
"I cannot tell you whether any deal is going to happen or not because it may not be possible today, but if somebody makes a very good offer to us tomorrow, that probability is going to change," he added.
Earlier this month, it was reported that IJM Plantations had become a takeover target with suitors consisting of IOI Corp Bhd, Hap Seng Plantations Holdings Bhd and Kuala Lumpur Kepong Bhd.
When asked if IJM Corp's board had met with senior executives from the three companies recently, Soam merely shook his head.
"Moving forward, we will continue to invest in our plantation business, we are always on the lookout if there is additional acreage nearby where we are operating now," he said.