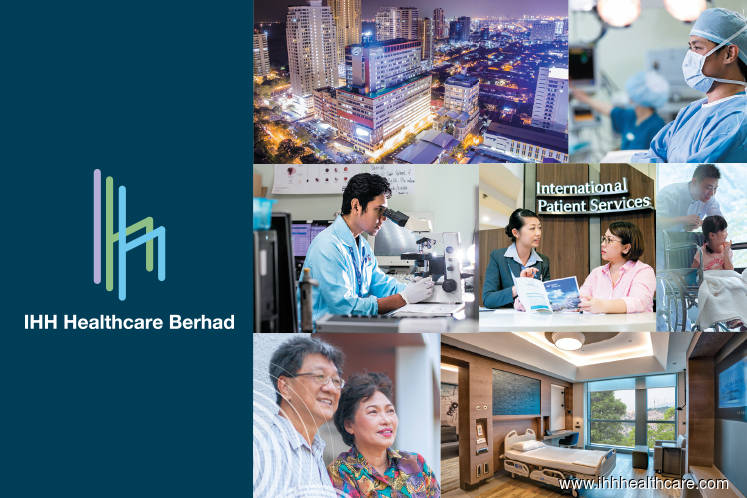 KUALA LUMPUR (Aug 30): IHH Healthcare Bhd's net profit for the second quarter ended June 30, 2019 (2QFY19) rose 12% to RM184.99 million compared to RM165.11 million a year ago, as the group continues to book in contributions from two new acquisitions that were completed in the final quarter of last year.
Aside from the boost of the Amanjaya Specialist Centre (completed last October) and Fortis Healthcare (acquired a month later) acquisitions, the better earnings was also a result of the continuous ramp up of its Gleneagles Hong Kong Hospital in Hong Kong, and the Acibadem Altunizade Hospital in Turkey, both of which opened their doors in March 2017, and sustained organic growth from other existing operations.
This pushed earnings per share to 1.86 sen from 1.75 sen, the largest hospital operator in Asia said in a stock exchange filing today.
Quarterly revenue jumped 37% year-on-year to RM3.65 billion from RM2.66 billion, while earnings before interest, tax, depreciation and amortisation improved by 47%.
"The adoption of Malaysian Financial Reporting Standard 16 (MFRS 16), with effect from Jan 1, 2019, also boosted the second quarter 2019 EBITDA since the group does not recognise operating lease expense but instead recognised depreciation on the right-of-used (ROU) assets," the group said.
Excluding the effects of the MFRS 16 adoption and on a constant currency basis, it said the group's revenue and Ebitda would have increased 38% and 31%, respectively, from a year ago.
The improved 2QFY19 lifted its six-month net profit ended June 30 by 23% to RM274.5 million from RM222.34 million a year ago, while revenue rose 32% to RM7.29 billion from RM5.51 billion.
In a separate statement, IHH's managing director and chief executive officer Dr Tan See Leng said the group delivered a strong underlying performance as it executes its strategy in a disciplined manner, and that the foundation laid will position IHH well for its next phase of growth.
"In India, we are pleased with our continued progress on our turnaround plan for Fortis. For a second straight quarter, Fortis delivered an operational profit before tax, while also achieving higher revenue and bolstering its balance sheet. Management remains fully confident that this transformational acquisition continues to be accretive for IHH in years to come," he said.
He added that the group's proactive steps to pare down non-lira debt for Acibadem have also reduced the impact of foreign exchange volatility on IHH's earnings. As for Greater China, besides the continued ramp up of Gleneagles Hong Kong, the group is looking forward to the opening of Gleneagles Chengdu and Gleneagles Shanghai over the next 18 months.
But moving forward, the group said the ongoing political uncertainty in Turkey will weigh on the country's economic activities and result in currency fluctuations, and that there are regulatory risks arising from impending price controls in Malaysia, Singapore and India that may affect its profitability.
Nevertheless, it said its experienced management team has a proven execution track record and expects to continue delivering long-term value to all stakeholders.
The group will also consolidate its multi-country portfolio strategy to diversify its earnings base in cash flow-generative markets such as Singapore and Malaysia, medium-term growth momentum from Turkey, and long-term growth opportunities from India and Greater China, besides focusing on ramping up existing operations and integrating Fortis in the medium to long term.
IHH shares closed two sen or 0.35% higher at RM5.79, giving it a market capitalisation of RM50.8 billion. Year to date, the stock is up over 7%.