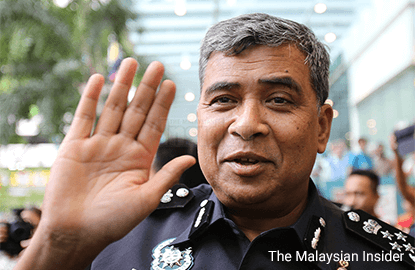 KUALA LUMPUR: Tan Sri Khalid Abu Bakar said yesterday the transfer of the Special Branch deputy chief, Datuk Abdul Hamid Bador, to the Prime Minister's Department was not something out of the ordinary. Before this, he noted many senior officers, including Khalid himself, were transferred to other government agencies.
The inspector-general of police said allegations that the Special Branch was being "cleaned up" with the removal of its top officials were slanderous.
"I advise the media to be more careful in their reports as inaccurate reports will lead to all sorts of implications which can disrupt public order.
"It is even more dangerous when the reports are made based solely on the understanding and interpretation of the writer," he said in a statement.
Khalid said the writer might have twisted the facts just to make the article more readable.
He said Hamid had applied to go on leave and had not been ordered to do so, contrary to media reports.
Khalid said Hamid was told that he would be transferred out of Special Branch, after Hamid changed his mind and decided not to retire early.
He added that Hamid's new position, which would see him head a security division in the Prime Minister's Department, was in recognition of his abilities and experience in tackling such issues.
Hamid is expected to report for duty at the Prime Minister's Department after his leave ends on Aug 28.
He told the Malaysiakini news portal on Wednesday that he did not know the reasons for his abrupt transfer. — The Malaysian Insider
This article first appeared in digitaledge Daily, on August 21, 2015.