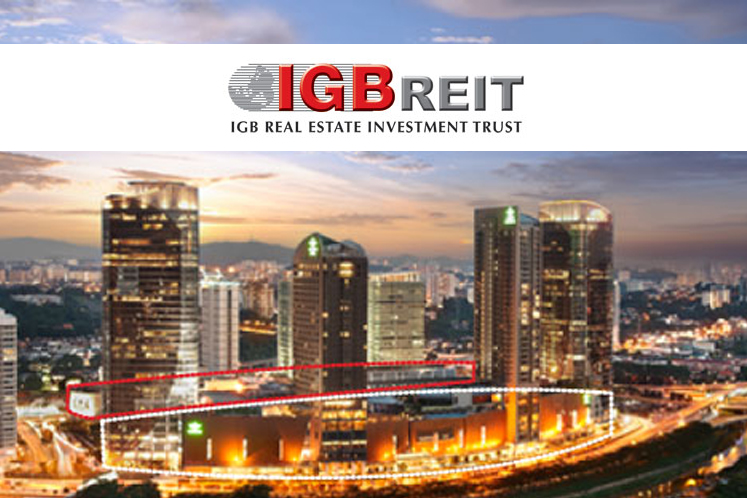 KUALA LUMPUR (Aug 30): IGB Bhd is undertaking an internal group reorganisation which will see its 49.12% indirect stake in IGB Real Estate Investment Trust (REIT) come directly under the group. Currently the stake is held via wholly-owned IGB Corp Bhd.
In a filing with Bursa Malaysia, IGB said the transfer will be undertaken by way of a dividend-in-specie to be declared by IGB Corp out of its available profits to IGB.
The exercise is part of its continuing strategic review of its group of companies following the privatisation of IGB Corp in March, IGB said in a filing to the stock exchange today.
"This will result in a leaner and more efficient structure whereby the listed assets of the IGB group, being IGB REIT, will become a direct subsidiary of IGB, facilitating the regular distributions of income from the yield-play IGB REIT without having to go through IGB Corp as intermediary," the group said.
IGB said the transfer is expected to be completed by end of this year.
In a separate filing, IGB said its second quarter net profit fell by 10.91% to RM41.27 million from RM46.32 million a year ago, due to lower contributions from the property investment, commercial and hotel divisions as well as higher finance costs.
Earnings per share for the quarter ended June 30, 2018 fell to 6.32 sen from 7.61 sen.
Revenue for the quarter grew 8% to RM293.5 million from RM271.4 million previously.
For the first half of the year, IGB's net profit declined 36.94% to RM75.35 million from RM119.49 million last year, while revenue increased 6.28% to RM587.69 million from RM552.94 million.
Earnings per share fell to 11.55 sen from 19.64 sen previously.
The group declared an interim dividend of two sen per share.
Its share price closed unchanged at RM2.80 today, giving the group a market capitalisation of RM1.92 billion.