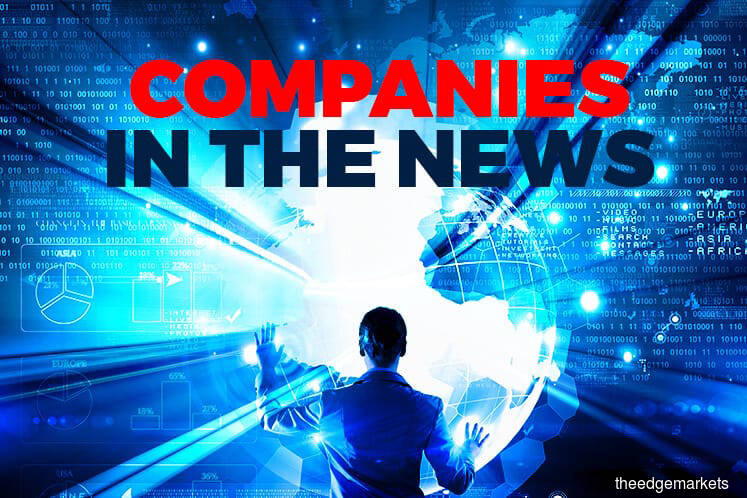 KUALA LUMPUR (Dec 3): Based on corporate announcements and news flow today, companies in focus tomorrow may include: IGB Bhd, Destini Bhd, Sino Hua-An International Bhd, Scomi Group Bhd, PRG Holdings Bhd, Parkson Holdings Bhd and Astramina Group Bhd.
IGB Bhd, together with its partner Tower Ray Ltd, plans to sell their 50-50-owned UK-based Black Pearl Ltd, which owns a plot of freehold London land, for £235 million or RM1.27 billion.
IGB said in a bourse filing that its 50% stake in Black Pearl is held under IGB's wholly-owned Verokey Sdn Bhd. "Verokey and Tower Ray, each hold a 50% stake in Black Pearl Limited (Black Pearl), which owns the freehold title to the land known as 18 Blackfriars Road, SE1, London (Property)," the group said.
Verokey and Tower Ray inked a non-binding heads of terms agreement with Hero Inc Ltd, Staycity Ltd and BSW Land and Property Ltd, who want to buy their entire stakes in Black Pearl.
Destini Bhd has secured a one-year extension for its contract with the Defence Ministry for the provision of maintenance, repair and overhaul services, as well as the supply of safety and survival equipment to the Royal Malaysian Air Force. The contract ceiling is RM50.18 million, Destini said in a filing with Bursa Malaysia.
With its intention to expand the group's source of revenue, Sino Hua-An International Bhd is buying the entire stake in technology company TouchPoint Group for RM72 million, cash. It inked an agreement to effect the acquisition today, after changing its mind about taking up a 51% stake in the company eight months ago.
With the completion of its new business acquisitions, Sino Hua-An will have three core businesses, namely food and beverage (F&B), digital solutions platform, and manufacturing of metallurgical coke.
Bursa Malaysia Securities has rejected Scomi Group Bhd's Practice Note 17 (PN17) waiver application, due to concerns on the sustainability and growth potential of its existing/remaining business and its ability to generate sufficient revenue and thus, profitability. Hence, the group is now regarded as a PN17 company.
Separately, Scomi said its proposed share capital reduction and share consolidation have been approved by Bursa Malaysia Securities.
PRG Holdings Bhd has proposed a private placement of up to 40.29 million placement shares, representing not more than 10% of its share base, to raise proceeds to partly fund its acquisition of two parcels of land in Kelantan that are planted with teak trees. Based on an indicative issue price of 57 sen per share, the company expects to raise total proceeds of up to RM22.96 million, of which RM10.6 million will be used to partly pay for the acquisition of the two parcels of land.
Parkson Holdings Bhd's 67.96%-owned Singapore listed subsidiary Parkson Retail Asia Ltd (PRA) has been placed on the Singapore Exchange (SGX)'s watchlist, after PRA issued a notice in October that it had been loss-making for three consecutive years. The watchlist inclusion takes effect tomorrow (Dec 4), according to an announcement by PRA to the SGX on the watchlist inclusion.
Astramina Group Bhd, which made its debut on Bursa Malaysia's LEAP market today, wants to leverage its halal-certified food seasoning business to gain access to Middle Eastern markets. Astramina shares got on to a good start, opening at 25 sen — a two sen or 8.7% increase over its listing reference price of 23 sen — and rose a further 3 sen to settle at 28 sen, giving it a market capitalisation of  RM76.21 million.