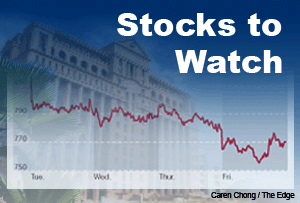 KUALA LUMPUR (Sept 08): Based on news flow and corporate announcements today, companies that may attract investors' attention tomorrow (Sept 09) include the following: IFCA MSC Bhd, China Automobile Parts Holdings Ltd (CAP), Delloyd Ventures Bhd, Berjaya Auto Bhd, Ho Hup Construction; and oil and gas sector related stocks such as UMW Oil & Gas Corp Bhd, Eversendai Corp Bhd and KKB Engineering Bhd.
IFCA MSC Bhd says Brahmal Vasudevan has ceased to be a substantial shareholder of the company after disposing 11.25 million shares.
In a filing with Bursa Malaysia today, IFCA MSC says the savvy investor disposed the shares on Sept 2.
However, it did not state the transaction price.
To recap, Brahmal emerged as a substantial shareholder of the company when he bought a 5.55% equity stake in IFCA MSC on Aug 27.
It is believed that the frenzied buying interest in IFCA is partly driven by its latest quarterly earnings. IFCA MSC reported RM3 million in net profit for the second quarter ended June 30 compared with barely RM578,000 in the previous corresponding period.
Moving to the oil and gas sector, UMW Oil & Gas Corp Bhd (UMW-OG), KKB Engineering Bhd and Eversendai Corp Bhd will be closely-watched as they managed to secure multi-million ringgit contracts respectively.
UMW-OG announced it has secured an O&G project from Petrovietnam Drilling & Well Services Corp worth US$46.5 million (RM147.62 million).
The contract is for the provision of drilling rig services for drilling campaigns for Vietnam operations, whereby UMW-OG Group will assign its newest rig, UMW NAGA 6 for the contract.
The contract is for four firm wells (approximately 250 days), with three optional wells (estimated 55 days) and thereafter, an extension option of three wells (estimated at 277 days).
"The commencement of the contract is expected to take place in early October this year immediately upon UMW-OG group taking delivery of the new rig - UMW NAGA 6, later this month," UMW-OG says in a statement.
UMW NAGA 6 is currently under construction by China Merchants Industry Holdings Co Ltd, at a shipyard in Shenzen, Mazhou Island, China.
KKB Engineering Bhd also announced that its associate company, OceanMight Sdn Bhd has bagged a RM14.5 million contract from 2H Offshore Engineering Sdn Bhd to provide fabrication, hook-up and commissioning services for the Tanjong Baram Wellhead Platform.
KKB told Bursa Malaysia that the commencement period would be this month, and scheduled fabrication completion in March 2015.
Eversendai Corp Bhd has secured its maiden oil and gas (O&G) contract for two separate packages worth a combined RM72.2 million.
In a statement to Bursa Malaysia today, Eversendai says its unit, Eversendai Oil & Gas (M) Sdn Bhd, bagged a mechanical and steel structure packages contract for Petronas Carigali Sdn Bhd's Terengganu Gas Terminal (TGAST) Project — Phase 2.
The contract was awarded by Samsung Engineering (Malaysia) Sdn Bhd.
Under the deal, Eversendai will supply and install steel structures, as well as provide fabrication and erection of piping and mechanical equipment.
The mechanical package will commence in the third quarter of this yearfor completion by April 2016.
Automotive components makers China Automobile Parts Holdings Ltd (CAP) told Bursa Malaysia today that it is exploring a dual listing on the Main Market of the Hong Kong Stock Exchange to further generate its visibility and publicity.
The company had on Sept 5, appointed Hong Kong-based consulting firm JRK Capital Ltd to provide advisory services and feasibility study in relation to the proposed dual listing.
CAP says a successful dual listing will generate higher visibility and publicity for the company and its subsidiaries' businesses.
"The proposed dual listing will provide retail and institutional investors in another exchange with an opportunity to participate in the equity and continuing growth of the group, which will broaden and diversify CAP's shareholder base," the automobile chassis component manufacturer says.
CAP says the proposed dual listing will create a new listing platform for CAP shares.
Delloyd Ventures Bhd expects its privatisation exercise at RM5.20 apiece to be completed by March 2015, provided shareholders give their approvals in an extraordinary general meeting in December.
According to its Group Managing Director (MD) and co-founder Datuk Seri Tee Boon Kee, regardless of whether Delloyd Ventures will be privatised successfully or remain as a listed entity, its business will remain as usual.
He adds that the independent advice circular (IAC) is expected to be despatched in November.
Speaking to the reporters after the group's annual general meeting here today, Deputy Group MD Datuk Leon Tee Wee Leng says the revised take-over offer price of RM5.20 "will be the final price at the moment".
"The prospects for both autoparts manufacturing as well as plantation sectors, are not that great. To us, the offer price has already reflected a premium over the future earnings of the company," he says.
Berjaya Auto Bhd's (BAuto) net profit more than doubled to RM56.1 million for its first financial quarter ended July 31, 2014 (1QFY15) from RM26.09 million a year ago, largely due to higher sales of Mazda vehicles in Malaysia and the Philippines.
Revenue rose 18.6% year-on-year to RM507.95 million from RM428.42 million in 1QFY14. Earnings per share for 1QFY15 rose to 6.95 sen per share from 3.62 sen per share a year ago.
The group also declared a first interim dividend of 2 sen per share, payable on Oct 8.
Ho Hup Construction Co Bhd will develop a high-end residential property project with a gross development value of US$200 million in central Yangon, Myanmar – its maiden project there.
Under the joint venture (JV) agreement signed today by its 70%-owned unit Ho Hup (Myanmar) E& C Co Ltd with Zaykabar Co Ltd, Ho Hup Myanmar will have the sole and exclusive rights to develop the 191 units of villas and bungalows in Mingalardon Garden City.
In a statement today, Ho Hup says its role in the JV is to provide technical expertise in design, construction and project management , and it will not invest in the development land which is owned by Zaykabar.
Building works is to commence within one month from obtaining the construction work order from the authorities.
"Construction of Phase 2 and 3 shall commence immediately upon each earlier phase having recorded sales of equivalent to more than 50% of the villas of that phase," Ho Hup stipulated in its agreement.
Ho Hup adds that the capital outlay and investment of Ho Hup Myanmar in the JV is mainly initial working capital to commence construction of the villas, as thereafter the project is expected to generate its own cash flow and be self-funding.