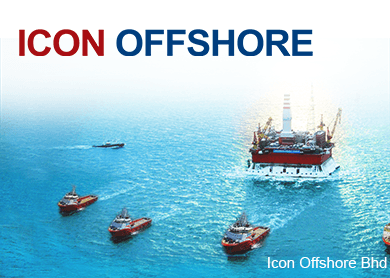 LESS THAN a year after it debuted on Bursa Malaysia, Icon Offshore Bhd has seen its share price fall to 65.5 sen from its initial public offering price of RM1.85 last June.
Along with other offshore support vessel (OSV) providers, the company has begun to feel the impact of weak oil prices and the review of capital spending by national oil firm Petroliam Nasional Bhd (Petronas), with a number of its vessels not chartered.
When contacted, Icon Offshore CEO Dr Jamal Yusof says OSV players in general are prudent about their cost now.
"We have six vessels [out of a fleet of 31 OSVs] that are not chartered. The rest are on long-term or spot charter," he says.
However, Jamal says there are still tenders in the market, adding that of the six vessels that are not chartered out, only three are looking for jobs. The other three are dry-docked. According to him, it is compulsory for vessels to be dry-docked every five years to maintain their class certification.
Asked how much it costs Icon Offshore to dry-dock the vessels, Jamal says it is RM2.5 million to RM3 million per vessel.
"All this has been taken into account in the budget. How much it costs to dry-dock depends on the size of the vessel. The three ships we are dry-docking now are of 5,000 to 8,000 horsepower," he adds.
He maintains that Icon Offshore remains competitive in the tender market because it has the "youngest fleet of vessels in Southeast Asia".
"The average ship age in the region is 9 to 9.5 years. Ours is 4.5 years old," Jamal says, adding that a normal vessel can be used for up to 25 years.
According to him, Icon Offshore has a fleet rejuvenation programme. It is looking to sell two of its older vessels and replace them with ships of "higher specs, with higher safety features, better comfort and better fuel consumption".
Asked if the company has encountered clients demanding much lower rates, Jamal says management is constantly in "competitive bidding" mode.
"We have to be competitive. Across the board, in all service sectors of the oil and gas industry, prices have dropped. We are also looking at potential acquisitions but nothing has firmed up yet," Jamal says.
Industry players say charter rates are falling as competition for jobs intensifies, but maintain that there are still tenders in the market, echoing Jamal's comments.
"Rates have dropped 15% to 20% from the peak, depending on the types of OSVs," says an executive director of an oil and gas service provider.
"But there are still healthy enquiries on vessel requirements and we are expecting some contract awards in the coming months."
While expecting Icon Offshore to post weak first-quarter earnings due to the cyclical factor, an analyst says its performance is likely to improve in the coming quarters.
"Results should improve if the company continues to manage the vessels well and keep their contracts. But the thing with OSV operators is that their contracts can be terminated within a month. In the last downturn in 2011, we saw that happen … contracts being terminated," the analyst adds.
"The operators will have to reduce charter rates to improve utilisation."
UOB Kay Hian Research, in a March 17 report, notes that "stressed" earnings in the oil and gas services industry will start to show from the second quarter onwards.
"We understand that Petronas is continuing with its negotiations for rate cuts with its suppliers and the pricing adjustments will only be reflected from 2Q2015 onwards. While most of the service providers are working with their contractors within their own supply chain for lower costs, we believe profit margins will be affected, nonetheless," it says.
In the financial year ended Dec 31, 2014, Icon Offshore saw its net profit fall 47.7% year on year to RM59.3 million, while revenue dropped 4.8% to RM318.9 million. The sharp drop in profit was mainly due to a high base in FY2013, which carried a net deferred tax credit of RM100.36 million from the transfer and disposal of vessels.
Nevertheless, vessel utilisation rates dropped to 78.2 % in FY2014 from 84.6% in FY2013, notes Icon Offshore in its results announcement. This was due to lower demand and activities in the oil and gas industry towards end-2014.
Maybank Investment Bank Research notes that Icon Offshore will take delivery of seven new OSVs in 2015-16 — two workboats, two 10,930bhp anchor handling tug supply (AHTS) vessels, two platform supply vessels (PSVs) and one fast crew boat.
"Icon Offshore has been selected to be part of Petronas Carigali's umbrella contract for spot charter in the following categories: AHT (60 MT BP), surface safety valve, PSV, utility vessel, workboat and work barge. This is positive," it says in a Feb 27 report.
"Securing charters for its fleet will be key in 2015. We also see weakness in daily charter rates (DCRs) in all categories for new/ extension contracts. The weakness in DCRs will be most pronounced in the 5,000bhp AHTS segment. With the challenging outlook, Icon Offshore's planned venture into the Indonesian OSV market will likely be delayed."
Icon Offshore's share price closed at 65.5 sen last Friday, giving it a market capitalisation of RM776.94 million.
This article first appeared in The Edge Malaysia Weekly, on April 13 - 19, 2015.