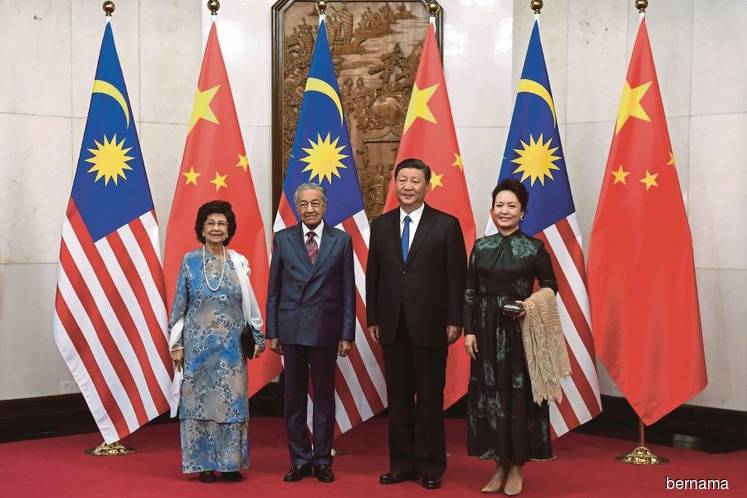 KUALA LUMPUR (Jan 2): Prime Minister Tun Dr Mahathir Mohamad denied he has embraced a closer relationship with Japan while remaining aloof from China, despite the country reviewing all the megaprojects initiated by the previous administration with China since Pakatan Harapan (PH) took over the Federal Government on May 9, 2018.
In an interview with Sin Chew Daily, Dr Mahathir said this assumption is not true, reiterating that "China is still the best friend of Malaysia".
The PH alliance headed by Dr Mahathir reviewed all Chinese mega-infrastructure projects after it claimed a historic election victory in the 14th general election (GE14). The move was interpreted as Dr Mahathir forging closer ties between Malaysia and Japan, and shifting the country away from dependence on Chinese investment.
Dr Mahathir said he always stood with China in any international stage, including when he attended the economy forum hosted by Japan, adding that he spoke on behalf of China.
"When they raised the questions, how do you think about China? I [said] the diplomatic relationship between Malaysia and China is in a good health, we are always being kind to China," he said.
Dr Mahathir further elaborated: "Historically, China has never invaded Malaysia. While Portugal had sailed from 8,000 miles away to colonised us. Hypothetically, Malaysia could be colonised by China (if they wanted to do so) since there are huge Chinese populations living in Malaysia, but the truth is, we have never been colonised by China."
"Who should we afraid of? China or Europe?
"In the past, people in China who know about me always thought I am a good friend of China. The move was taken by the Malaysian government to review East Coast Rail Link (ECRL) and cancel Sabah and Malacca gas pipelines, for this reason I was accused of being hostile towards China.
"The Chinese government understood we are saddled with debts. I have told them, we cannot afford it (mega projects)," Dr Mahathir said.
When asked if he planned to visit China in 2019, without any hesitation, Dr Mahathir replied, "Yes, if it was needed, I would visit China again."