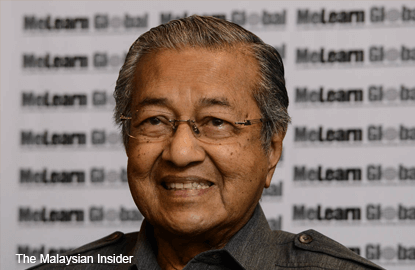 (Dec 1): Tun Dr Mahathir Mohamad said today he would attend the Umno general assembly next week, after "accepting" party vice-president Datuk Seri Ahmad Zahid Hamidi's verbal invitation.
But the former prime minister, now the biggest critic of Umno president Datuk Seri Najib Razak,? said he would have shown up at the meeting in PWTC even if he not invited.
"I have yet to receive an invitation, but I accept Zahid's invitation as an open invitation.
"It's fine if they don't send me a letter (of invitation), I would still go," Dr Mahathir told reporters in Subang Jaya.
Zahid told English-language newspaper The Star that he hoped Dr Mahathir would attend the general meeting, as party members still respected him even though many disagreed with his views.
"I am very sure that the letter of invitation will go out soon, but whether he acceptsit  or not is for him to decide.
"The majority of Umno members still appreciate him, but there is a line between respecting him and accepting his opinion, they are two different things," he told The Star in an interview.
Dr Mahathir's attendance is bound to draw attention as he had in an open letter to members yesterday urged them to reject Datuk Seri Najib Razak as president if they wanted to see the party retain power in the next general election. – The Malaysian Insider