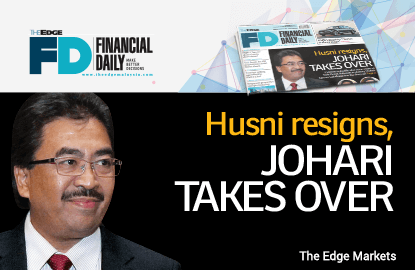 This article first appeared in The Edge Financial Daily, on June 28, 2016.
KUALA LUMPUR: Deputy Finance Minister Datuk Johari Abdul Ghani has been named second finance minister, replacing Datuk Seri Ahmad Husni Hanadzlah who has stepped down from his position.
The change was part of a cabinet reshuffle announced by Prime Minister Datuk Seri Najib Razak yesterday, which also saw the return of Selangor Umno chief Tan Sri Noh Omar as a federal minister, Bernama reported.
Noh takes over as housing, urban well-being and local government minister from Barisan Nasional (BN) strategic communications director Datuk Abdul Rahman Dahlan, who is now minister in the Prime Minister's Department in charge of the economic planning unit.
Abdul Rahman succeeds Tan Sri Abdul Wahid Omar, whose term as a senator has expired and who has decided to exit the public sector for the corporate sector once more.
The reshuffle also saw Gerakan president Datuk Seri Mah Siew Kiong taking over as plantation industries and commodities minister, replacing Datuk Seri Douglas Uggah Embas, who contested and won in the 11th Sarawak state election and accordingly was appointed as deputy chief minister. Mah had served as a minister in the Prime Minister's Department.
Commenting on Ahmad Husni's resignation, Najib said he had stated his wish to end his tenure for personal reasons, Bernama reported.
"He is quite ready to retire," the prime minister was quoted as saying. "I wish to express my deep appreciation and thank him for his services rendered all this while."
Apart from stepping down as a minister, Ahmad Husni is also giving up his BN and Umno positions.
In a statement from his political aide, Ahmad Husni said he is stepping down as Umno treasurer, BN treasurer general, Umno Perak deputy liaison chief, Umno Tambun division chief and BN Tambun division chief, the Malay Mail Online reported.
Najib also said the portfolios of the ministers in the Prime Minister's Department will be reshuffled soon. He has also appointed three new deputy ministers and reappointed a former deputy minister to strengthen the federal administration.
The three new deputy ministers are Jerlun member of parliament (MP) Datuk Othman Aziz as deputy finance minister, Silam MP Datuk Nasrun Datu Mansur as deputy plantation industries and commodities minister, and Lawas MP Datuk Henry Sum Agong as deputy  domestic trade, cooperatives and consumerism minister.
The post of deputy plantation industries and commodities minister fell vacant following the death of Tan Sri Noriah Kasnon in a helicopter crash in Sarawak on May 5.
MIC deputy president Datuk Seri S K Devamany is back as deputy minister in the Prime Minister's Department. Meanwhile, Datuk Lee Chee Leong, along with Othman, is deputy finance minister.
Bernama reported that Najib said the third cabinet reshuffle was to ensure "smooth continuation of the government's development agenda for the people — economic development, welfare and security — as promised".
The third reshuffle comes just one month shy of a cabinet reshuffle a year ago, which saw the appointment of Datuk Seri Dr Ahmad Zahid Hamidi as deputy prime minister, replacing Tan Sri Muhyiddin Yassin who was dropped from the cabinet.
When making his second cabinet reshuffle on July 28, 2015, Najib said it was to strengthen the line-up in facing the challenges in managing the country before the 14th general election, Bernama reported.
When asked if the third new line-up was preparation for BN in facing the next general election, Najib said: "It depends when the next election will be."
Asked when he would call for the general election, Najib said: "I don't know yet."
As to why there are no female appointees in the current cabinet reshuffling exercise, Najib said it should not be a concern because the government "can always include [them] at some point of time".