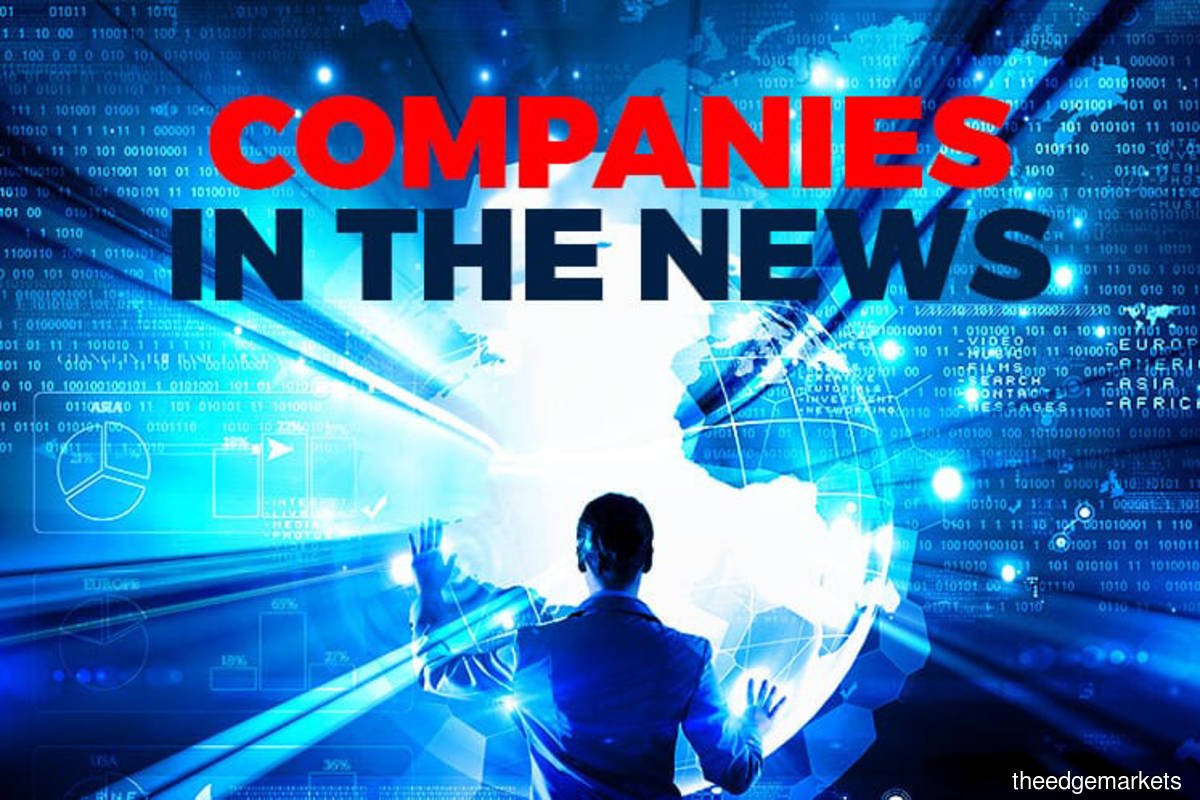 KUALA LUMPUR (Sept 6): Based on corporate announcements and news flow today, companies in focus on Tuesday (Sept 7) may include Hup Seng Industries Bhd, Comintel Corp Bhd, YB Ventures Bhd, Paramount Corp Bhd, UCrest Bhd, BSL Corp Bhd, Hubline Bhd, Kuala Lumpur Kepong Bhd, UMS Holdings Bhd, FoundPac Group Bhd, Teladan Setia Group Bhd, MGB Bhd, Lambo Group Bhd and IQ Group Holdings Bhd.
Hup Seng Industries Bhd has received a temporary closure order for one of its plants from the Ministry of Health following the spread of Covid-19. The group said its wholly-owned subsidiary Hup Seng Perusahaan Makanan (M) Sdn Bhd on Sept 5 received notice to temporarily stop certain parts of the operations until Sept 11 for the disinfection of the affected area to help curb the spread of Covid-19 at its factory located in Kawasan Perindustrian Tongkang Pecah, Batu Pahat, Johor.
Comintel Corp Bhd said its unit has secured a subcontract for earthwork and rock hacking works in Damansara Perdana worth RM7.2 million. Binastra Construction (M) Sdn Bhd gave the subcontract to Comintel's wholly-owned subsidiary Total Package Work Sdn Bhd for the development of a plot upon which two 36-storey blocks comprising 1,066 units of serviced apartment — namely 454 regular units and 612 affordable units — along with one facility floor and eight floors of podium-level parking, one floor of mezzanine level parking, one floor of lower ground floor parking and three storeys of sub-basement parking will be constructed. Comintel said the subcontract started today and should be completed in two months.
YB Ventures Bhd (formerly known as Yi-Lai Bhd) said today its rights issue of irredeemable convertible unsecured loan stocks at four sen per rights share has been oversubscribed by 46.6%. The tile manufacturer and information technology company said it saw valid acceptances and valid excess applications totalling 1.77 billion rights shares, compared with the 1.21 billion made available for subscription.
Paramount Corp Bhd intends to hold up to a 30% stake in the consortium that is bidding for one of five digital banking licences which Bank Negara Malaysia will be granting next year. Paramount group chief executive officer Jeffrey Chew noted that each member of the consortium would hold up to a 30% equity stake in the event that it manages to acquire a licence from the central bank. He highlighted that each member of the consortium had their roles to play — Star Media's capabilities as a media house for advertising and branding, RCE Capital's financial stability and track record, and Prosper's involvement in the agriculture and food sector where Chew said there are lots of gaps in the underserved and unserved segment.
UCrest Bhd said today it has entered into a one-year master service agreement with Russian Direct Investment Fund (RDIF) for the production of Sputnik V Covid-19 vaccine, five months after its first announcement on the planned collaboration.
BSL Corp Bhd has signed a memorandum of understanding to acquire Singapore-based SD Unify Pte Ltd as part of its effort to increase its exposure in the semiconductor sector. The group said SD Unify operates an International Procurement Office Centre, connecting the overseas supply chain for semiconductor original equipment manufacturers Approved Vendor Lists components.
Hubline Bhd has secured a RM25.67 million contract from the Election Commission to provide helicopter and fixed wing rental services for the Sarawak state election. The group said the contract, awarded to its subsidiary Layang Layang Aerospace Sdn Bhd, spans two years until August 2023 in view of the uncertainties as to when the polls can take place due to the pandemic.
Kuala Lumpur Kepong Bhd (KLK) said it has completed the acquisition of a 56.2% stake in IJM Plantations Bhd from IJM Corp Bhd. The group is now obliged to extend a mandatory general offer to acquire the remaining stake in IJM Plantations at RM3.10 per share. IJM Plantations boasts a total planted area of 61,277 hectares across Sabah and Kalimantan. With the acquisition, KLK's total oil palm planted area has risen by 28.7% to 274,688 hectares, from 213,411 hectares at end-September 2020.
UMS Holdings Bhd slipped back into the red in the third quarter ended June 30, 2021 with a net loss of RM696,000 as MCO 3.0 in June hit sales, the company said. Revenue sank 15.9% to RM13.94 million from the RM16.58 million registered in the immediate preceding quarter, when the company made a net profit of RM3.38 million.
FoundPac Group Bhd, via its wholly-owned subsidiary FoundPac Capital Sdn Bhd, has inked a conditional share sale agreement to acquire a 70% stake in SDKM Technologies Sdn Bhd for a cash consideration of RM8.4 million. The group said it acquired the shares from SDKM's two major shareholders, Ng Phaik Lee and Kameda Shin, and said that upon completion of the acquisition, SDKM will become a 70% subsidiary company of FoundPac Group.
Teladan Setia Group Bhd is acquiring five parcels of leasehold land in Jasin, Melaka measuring a combined 136.92ha for RM117.9 million, cash. Teladan Setia's wholly-owned Riverwell Resources Sdn Bhd will buy the lands, located in the Ayer Panas Mukim, from Bakat Muhibbah Sdn Bhd. The company plans to use the lands for mixed development, although planning is still at the preliminary stage, it added.
MGB Bhd said it has received a contract for a housing development in Dengkil worth RM112.5 million from a unit of its major shareholder LBS Bina Group Bhd. With the latest contract, MGB said its outstanding order book now stands at RM1.87 billion. The job entails the development of 605 units of single storey terrace strata, 41 units of double storey terrace strata and related structure.
Lambo Group Bhd said it has received valid acceptances for only 222.15 million shares or 22.27% of the 997.58 million shares available for subscription under its 5-for-1 rights issue. Lambo said it has also received excess applications for 775.3 million shares or 77.72% of the rights shares available. In total, it has received applications for 997.45 million or 99.9% of the rights shares available.
IQ Group Holdings Bhd, whose share price jumped 26% today, said it is not aware of any reasons for the stock's sharp rise in price and volume recently. Replying to the unusual market activity query from Bursa Malaysia, the group said there is no corporate development relating to its business that has not been previously announced as well as any rumours, reports or possible explanation that might have accounted for the unusual trading activity.