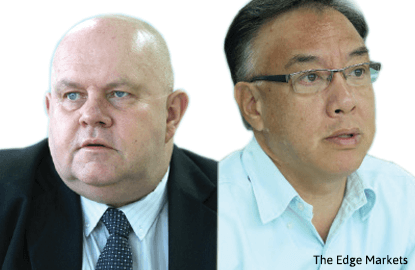 This article first appeared in The Edge Malaysia Weekly, on January 25 - 31, 2016.
OVER the past few months, CEC International Malaysia Sdn Bhd managing director Jim Gainsford and manager CY Chan have been approached by as many three possible concessionaires of the Kuala Lumpur-Singapore high-speed rail (HSR) and as many as four construction companies looking to build the rail infrastructure project.
CEC International is a unit of Taiwan-based Continental Engineering Corp, which in turn is owned by Continental Holdings Corp, a company publicly traded on the Taiwan stock exchange.
Continental Holdings' fame stems from its lead role in the US$17 billion, 345km Taiwan HSR, which was completed in 2006. Gainsford was involved in the construction from the start of the project in 1998, until it was completed  eight years later.
In an interview with The Edge, Gainsford, who was appointed managing director of CEC International in March 2014, makes it clear that one of the prime objectives of setting up CEC International in Kuala Lumpur in 2012 was the KL-Singapore HSR.
"Probably not as an investor, but more as an EPC (engineering, procurement and construction) contractor with the requisite track record in constructing and fast-track production or construction of a HSR, as was done in Taiwan," he says.
Gainsford says he believes that while the excitement is gaining momentum, there is still plenty to be ironed out by both the Malaysian and Singaporean governments based on the request for information, or RFI, which came out a few months ago.
"This HSR is certainly not something that you can expect to see sorted out fast," Chan says.
But then again, every large infrastructure project has its challenges. The building of the HSR in Taiwan, which links Taipei to Zuoying Station and covers 345km, was difficult, to put it mildly. The railway track had to be built over the alluvial plains of Taiwan, which required the addition of much soil and, more importantly, the alignment had to be on earthquake-prone terrain, says Gainsford.
Nevertheless, Continental Holdings was a large shareholder in the Taiwan High-Speed Rail Corp until it was taken over by the government.
Gainsford says, "Operations started well. The project went well; it was finished on time. We had a significant holding in the overall project, but unfortunately, the plan (for the HSR) didn't actually work as well as forecast, mainly because production was moved to China where labour was cheaper."
As manufacturing facilities were not set up along the alignment, there was a lack of economic activity surrounding the HSR alignment. "So, that destroyed the ... ridership model of the HSR and the development areas attached to the stations. There were big areas of land set aside for production but, unfortunately, it didn't happen. So the model suffered. It had a lot of difficulty meeting the ridership and revenue [targets]. Eventually, the government took it back before the concession expired," says Gainsford.
The chairman of Continental Holdings, Yin Chi, better known as "Nita", was also the chairman of the Taiwan HSR.
Nevertheless, Gainsford says CEC International sees the HSR "as an opportunity down the road for construction work".
Other projects of interest 
Quite recently, the market was abuzz with CEC International and a local partner collecting bid documents for the Damansara–Shah Alam Elevated Expressway (DASH) and the Sungai Besi-Ulu Kelang Elevated Expressway (SUKE), and bidding for eight packages, (four for SUKE and four for DASH).
Considering the total project value for the two jobs is RM10 billion for 16 packages, CEC International and its local partner seem to be bidding for half of the work, or about RM5 billion worth of jobs.
The DUKE, SUKE, MRT Line 2 and the Pan-Borneo Highway are the significant jobs CEC International is bidding for this year.
In Malaysia thus far, CEC International has done some underground work with a contract value of RM480 million.
Gainsford says, "We plan to expand our tunnelling arm here, but it will not only be for Kuala Lumpur and Malaysia — the office will be used as a hub for Southeast Asia."
The countries CEC International is looking to penetrate include Singapore, Thailand, Indonesia and Myanmar, with the Philippines also a possibility.
"This is going to be a regional office for Southeast Asia, not limited to Malaysia," says Chan.
For now, Gainsford has set the yearly target of jobs for CEC International at RM400 million. "That's the sort of appetite we have — RM300 million to RM400 million. This is our comfort level, unless something exceptional comes along. But for 2015, we didn't secure anything, so, it's now RM800 million for us to bag this year … to make up for the year we didn't bag anything."
For its financial year ended Dec 31, 2014, CEC International suffered a net loss of RM1.64 million from RM112.72 million in revenue. During the year in review, the company had current assets of RM36.02 million and non-current assets of RM15.52 million. On the other side of the balance sheet, the company had current liabilities of RM39.38 million.
Gainsford is quick to say the losses were a result of the company starting out on a quiet note at the beginning of 2015. However, he says the tender period for SUKE and DASH will keep the company busy, taking CEC International through almost the first half of 2016.
Malaysia needs the HSR
Both Gainsford and Chan are of the view that Malaysia needs the HSR connection with Singapore.
"I went to Singapore last week; I see the need for it," says Gainsford.
Chan, meanwhile, says that most of the HSR systems around the world connect city centre to city centre, unlike airlines that generally fly into the outskirts of a city.
While it specialises in infrastructure, CEC International has secured a lot of tunnelling work in Asia and neighbouring regions.
"We've done a lot of tunnelling work in India and we're doing tunnelling work in Hong Kong. In Taiwan, of course, where we started out 70 years ago, we are known for our tunnelling prowess," Chan says.
Interestingly,  when asked if he has seen any downturn in the industry, Gainsford says, "I don't see any sign of it at the moment. I see the government being very bullish on construction and I don't think we will be affected at the moment. I am hopeful on my side, but I don't see a slowdown. I see the government pumping money into the sector to pump prime the economy … I don't see a slowdown, I don't see a downturn."
Although there is still a long way to go before the HSR project is awarded,  Gainsford, Chan and CEC International are gearing up for it.
While they readily acknowledge that they are the new kids in town, they feel they have the right ingredients to bag jobs in Malaysia. Certain jobs, such as the LRT awards, are skewed towards local companies, which leaves CEC International high and dry. But Gainsford says there are still opportunities in power and in roads, among others.
"There's a lot to target here, there a lot of targets for the ETP (Economic Transformation Programme) for 2020 … I believe there is still a market here to provide for foreign entities. No doubt, we are the new kids on the block, but all our partners thus far have been pretty strong. We feel that, certainly over our 70 years, we have built up a reputation, we offer quality, which should give us an edge," says Gainsford.