This article first appeared in The Edge Malaysia Weekly, on October 22, 2018 - October 28, 2018.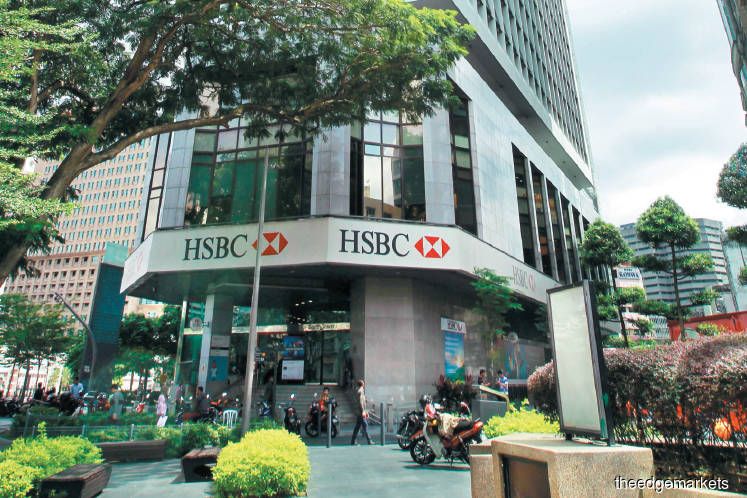 NOW awaiting the completion of its new RM1 billion headquarters in the Tun Razak Exchange (TRX), HSBC Bank Malaysia Bhd has placed Menara HSBC South Tower — the building currently housing the main office — up for sale.
Sources estimate that South Tower, located in Leboh Ampang in the capital, may fetch as much as RM120 million.
HSBC did not respond to questions sent by The Edge.
It is learnt that real estate firm CBRE|WTW has been given an exclusive mandate to find a buyer for the 20-storey building, which sources say has a gross floor area of 238,000 sq ft and net lettable area (NLA) of 173,000 sq ft.
"HSBC is trying to dispose of the building for about RM120 million," reveals a source, who believes RM100 million to RM110 million is a more realistic target.
The per sq ft (psf) price works out to RM578 at the lower end of the price band of RM100 million, and RM693 at the RM120 million end.
HSBC is believed to have occupied the 39-year-old building for as many years.
Another industry source points out that any deal with HSBC — assuming the deal is completed speedily — is likely to come with an initial guaranteed rental for the first couple of years, pending the completion of the bank's new headquarters and its relocation to TRX.
At the soonest, the source expects the deal to be concluded by early next year and for HSBC to hand South Tower over to the new owner in December 2020, even though the bank will likely only completely relocate to its new headquarters in early 2021.
Such a scenario will provide the new owner with two solid years of rental.
But what about beyond 2020? Industry sources point to three possible scenarios for the new owner, which can either continue to operate South Tower as an office, redevelop the site or change its use.
The first option is the easiest, but Kuala Lumpur is awash with office space.
Moreover, the general perception is that if there is just a single tenant, the number of parking bays may not be an issue. But if the major tenant vacates and multiple tenants are required, the lack of parking bays — purportedly fewer than 100 — may be an issue.
Nevertheless, newer concepts may work.
A real estate agent, who declined to be named, is of the view that if the building is worth more than RM100 million, it does not make sense to redevelop the site as the land is rather small.
He points out that if the asset is bought at RM120 million and then torn down to be rebuilt, the purchaser would effectively end up paying a whopping RM9,230 psf — and that too for a site in Leboh Ampang.
The third option would be to refurbish or retrofit it. One agent observes that an increasing number of buildings in the Leboh Ampang area are being retrofitted and converted into three-star hotels, a nearby example being the former Menara ING in Jalan Raja Chulan, which now operates as the Holiday Inn Express Kuala Lumpur.
HSBC also occupies the North Tower, a 24-storey Grade A green office building that is also located in Leboh Ampang and has 92 parking bays.
Sitting on 12,938 sq ft of freehold land, the building is owned by the Quill Group of Companies and has a total built-up of 265,000 sq ft and NLA of 185,354 sq ft.
Previously, The Edge reported that HSBC has a 15-year tenancy agreement with the owner that expires in 2022, albeit with an option to extend the tenancy for another two terms of three years each until 2028.
However, the extension is unlikely to happen now that HSBC is building a newer, larger headquarters that will offer 568,000 sq ft of NLA compared with its current space of 358,354 sq ft, or an additional 209,000 sq ft of space.
In June 2017, HSBC emerged as the first foreign bank to invest in TRX when it signed a deal (undisclosed) with TRX City Sdn Bhd and announced a US$250 million investment in the upcoming financial district.
HSBC is understood to have paid RM185 million for a parcel of land measuring 1.3 acres in TRX to build its new headquarters. It will be located next to Affin Bank's planned headquarters — a 35-storey tower with 823,439 sq ft of gross floor area.
It is worth noting that HSBC occupies a number of other buildings, one of which is the HSBC Bank Building in Jalan Sultan Ismail where it is the anchor tenant. Formerly known as Menara Genesis, the building is owned by Singapore's RB Capital Pte Ltd.
Industry players say the timeline for HSBC's relocation from those premises would depend on the expiry of the lease and the current rental charged.
The bank's presence in Malaysia dates back to 1884 when The Hongkong and Shanghai Banking Corp Ltd established its first office in Penang.
Save by subscribing to us for your print and/or digital copy.
P/S: The Edge is also available on Apple's AppStore and Androids' Google Play.