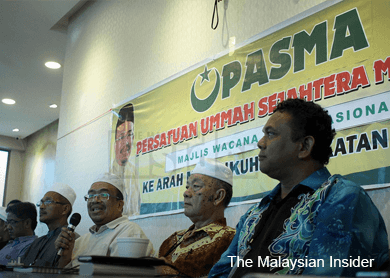 KUALA LUMPUR: A new opposition coalition without PAS to replace the moribund Pakatan Rakyat is viable and could capitalise on the anger towards the Barisan Nasional (BN), but questions remain as to whether it can take over Putrajaya in the next polls.
Analysts argue that there is enough support in Peninsular Malaysia's west coast for another Muslim-majority party to replace PAS, a scenario that may develop following the Islamist party's move to cut ties with Pakatan ally DAP.
The challenge for this new party, however, is to defeat both the conservative Islamist party and Umno for those seats.
For if PAS does leave Pakatan, it is likely to remain on its own, and be more of a thorn in the side of other opposition parties rather than a threat to Umno. But the new opposition coalition should be formed soon so that voters have enough time to adjust to the new political landscape.
History unkind to splinter parties
On the surface, the history of splinter parties does not bode well for any new breakaway entity.
Parti Negara, Semangat 46, Berjasa and Hamim are some of the well-known Malay-Muslim parties started by big names ousted from Umno or PAS, but which did not last beyond three elections.
But that has not dissuaded PasMa, the pro-Pakatan faction in PAS, from advocating a new party and coalition given that the new PAS leadership seems bent on straining ties with Pakatan allies.
The biggest problem for smaller parties, according to Ibrahim Suffian, who heads independent pollster Merdeka Center, is Malaysia's first-past-the-post electoral system where the party with the most votes wins.
Smaller parties usually benefit from a proportional system where seats in Parliament can be assigned to a party based on its share of the total national vote, he said.
A new Muslim-Malay party would likely end up facing PAS and Umno in a contest, in which Umno could stand to benefit more, said Ibrahim, recalling the contests for the Sungai Aceh and Kota Damansara state seats in the 13th general election in 2013.
West coast Islamists?
The problem, according to Ibrahim and others, is that Umno is unlikely to invite PAS into BN and neither do they see PAS merging with the Malay party.
"It is disadvantageous for Umno because then they will have to negotiate with PAS on seats since they traditionally face each other in an election," said Ibrahim.
Dr Wong Chin Huat of the Penang Institute argues that PAS risks alienating anti-BN voters if it joins Umno, while BN could lose whatever support it has among non-Muslims.
"Umno would more likely use an independent PAS to attack DAP and PKR to paint them as anti-Islam and anti-Malay," said Wong, who heads the institute's political and social analysis section.
He argues that based on voting trends since 1995, there is space in the west coast states for a Malay-Muslim party to rival PAS and Umno, considering PAS won seats in Selangor, Perak, Kedah and Perlis in the 1999 and 2008 elections due to protest votes from the "reformasi" and "tsunami" waves.
The bigger question is whether a new coalition could come to federal power in the next general election, which has to be called by 2018.
This is since it will have to take on not just BN but an independent PAS, which is still the country's second-largest party by membership.
PAS Member of Parliament Khalid Abdul Samad, however, believes that the anti-BN wave in the next general election will be big enough to overwhelm any third party that is not part of a national coalition.
A new coalition, he argued, could ride the anti-BN wave to Putrajaya regardless of whether PAS stands in its way or not. — The Malaysian Insider
This article first appeared in The Edge Financial Daily, on June 16, 2015.