This article first appeared in The Edge Malaysia Weekly, on June 24, 2019 - June 30, 2019.
Click / Tap image to enlarge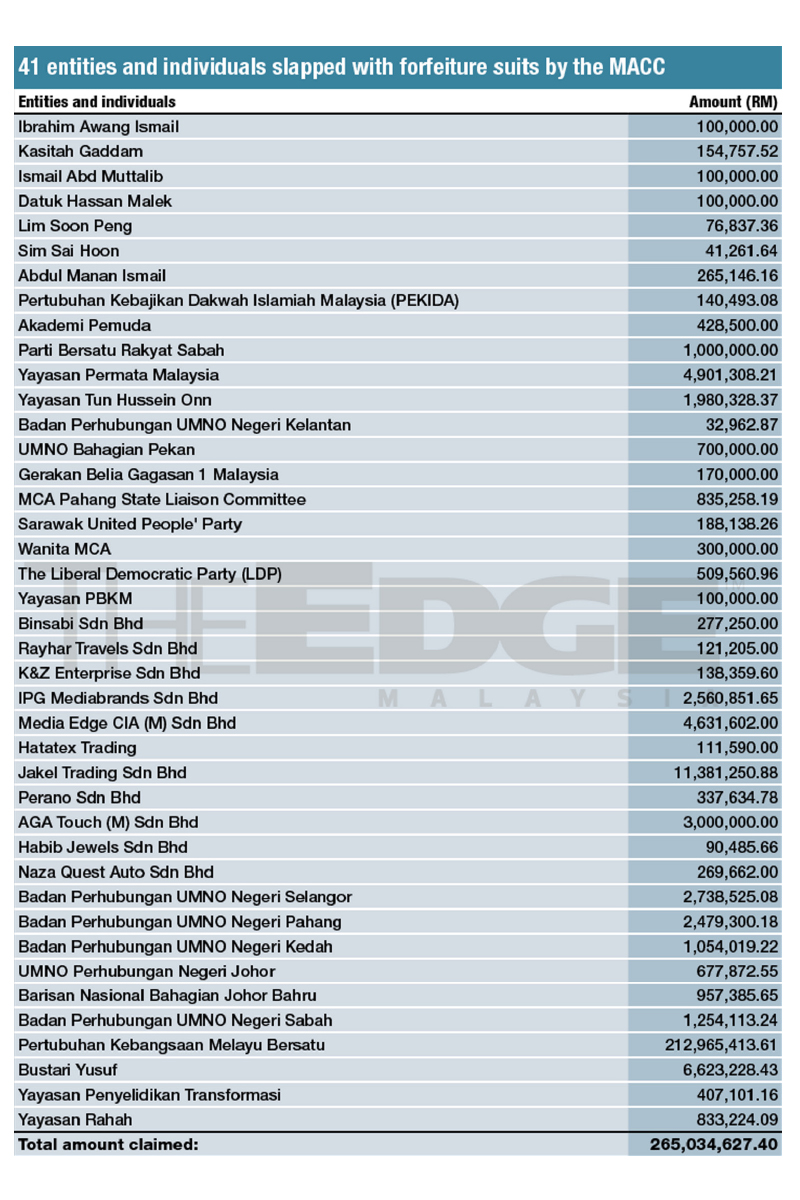 XXX
THE Malaysian Anti-Corruption Commission (MACC) has filed a civil forfeiture suit against 41 entities and individuals in a bid to recover nearly RM270 million of funds that were allegedly misappropriated from 1Malaysia Development Bhd (1MDB).
MACC chief commissioner Latheefa Koya (picture) said the suit was filed under section 56 of the Anti-Money Laundering, Anti-Terrorism Financing and Proceeds of Unlawful Activities Act 2001 (AMLA) at the High Court, which has set four dates for the case — June 25,  July 10, 24 and 31 this year.
"Given the large number of entities involved, the High Court is breaking down the suit into several smaller applications," she said at a press conference last Friday.
Latheefa said some RM212 million of the total RM270 million will be recovered from Umno-related entities. Based on the list provided to the media, these entities include Umno Pekan, Yayasan Permata Malaysia, Pertubuhan Kebajikan dan Dakwah Islamiah Malaysia (Pekida) and Jakel Trading. She said these funds were disbursed via an AmBank account opened under the name of former prime minister Datuk Seri Najib Razak.
Meanwhile, Latheefa said the commission has so far received some RM2 million of the funds, which were surrendered voluntarily by some of the parties involved, although she declined to reveal who these parties were.
"This is not a criminal prosecution, it is a civil forfeiture suit. We are taking a pragmatic approach with the priority of recovering the funds. If we go through a prosecution, it will take time, so we are going after the obvious cases with significant amounts first.
"There is definitely more money to be recovered, but we will only pursue this once we have more evidence and more names.
"The recovery of the money is as important as the prosecution," she said.
Latheefa said the civil forfeiture suit is focusing only on local entities as foreign parties do not fall under the MACC's jurisdiction and will be left to other authorities.
The entities named can challenge the suit, she said, as they will be required to file their respective affidavits.
"They could say that the accounts do not belong to them or that they had sold something in exchange for the money or that they have verified that the source of the money is proper. As far as MACC is concerned, we are clear that the team has done a good job in tracing the money.
"They could say that they received the money without knowing the source ... but it is clear that it is the responsibility of the account holder to take the necessary steps to verify the transactions. Too many times people have claimed they do not know where the money came from, saying that they are surprised and shocked. But that is not a good defence under AMLA," she said.
This article first appeared in theedgemarkets.com on June 21.