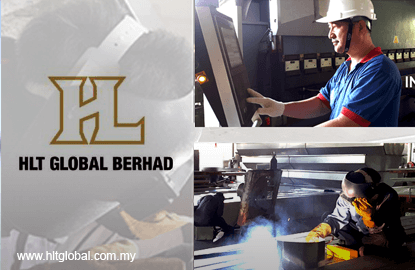 This article first appeared in
The Edge Financial Daily,
on January 11, 2017.
KUALA LUMPUR: Glove-dipping line manufacturer HLT Global Bhd debuted on Bursa Malaysia's ACE Market yesterday at 55 sen, a 10 sen or 22.2% premium over its issue price of 45 sen each. "[The premium] indicates the confidence level towards the company and the global market," its chief executive officer (CEO) Chan Yoke Chun told reporters at the listing ceremony. The counter closed the day at 54.5 sen, with 33.04 million shares traded.
HLT reported a 17.14% rise in net profit to RM6.21 million for the seven months ended July 31, 2016, against RM5.3 million for the same period in 2015. Revenue was up 53.18% to RM47.69 million from RM31.13 million. "Given our strong foundation, technical expertise and experience, we are confident the group will continue to record [a] strong performance in the coming years," said Chan.
"Our business is closely tied with the rubber glove industry and we have been seeing an uptrend there." She cited the global increase in healthcare spending as a major factor driving demand for rubber gloves. "When demand for rubber gloves increases, demand for our products [also] increases. We grow up together." For the last five years, between 79% and 97% of the company's revenue was derived from selling new rubber-dipping lines.
Research and consulting firm Smith Zander's recent report forecasts the glove-dipping line industry in Malaysia to grow at a compound annual growth rate of 15.2%, from an estimated RM326.5 million in 2016 to RM575.9 million in 2020. "Moving forward, we intend to leverage on our strong track record, and continue to seek market opportunities and strengthen our market presence in the domestic region as well as globally," Chan said.
With presence in Thailand, Indonesia, India and Saudi Arabia, the company is looking to penetrate the Vietnam market. For the seven months ended July 31, 2016, its local sales contributed 73.62% of total revenue, while Thailand sales made up 25.86%, with the remaining 0.52% from Indonesia. Though a manufacturer, the company said the recent change in foreign levy payment policy will not significantly impact its production costs as it employs subcontractors for labour-intensive jobs.
HLT's initial public offering (IPO) exercise consisted of a public issue of 39.591 million new shares and an offer for sale of 34.309 million shares at 45 sen a share. Through the IPO, the company aimed to raise RM17.8 million, of which RM9 million or 50.5% of the total figure will be used for capital expenditure, RM1.5 million or an 8.4% share for research and development, RM4.9 million or a 27.6% share for working capital, and the remaining RM2.4 million or a 13.5% share for the estimated listing expenses. The capital expenditure includes the cost of acquiring land and constructing a factory in the southern Klang Valley.