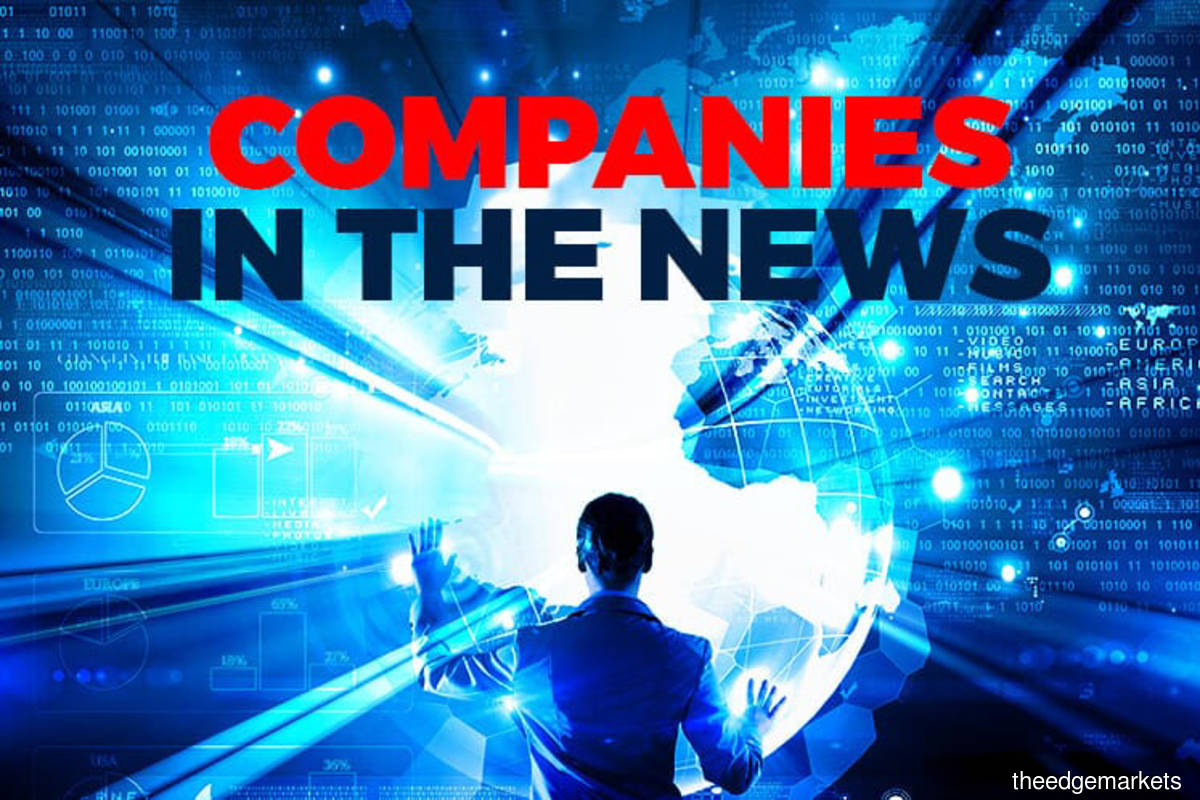 KUALA LUMPUR (April 19): Based on corporate announcements and newsflow today, companies in focus tomorrow (April 20) may include: HLT Global Bhd, Boustead Holdings Bhd, Sunway Bhd, Magna Prima Bhd, Iskandar Waterfront City Bhd (IWCity), Tan Chong Motor Holdings Bhd, AmFirst Real Estate Investment Trust (AmFirst REIT), Homeritz Corp Bhd, Freight Management Holdings Bhd, M3 Technologies (Asia) Bhd, Malaysia Airports Holdings Bhd (MAHB) and Artroniq Bhd.
HLT Global Bhd is acquiring a 2.55-acre land in Kuala Langat, Selangor for RM16.25 million to boost its glove-dipping production capacity. The group said it is operating at peak production capacity and hopes to raise its production capacity by about 80% via the acquisition. HLT Global said HLA is buying the leasehold land in Kuala Langat from Sri Taming Sdn Bhd. The property includes a single-storey detached factory and a three-storey annexed office building. Noting that the land is located close to its existing factory premises, it said the purchase will facilitate more effective administration and management functions over the two factory premises.
Boustead Holdings Bhd is selling a 6.59-acre piece of freehold land on Jalan Cochrane in Kuala Lumpur to Sunway Bhd for RM233.39 million. This is 6.1% or RM13.4 million above the land's market value of RM220 million. The sale will result in a gain on disposal of RM54.1 million or 2.67 sen per share.
Magna Prima Bhd is disposing of a four-storey commercial building in Kuala Lumpur for RM56 million, which the property developer will use to help settle its debts. The group said the property, located in Mukim Batu and with its lower ground floor designated for a supermarket, is being sold by its wholly-owned unit Everhall (M) Sdn Bhd to Cowboy (KL) Sdn Bhd. Saying it had no plans to operate the building, the group added: "The disposal will release resources tied up in unutilized property and realize the property at a fair market value, whilst enhancing the group's working capital."
Iskandar Waterfront City Bhd (IWCity) today announced a share placement which will see businessman Ong Yoong Nyock emerging as a substantial shareholder in the group. The placement of 83.74 million new shares, or 10% of IWCity's share base, to Ong and four other parties will raise RM40.2 million. The shares are priced at 48 sen apiece. Ong is the managing director and major shareholder of Tiong Nam Logistics Holdings Bhd and major shareholder of Wong Engineering Corp Bhd.  He is also the executive chairman and major shareholder of Hong Kong-listed Linocraft Holdings Ltd. Ong has agreed to subscribe for 53.57 million shares at RM25.71 million.
Tan Chong Motor Holdings Bhd, which said last month that its RM180 million bills of demand from the Royal Malaysian Customs Department will be settled out of court and that the sum has been reduced to RM109 million, announced today that the sum will be settled via instalment payments over 36 months. This will involve the company paying RM10.81 million by April 20, with the balance of RM97.26 million to be paid via 36 equal monthly instalments of RM2.7 million, from May this year to April 2024. This means Tan Chong will have to fork out about RM8.1 million each quarter over the next three years to settle the bill.
AmFIRST Real Estate Investment Trust (AmFIRST REIT) saw its net property income (NPI) for the fourth quarter ended March 31, 2021 declined 33.72% to RM12.55 million, from RM18.93 million a year ago, due to rental rebates and lower rental income. The REIT's revenue slipped 18% to RM24.56 million, from RM29.95 million a year ago. The group has declared a final income distribution per unit of 1.42 sen per unit, which will be paid on May 28.
After having implemented a seven-day stoppage at one of its manufacturing plants due to Covid-19 infections, Muar-based Homeritz Corp Bhd today announced a one-week suspension of operations across all of its factories and administrative office. The furniture maker said the temporary closure of the factories is aimed at minimising the risk of further spreading the virus within the community.
Freight Management Holdings Bhd has proposed a bonus issue of 279.22 million shares on the basis of one bonus share for every share held on an entitlement date to be announced later. The freight services provider said the bonus issue serves to improve the marketability and trading liquidity of its shares on lower trading price, which would attract a broader range of investors to participate.
M3 Technologies (Asia) Bhd's shareholders rejected the mobile solutions provider's proposed private placement at an extraordinary general meeting today. The group said seven shareholders controlling 146.1 million shares had rejected the resolution calling for the placement, versus four shareholders controlling 76.38 million shares who voted in favour of the resolution. In terms of percentage of voted shares, 65.67% voted against the resolution, while 34.33% was in favour.
Malaysia Airports Holdings Bhd (MAHB) is eyeing a total investment of RM1.3 billion for Subang Airport's (SZB) regeneration development that will transform it from an airport operator to an ecosystem master developer and aviation hub in Asia Pacific. KLIA Aeropolis Sdn Bhd head Randhill Singh said RM300 million will be needed for the common infrastructures and RM1 billion for building lettable facilities such as hangers, factories, maintenance, repair, and operations (MRO), as well as workshops. He said SZB will leverage the same global technology platforms and vendors used at the Kuala Lumpur International Airport (KLIA) to have access to global practices and standards, ensuring complete synergy in passenger experience with KLIA.
A group of Artroniq Bhd (formerly Plastrade Technology Bhd) shareholders wants to have the company's entire board of directors removed, and appoint new ones in their stead. Artroniq said four shareholders – Tee Yen Chong, Yeoh Guan Fook, Lee Pei Mei and Chew Hun Seng – who claimed they collectively control at least a 10% stake in the company, want to remove non-executive chairman Steven Wong, executive director Choy Eng Lun, and independent and non-executive directors Tan Tian Wooi and Lam Kwan Siew from the group's board via an extraordinary general meeting.