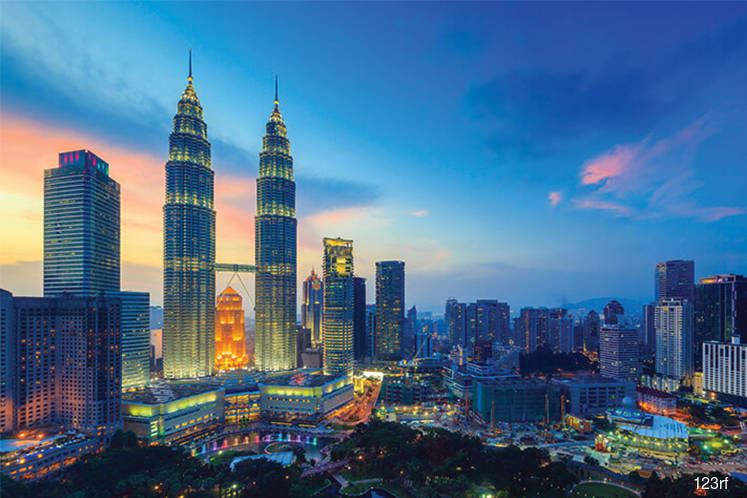 KUALA LUMPUR (Aug 13): Hong Leong Investment Bank (HLIB) has slashed its gross domestic product (GDP) growth estimate for the second quarter of 2018 (2Q18) to 4.6% from 5.1% previously after the contraction of various economic indicators including the Industrial Production Index (IPI) for June this year.
"Growth is expected to decelerate sharply, following contraction in the commodity sector, moderation in construction and manufacturing sector," HLIB economist Felicia Ling said in an economic report today.
In the commodity sector, the agricultural sector is expected to contract as palm oil production declined, while the mining IPI also indicated a year-on-year decline, HLIB pointed out.
"According to industry sources, the cut in natural gas supply from the Sabah Oil and Gas terminal to the Petronas LNG Complex in Bintulu had led to reduction in production. Meanwhile, value of construction work done showed a moderation in 2Q18 due to lower work done in the residential and non-residential segments," it said, adding that manufacturing activity is also expected to ease in line with a deceleration in electric and electronic exports.
The research house retained its full-year GDP forecast of 5.2% pending the release of 2Q18 figures later this week, with the expectation that GDP will pick up in the third quarter due to the zero-rating of the goods and services tax (GST).
CIMB Research also cut its 2Q18 GDP forecast to 4.9% from 5.2% initially, on the back of weak data in agriculture, construction and finance.
For the full year, CIMB economist Michelle Chia said risks remain tilted towards the downside as the US-China trade war escalates into actions by both sides, although the research house is still keeping its annual GDP growth forecast of 5.2% for now.
"Malaysia's trade imbalance position with the US is also a nagging issue that needs an urgent attention as the US doesn't seem to be budging on its intent to correct its various trade imbalances. This can be a source of downside risks to our growth in 2019," she wrote in an economic update today.
Meanwhile, Affin Hwang Capital Research also opined that the country's real GDP growth could come in lower than its forecast of 5.3%, highlighting caution towards a sharp slowdown in China's economy.
"From our analysis, a 1-percentage-point drop in its GDP growth will likely drag down Malaysia's economic growth by 0.5 percentage points," Affin Hwang's economists wrote in today's note.