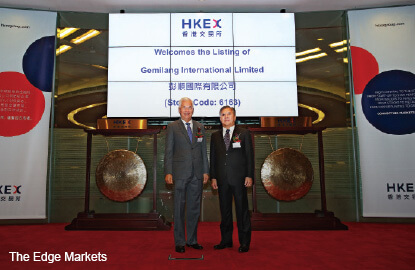 This article first appeared in
Capital, The Edge Malaysia Weekly
, on November 14 - 20, 2016.
GEMILANG Coachwork Sdn Bhd would be an unfamiliar name to most. But if you have ridden a bus in Malaysia or Singapore recently, chances are, you would have come across the company's work.
The Johor Baru-based company currently supplies about 80% of Prasarana's Rapid city buses and almost half of the city buses in Singapore.
While little known at home, investors in Hong Kong got a taste of the bus body builder last week when it listed on the Hong Kong Stock Exchange's main board as Gemilang International Ltd and, thus far, investors cannot seem to get enough of the stock.
Listing at HK$1.28 per share, Gemilang's initial public offering (IPO), raised HK$80 million (RM44 million) and was oversubscribed 26 times. The company's shares were valued at a price-earnings ratio of 7.9 times based on the offer price of HK$1.28. Closing at HK$1.37 per share on its debut, Gemilang had a market capitalisation of HK$342.5 million.
Singapore is Gemilang's main source of revenue, contributing 61.5%. Malaysia contributed 11.1%, followed by Australia and Hong Kong with contributions of 8.2% and 7.2% respectively.
The company booked a record US$41.07 million (RM172.5 million) in revenue in its financial year ended Oct 31, 2015 (FY2015) up 19.6% year on year. It achieved a record profit of US$5.2 million, an 11.6% y-o-y increase, in the same period.
For the six months ended April this year, Gemilang's revenue stood at US$16.75 million, down 38% y-o-y. Likewise, net profit fell to US$908,000 from US$3.27 million in the same period.
The earnings contraction was because delivery of the orders, and consequently the revenue, will only be recognised in the second half. By nature, orders for buses tend to be lumpy.
However, Gemilang's capacity is highly utilised and it is expanding, says managing director Pang Chong Yong.
In FY2015, the company produced 350 completely built up (CBU) and 169 completely knocked down (CKD) buses. The manufacturer will increase capacity by 44%, or about 20 buses a month, with a new plant in Senai, Johor. The plant is already under construction and is expected to be completed in the first half of next year.
The bulk of the IPO proceeds, about 54%, will be used to fund the construction of the new plant. Pang says he is confident about utilising the increased capacity with more public transport projects in the pipeline, such as the Mass Rapid Transit line 2 and the Light Rail Transit line 3.
"We decided to list in Hong Kong for two reasons. One was to get better long-term valuations. The second was to profile the company. We have only just begun to make inroads into the Chinese market. Having a Hong Kong listing will give us a better profile to penetrate the Chinese mainland," says Pang.
He and his cousin chairman Phang Sun Wah have steered the company for almost 30 years, transforming it into one of the most technically sound bus body builders in the region.
"We are not a mass-market builder. We are a niche player. We target the premium market and specialise in aluminium bodies. That is why we partner with international chassis builders like Mercedes Benz, MAN, Scania and Volvo," says Pang.
"Aluminium is much lighter than steel. Depending on the type of bus, the weight savings is about 5% to 10%, or anywhere from 500kg to one tonne. This is crucial for modern city buses. Not only does it make the buses more energy-efficient and cheaper to operate in the long run,  but also extends the life of the bus by reducing wear and tear," says Pang.
Though it is a fairly common material, Pang points out that building aluminium bus bodies requires high technical competence  to comply with the stringent safety requirements of public transport. Furthermore, Gemilang is not a mere assembler.
"Other than the chassis, drive train and underbody, we put together everything else on the bus. This includes the design of the aluminium bodies. It is not simple at all. In fact, we work closely with our partners (which supply the chassis)  to design the aluminium bodies. We have invested heavily in R&D to get to this stage," says Pang.
Gemilang's expertise has allowed it to make inroads into countries like Australia, which boasts some of the most stringent requirements. After securing the Australian Design Rules certificate in 2014, Gemilang has delivered 22 CBU buses to Australia and recently secured another order for six electric buses. In fact, the growing demand for electric buses is the key growth area that Gemilang is targeting.
"In 2015, a total of 6,500 electric buses were produced worldwide. The market for electric buses is expected to grow annually by 27% to about 21,000 units in 2020," Pang says.
Locally, Gemilang has supplied 15 electric buses for the Bus Rapid Transit line in Sunway, Subang. But that number is small compared with the 100 CKD buses supplied to Zhejiang CRRC Electric Vehicle Co Ltd in China. In August, Geminlang also secured an order from Hong Kong for 11 electric buses.
For now, Pang says Gemilang has a competitive advantage over bus builders in China, which focus on mass-market steel bodies. This gives Gemilang an opportunity to tap into the Chinese market.
Pang reminisces about how far the company has come. "In the 1970s, we manufactured bus bodies out of wood and school buses. But you will not find any of those around anymore."