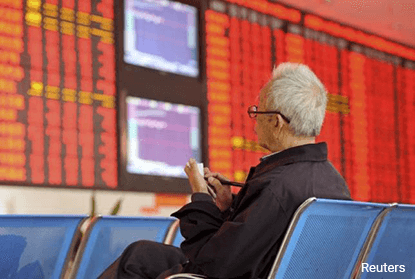 BENGALURU (Jan 26): Southeast Asian stock markets ended higher on Thursday, mirroring increases in Asian stocks that rose to 3-1/2-month highs earlier and in step with stellar gains in European and U.S. stock markets overnight.
The Dow Jones Industrial Average blew past the psychological 20,000 level on Wednesday, supported by President Donald Trump's pro-growth initiatives that reignited a post-election rally, and strong fourth-quarter earnings.
The S&P 500 and the Nasdaq Composite indexes closed at record highs for a second consecutive session.
The performance of Wall Street last night has definitely improved investor sentiment and risk appetite for Asian equities, said Mikey Macanaig, analyst with Sunsecurities Inc.
"We're seeing money come back to emerging equities, now that the Asian market performance is in tandem with U.S. markets."   
Indonesia rose 0.5%, closing at a near three-week high bolstered by financials, with nine stocks hitting fresh 52-week highs.
Thai shares closed at their highest in nearly two years, with gains supported by energy stocks and consumer staples.
Oil and gas company PTT PCL and convenience stores operator CP All were among the top performers.
Singapore ended 0.4% higher, helped by gains in financials and real-estate stocks.
Industrial production in December grew at the strongest pace in five years as electronics output surged, data from the Singapore Economic Development Board released on Thursday showed.
Rig builder Keppel Corp and real-estate company City Developments were the biggest percentage gainers on the index.
Philippines inched up, after government data showed the Philippine economy grew faster than expected at the end of last year, bolstering expectations that the central bank will tighten its monetary policy this year, the Bank of the Philippine Islands said in a note.
BDO Unibank Inc spearheaded gains in the financial sector and was the top performer on the index.
Malaysia ended 0.5% higher, led by financials.
The Vietnam stock market is closed from Jan 26 to Feb 1 for a national holiday.
SOUTHEAST ASIAN STOCK MARKETS
Change on day
| | | | |
| --- | --- | --- | --- |
| Market | Current | Previous Close | Pct Move |
| Singapore | 3051.78 | 3039.94 | 0.39 |
| Bangkok | 1591 | 1584.29 | 0.42 |
| Manila | 7332.64 | 7323.36 | 0.13 |
| Jakarta | 5317.633 | 5293.782 | 0.45 |
| Kuala Lumpur | 1692.22 | 1683.93 | 0.49 |
Change this year
| | | | |
| --- | --- | --- | --- |
| Market | Current | End 2016 | Pct Move |
| Singapore | 3051.78 | 2880.76 | 5.94 |
| Bangkok | 1591 | 1542.94 | 3.11 |
| Manila | 7332.64 | 6840.64 | 7.19 |
| Jakarta | 5317.633 | 5296.711 | 0.39 |
| Kuala Lumpur | 1692.22 | 1641.73 | 3.08 |