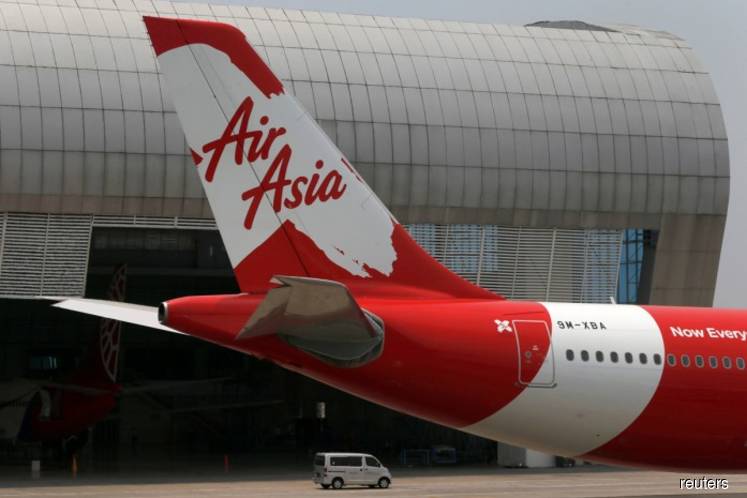 KUALA LUMPUR (Aug 30): AirAsia X Bhd (AAX) fell into the red with a net loss of RM57.46 million in its second quarter ended June 30, 2018 (2QFY18), from a net profit of RM47.44 million a year ago, as the long-haul budget airline recorded higher average fuel prices.
The group reported a loss per share of 1.4 sen for 2QFY18, versus an earnings per share of 1.1 sen in 2QFY17. 
Quarterly revenue grew 2% year-on-year to RM1.05 billion from RM1.04 billion, supported by a 13% growth in passenger volume and a 1% increase in load factor.
In spite of revenue growth, the group's net operating loss for 2QFY18 rose to RM99 million, compared with RM16 million a year before, mainly contributed by the increase in average fuel price from US$65 per barrel in 2QFY17 to US$89 per barrel in 2QFY18, AAX said in a filing with Bursa Malaysia today.
As a result, it's cost per available seat kilometre (CASK) for the quarter rose 3% to 12.96 sen.
For the first half of FY18 (1HFY18), it reported a net loss of RM15.96 million versus a net profit of RM57.77 million, despite revenue rising 5% to RM2.32 billion from RM2.22 billion.
Moving forward, the company recognises the challenges posed by the recent hike in fuel prices, and that efforts are being made to mitigate this by boosting ancillary revenue and capacity, AAX said. 
A new fare structure has been implemented and the company is actively pushing ancillary revenue, which will ultimately improve yields, while management remains focused on monitoring operating expenses to ensure better cost efficiencies to offset higher fuel expenses, the filing added.
"In order to better serve growing demand in the Asia Pacific region, the group is also planning to increase fleet size by an additional five aircraft through operating leases in the second half of 2018. The additional aircraft will be deployed to AirAsia X Malaysia and AirAsia X Thailand," it added. 
In a separate statement commenting on the quarterly results, AirAsia X Group CEO Datuk Kamarudin Meranun and Co-Group CEO Tan Sri Tony Fernandes said:
"Although passenger and cargo revenue rose, the operating performance was adversely affected by increased fuel costs, which was driven by a 36% y-o-y increase in the average jet fuel price. During the quarter, we advanced the company's long term strategy of market dominance further and ramped up additional capacity to our core markets — our confidence is further spurred by the operational results, as the company managed to serve more guests still as our new routes continue to mature. We must emphasise that patience is required before the fruits from these long-term works can be reaped.
"AirAsia X Malaysia recorded a commendable Passenger Load Factor of 81%, up by 1ppt (percentage point). The number of passengers carried saw a 13% hike to 1,568,578 passengers, as compared to the same quarter last year, exceeding our ASK capacity increase of 6% y-o-y, a feat that we view positively, given that it was expected to be the leanest quarter. AirAsia X Malaysia's revenue also saw a rise of 2% y-o-y, to RM1.05 billion, from 2Q17's revenue record at RM1.04 billion. To top it off, our ancillary business remains healthy, contributing 23% of the total revenue for the second quarter of 2018."
Plans to 'temporarily wind down Indonesia's business model in coming months'
On its associates, they said AirAsia X Thailand's performance continues to soar with a revenue growth of 41% y-o-y to US$89.7 million, with revenue per available seat kilometre (RASK) improving 7% y-o-y. Load factor was at 91% with 483,595 passengers carried, up 25% y-o-y following the delivery of an additional aircraft to their fleet during mid-April 2018; net profit came in at US$7.8 million. 
AirAsia X Indonesia's load factor was up 20 ppts y-o-y to 78%, while number of passengers carried doubled to  50,155 passengers. "A dual-hub strategy was executed in this quarter, with our Indonesian associate now operating from both Bali and Jakarta hubs to Tokyo (Narita). As Indonesia's operational environment remains challenging, we are looking at temporarily winding down the business model in the coming months," they added.
Shares of AAX closed down 0.5 sen or 1.47% to 33.5 sen today, with 10.61 million shares traded, for a market capitalisation of RM1.39 billion.