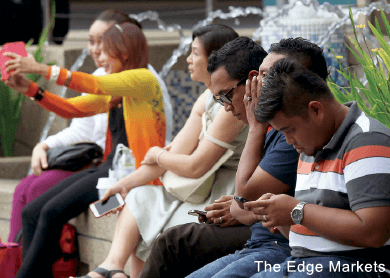 THE government's move to cut basic broadband package fees could mean heavier capital expenditure (capex) requirements for service providers — something their shareholders would not be happy to hear. That, or consumers will have to make do with subpar network quality.
"If demand for these cheaper packages is overwhelming, telcos will have to gradually hike capacity or the quality of networks will deteriorate," an analyst with a local bank-backed research house tells The Edge.
"At any point in time, telcos run at 50% utilisation because the other half is required for backup capacity. It does not mean they have room to grow; it means they need to gradually upgrade capacity if take-up is high," the analyst explains.
Last Wednesday, Communications and Multimedia Minister Datuk Seri Ahmad Shabery Cheek said the prices of basic broadband packages for mobile and fixed services were expected to drop 11% and 57% respectively in one to two months.
Major local telco players — Telekom Malaysia Bhd (TM), DiGi.Com Bhd, Maxis Bhd, Axiata Group Bhd, U Mobile Sdn Bhd and Time dotCom Bhd (TdC) — have given their commitment to the price cut.
This will see packages for 1GB mobile data priced at RM25 per month, and fibre optic high-speed broadband 10Mbps packages reduced to RM179 from RM199 a month now. Fixed-line broadband packages for 1Mbps will start at RM38 a month, compared with the current RM88.
"This is good news for newcomers and for telcos to acquire new customers, but it is a negative for existing customers," says another analyst with a local research outfit.
"The more mature users do not expect the quality of their service to be compromised, but it is to be expected that as more users come on board the networks will start to get congested. The Malaysian Communications and Multimedia Commission (MCMC) has to be watchful of the increase in utilisation and look into it on an ongoing basis," the analyst adds.
In 2014, telcos registered data volume growth of 30% to 40%.
That said, some quarters are not expecting the price slash to greatly affect take-up or earnings because the pricing of the new packages is not a far cry from some of the more affordable packages being offered now.
As it stands, among DiGi's (fundamental: 1.55; valuation: 2.10) cheapest package is one priced at RM28 per month for a 1GB plan.
"Telcos could suffer some cannibalisation if MCMC's move garners strong response as existing customers switch plans," an analyst remarks.
He adds that there could be a short-term negative impact on earnings if there is an overwhelming take-up of these low-priced packages.
"It may take a few quarters to normalise and will dampen the expectation that ARPU (average revenue per unit) will continue to grow."
That said, Hong Leong Investment Bank Research is expecting fixed line providers to see more impact compared with mobile network providers.
"As for fixed players, TM will be affected the most as Internet is the largest revenue contributor to its retail segment at circa 34.9% and 26.1% to the group.  While, TdC's (fundamental: 2.4; valuation: 0.8) retail segment is estimated to contribute less than 5% to the group sales," it said in an April 16 note.
TM (fundamental: 1.0; valuation: 1.1) had a penetration rate of 70.2% in the broadband household market as at end-2014.
In the smartphone segment, Maxis (fundamental: 1.15; valuation: 1.1) has 57% penetration, while DiGi has 49%.
Across the sector, fixed line has a penetration rate of some 30% to 40% while mobile has a penetration rate of about 150% — meaning that half of total mobile users have two phones each.
DiGi is expected to be the least affected because of the small price differential to its existing prices, followed by Axiata (fundamental: 0.85; valuation: 1.1) and Maxis, HLIB Research said.
At the end of the day, what it means for the telcos taking on a larger customer base is the need to spend on capacity upgrades. This will trickle down to dividends.
As it is, Axiata and TM have dividend reinvestment schemes that could eat into dividend payouts if capex requirements rise.  (See chart.)
UOBKayHian Research analyst Chong Lee Len believes the schemes could risk a reduction in both company's dividend yields. For now, she expects Axiata and TM to see only 3% to 4% yield this year.
"[The sector] will be led by Digi's 4.3% and 4.5% yields for 2015 and 2016 respectively as Maxis is expected to lower its dividend payout from 2015 towards its free cash flow (FCF) — 36 sen per share or FCF yield of 5.2% — as the company stopped borrowing to pay out dividends," she said in a note on April 17.
On average, UOBKayHian Research expects the sector to yield 4% in dividends in 2015.
Where financing capex is concerned, Axiata and Maxis are cash-rich, sitting on net cash of RM8.78 billion and RM7.47 billion respectively as at December 2014.
TM has a comfortable RM2.99 billion in its coffers while DiGi has some RM521.4 million in hand. At the moment, TdC is the only telco player in a net debt position of RM177.4 million.
This article first appeared in The Edge Malaysia Weekly, on April 20 - 26, 2015.