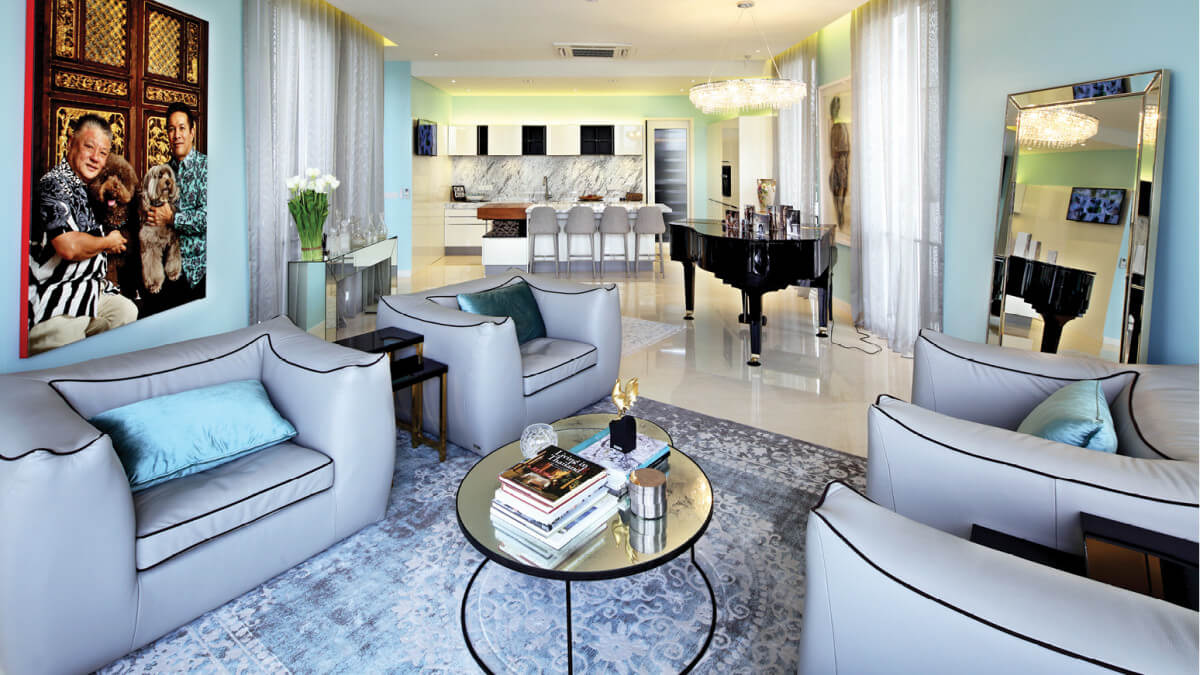 The living room and kitchen of Tan's house at Emerald Bay. Photos by Samuel Isaac Chua/The Edge Singapore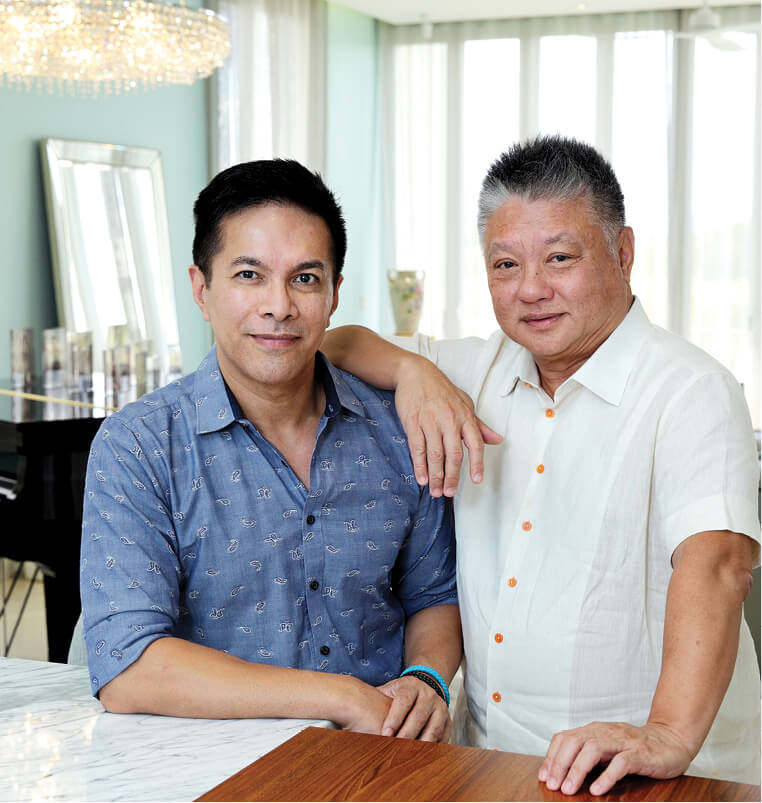 Tan (right, with Caius): I just love it here. It's about living close to nature, and the water is teeming with marine life.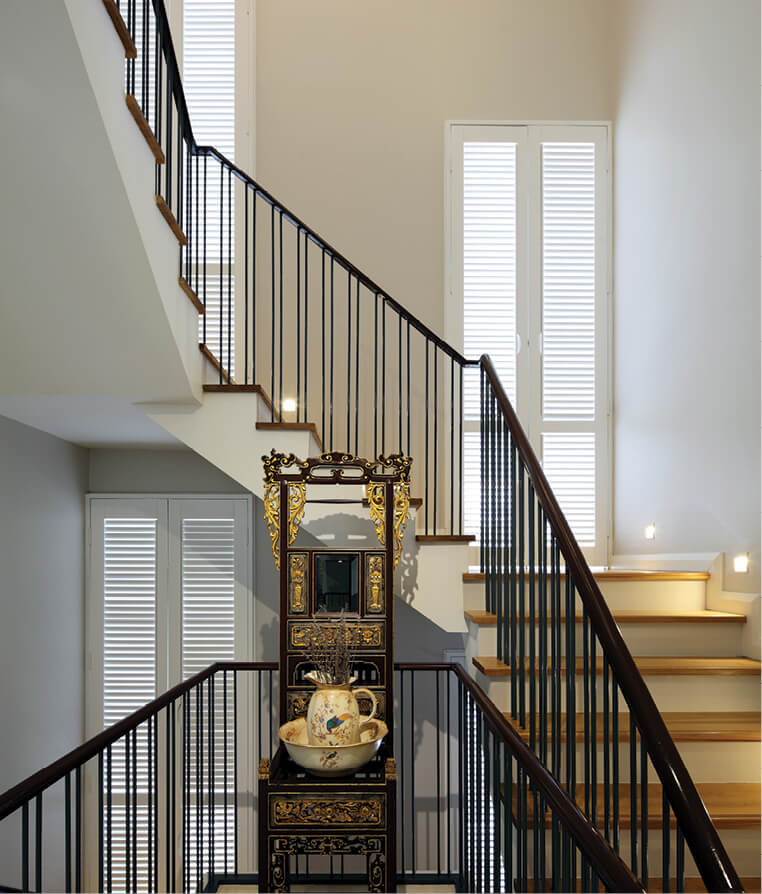 The staircase at Tan's house with its plantation shutters.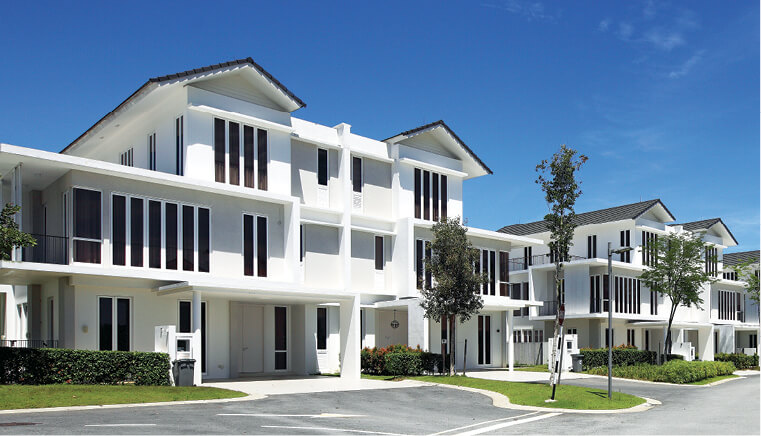 The first phase of 82 homes has been completed, with the next phase of 37 to 40 homes and an island of 12 houses to be launched next.
A decade ago, Jerry Tan would never have imagined himself marketing a Malaysian property development, much less living in one. Last year, he did just that when he moved into his new six-bedroom villa at Emerald Bay in Puteri Harbour, Iskandar Malaysia.
"If it wasn't Emerald Bay, I wouldn't have been interested," says Tan, speaking in the comfort of the spacious living room of his home while enjoying a glass of Prosecco.
In an illustrious career spanning three decades, Tan carved a niche for himself as an impresario of luxury property marketing. He founded JerryTan Residential or JTResi, with executive directors Jason Tan and Eckardt Caius (previously known as Khaiz Noor). He has handled the sales of some of the most expensive homes in Singapore — including The Marq on Paterson Hill, Goodwood Residence and The Nassim — as well as set record prices for these projects.
When Tan received the key to his villa at Emerald Bay early last year, he was feted by an entourage of 15 representatives from the developer, Haute Property, a 60:40 joint venture between BRDB Development and UEM Sunrise. Tan was the first buyer of a villa at Emerald Bay in 2012 when it was just a vision presented by the developer. "There was nothing to see then — just an empty piece of land and no waterway," he recounts.
He chose his villa based on the site plan. "I love cul-de-sacs," he says. He did not mind that the house number was 4. "No big deal," he says. "In Sydney, the number of our house is 18."
Tan and his partner Caius intend to make Emerald Bay their primary residence in the coming years. For now, it will be their second home. They have even applied for and obtained Malaysia My Second Home (MM2H) status. "It's good for 10 years," says Tan. "When we come in, we no longer have to stamp our passports."
The cancellation of the Kuala Lumpur-Singapore high-speed rail project "is inconsequential", says Tan. "The people who buy homes in Emerald Bay are not interested in public transport."
Making the switch
For Singaporeans such as Tan, the lure of Iskandar Malaysia is its proximity to Singapore and the ability to stretch one's dollar. For instance, in 2012, the same year that Tan and Caius purchased the villa at Emerald Bay for RM6.08 million, the pair also picked up a four-bedroom apartment of close to 1,600 sq ft on Alexandra View, in Singapore's city-fringe area. It was a high-floor unit with sweeping views and was intended to be the pair's "city apartment".
However, having decided to move to Emerald Bay instead, they sold the apartment on Alexandra View in February this year for S$2.92 million. The decision to move to Iskandar Malaysia was obvious, says Caius. "For the budget we had — S$3 million — where can you live in Singapore? Even a 99-year leasehold, four-bedroom unit on the city fringe costs S$2.9 million today."
The villa at Emerald Bay sits on a freehold site of about 6,300 sq ft. The house spans three floors and has a built-up area of about 6,000 sq ft. There are six bedrooms, of which five are en suite. The house comes with a built-in platform lift, a swimming pool, fully equipped wet and dry kitchens, fully fitted bathrooms as well as a private berth.
Stretching the dollar
Before moving in, the couple decided to renovate the villa to suit their needs. They spent RM1.5 million (S$503,618) in that effort. The basement level was enclosed and air-conditioned, with one room converted into a sports bar and the other, a formal dining room. The car porch was extended and a side entrance was created so that the pool man and gardener need not have to enter the house.
The melamine kitchen countertop was replaced with marble. The mechanical and electrical system was changed, the air-conditioning units were replaced, and one of the bedrooms was converted into a private cinema. Another RM250,000 was spent on landscaping.
Apart from the home entertainment system in the private cinema that was installed by the vendor from Singapore, the renovation works and most of the other furnishings were locally sourced. Tan was recommended to visit Maestro Perfect Home Store in Johor Bahru, and he engaged them to customise the leather lounge set in the living room and the recliners in the private cinema.
"The materials were imported but everything was locally made," says Tan. "We were quite surprised at how good they were. It's really about stretching the dollar here." This is despite the ringgit having strengthened about 4% to RM2.98 against the Singapore dollar compared with RM3.11 a year ago.
In Singapore, the equivalent of Emerald Bay is Sentosa Cove, where all the residential properties, including the waterfront villas, are 99-year leasehold. The latest transaction of a villa at Sentosa Cove was for a detached house on Paradise Island that sits on an 8,170 sq ft site. It was sold for S$12 million (S$1,469 psf) at end-May.
Nature beckons
In fact, the developer of Emerald Bay had modelled the waterfront development after Sentosa Cove. The master-plan architect for Emerald Bay is world-renowned WATG, the architectural design firm behind the Shangri-La Maldives, Four Seasons Dubai Jumeirah Beach and The W Singapore Sentosa Cove.
At 111 acres (44.9ha), however, Emerald Bay is just 38% the size of Sentosa Cove. Sentosa Cove sits on 117ha of reclaimed land and has a total of 2,000 luxury condominium units and 300 houses. The RM4 billion Emerald Bay, on the other hand, will have a total of 1,649 homes, including 250 houses, to be built in 12 phases over the next eight years.
Haute Property spent at least RM60 million on the infrastructure of the waterfront development, including building a canal to channel water from the sea into the development, as well as lock gates to control the water level. The canal, which ranges from 30m to 60m wide, took 1½ years to build. It links Emerald Bay to the open sea as well as Puteri Harbour, where there is a Customs, Immigration and Quarantine checkpoint.
Tan is looking forward to the ferry service from Singapore's HarbourFront terminal to Puteri Harbour, which has yet to take off. "My mahjong friends can then take the ferry from Singapore to Puteri Harbour and I can pick them up from there," he says. It's just a five- to 10-minute drive from Puteri Harbour to Emerald Bay.
Tan is impressed by the marine life at Emerald Bay. "I just love it here. It's about living close to nature, and the water is teeming with marine life," he says. Since moving into his new home, Tan has not only been visited by his "mahjong party friends" from Singapore but also by a pair of otters, a giant iguana and several ducks.
Resident agent
Tan was recently appointed chairman of the joint management committee at Emerald Bay. He considers himself a "resident agent", as he has been appointed a marketing agent for Emerald Bay by the developer.
Of the 82 houses in the first phase, only two villas, two terraced houses and a handful of semi-detached houses are still available for sale, he says.
The next phase to be launched is an island of 12 houses, which will be ready in the coming months. These 12 houses will be priced between RM12 million and RM17 million. Another phase of 37 to 40 houses is in the pipeline, with houses priced in the RM10 million-to-RM11 million range.
Tan intends to showcase the next phase of Emerald Bay in Singapore towards end-July. This will be followed by a roadshow in Jakarta and Hong Kong.
According to Tan, having experienced the entire process himself, he will be in the best  position to advise potential international buyers — from purchasing to financing, applying for the MM2H scheme and furnishing their new home at Emerald Bay. "And I can show them my house," he adds.
Having turned 60 six months ago, Tan has decided to opt for a simpler life, without compromising on his lifestyle. That prompted the move to Emerald Bay. "We have settled here comfortably," he says. "In a short time, we've already discovered where to eat, where to shop, and it's amazing what you can buy online."
For now, Tan and Caius intend to maintain their primary residence, located at Changi Grove, in the eastern part of Singapore. The couple purchased the freehold property in 2007 and redeveloped it. The house, which Tan and Caius have named "Pondok Indah", sits on a 6,253 sq ft site and has a built-up area of about 6,000 sq ft, which is similar in size to the villa at Emerald Bay. The Singapore household currently includes two domestic helpers, two dogs and a cat.
Tan and Caius spend at least two days a week at their new home at Emerald Bay, which they have also named Pondok Indah. They intend to hire a third domestic helper solely for the house.  They are shopping for a boat next. "What's the point of having a private berth if you don't have a boat?" Tan says.
This story first appeared in EdgeProp.sg pullout on June 11, 2018. Download EdgeProp.my pullout here for free.