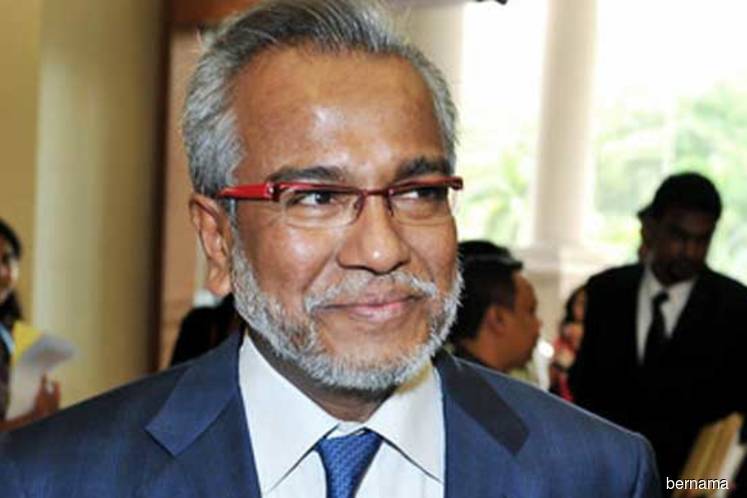 KUALA LUMPUR (April 22): Lawyer Tan Sri Muhammad Shafee Abdullah today failed in his bid to recuse former Federal Court judge Datuk Seri Gopal Sri Ram from leading the prosecution in his RM9.5 million money-laundering case.
High Court judge Collin Lawrence Sequerah made the decision on grounds that are "more or less similar" with his decision on a similar application by former premier Datuk Seri Najib Razak in a separate case on March 1.
Among others, Sequerah said the court did not find any merit to suggest that Sri Ram was involved in the investigations on 1MDB-related cases, or that he would be biased against Shafee when handling the case, as suggested by the defence.
As such, Shafee's trial date has not been changed from July 8-11 and July 15-18. It is unclear if Shafee will appeal against the decision, as was done in Najib's 1MDB case.
Shafee had filed the application to disqualify Sri Ram because the latter had acted as the lawyer for PKR president Datuk Seri Anwar Ibrahim at the Court of Appeal in a civil case relating to the RM9.5 million issue.
Sri Ram was roped in as a senior deputy public prosecutor on a part-time basis in August last year to assist with 1MDB-related cases, according to a statement by Attorney-General Tommy Thomas at that time.
On Sept 13 last year, Shafee pleaded not guilty to two counts of money laundering and two counts of making false statements involving RM9.5 million received from Najib in 2013 and 2014.
Shafee told reporters that day that he had received the money for backdated work done for Barisan Nasional and Umno "since the time of Tun Mahathir" when the latter was the fourth Prime Minister.
On Sept 20, Najib pleaded not guilty to 21 money laundering charges and four counts of abuse of power over the transfer of RM2.28 billion allegedly from 1MDB. Hearing is set to begin on May 14.
The appeal against the High Court decision to reject Najib's application to recuse Sri Ram in this case is set for hearing tomorrow.