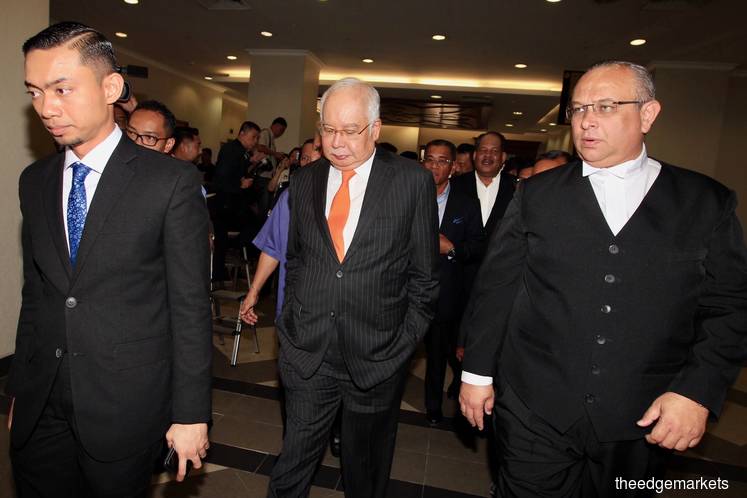 KUALA LUMPUR (Nov 11): Once Malaysia's highest ranking politician, Datuk Seri Najib Razak has today been ordered by the High Court to enter his defence for the three criminal breach of trust, an abuse of power and three money laundering charges involving RM42 million of SRC International Sdn Bhd funds.
Justice Mohd Nazlan Mohd Ghazali in his decision found the prosecution has proven a prima facie case against the former premier.
The prosecution is led by Attorney General (AG) Tan Sri Tommy Thomas, appointed deputy public prosecutor (DPP) Datuk V Sithambaram, deputy head of the criminal division AG's Chambers Datuk Ishak Mohd Yusof, Datuk Suhaimi Ibrahim and other DPPs.
Tan Sri Muhammad Shafee Abdullah along with lawyers Harvinderjit Singh, Farhan Read and others appeared for Najib.
Najib is charged with abuse of power under Section 23 of the Malaysian Anti-Corruption Commission of using his position as the prime minister and Finance Minister to commit bribery involving RM42 million when he participated in or was involved in a decision on behalf of the Malaysian government to provide government guarantees for loans from the Retirement Fund Incorporated (KWAP) to SRC International amounting to RM4 billion.
He is alleged to have committed the offence at the Prime Minister's Office, Precinct 1, Putrajaya, Federal Territory of Putrajaya between Aug 17, 2011 and Feb 8, 2012. If convicted he can face a jail term of up to 20 years and a fine of not less than five times the amount or value received or RM10,000, whichever is higher.
The Pekan MP and former Umno president also faces three criminal breach of trust charges as the PM and finance minister and adviser emeritus to SRC, and in those capacities entrusted with the control of funds belonging to SRC totalling RM4 billion, having committed CBT to the sum of RM27 million, RM5 million and RM10 million.
All three offences under Section 409 of the Penal Code are allegedly carried out between Dec 24, 2014 and Feb 10, 2015 at AmBank Jalan Raja Chulan.
For CBT, the 66-year-old former is liable to a maximum of 20 years in jail, whipping and a fine if convicted. However, due to his age, the whipping would not be imposed.
With regard to money laundering, Najib is alleged to have received RM27 million, RM5 million and RM10 million respectively, which were proceeds from unlawful activities via Real Time Electronic Transfer of Funds and Securities (Rentas) into two AmIslamic Bank Bhd accounts of his, bearing the numbers 2112022011880 and 2112022011906 at AmIslamic Bank Bhd, AmBank Group Building, 55 Jalan Raja Chulan, Kuala Lumpur between Dec 26, 2014 and Feb 10, 2015.
If convicted, he stands to face a maximum of 15 years in jail, and a fine of up to RM5 million or five times the amount, whichever is higher, for each charge under Section 4 of the Anti-Money Laundering, Anti-Terrorism Financing and Proceeds from Unlawful Activity 2001.
A total of 57 prosecution witnesses testified in the trial, which had lasted 60 days.
Justice Nazlan has fixed Dec 3 to 19 for Najib and the defence witnesses to testify.
The Edge is reporting the proceedings of the SRC trial live.
Users of The Edge Markets app may tap here to access the live report.