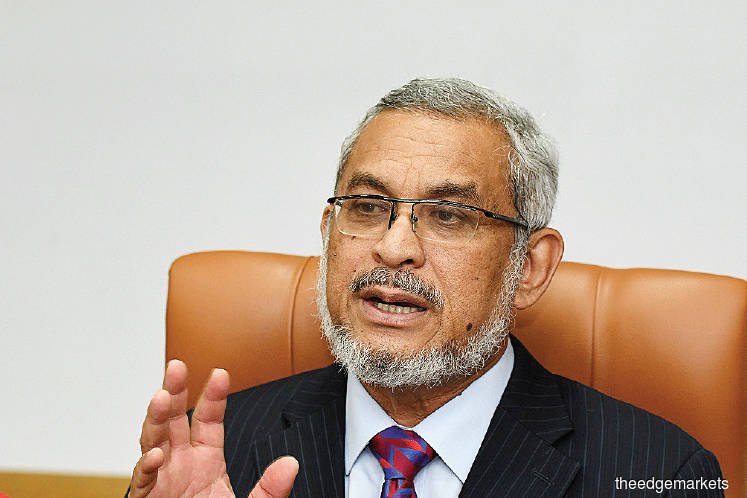 KUALA LUMPUR (May 28): The High Court here today defers delivering its decision on the defamation suit filed by Federal Territories Minister Khalid Abdul Samad against Malaysia Islamic Strategic Research Institute (IKSIM) CEO Professor Datuk Mahamad Naser Disa over the RUU355 issue to July 17.
Counsel Faiz Fadzil, who acted for Khalid, told theedgemarkets.com that High Court Judicial Commissioner Rohani Ismail, in chambers today, ordered Mahamad Naser's counsel to file further submission on quantum by June 24, before the High Court ruling.
Damages to the quantum refers to the amount of damages that a person is seeking or that the court is to award the affected plaintiff (in this case Khalid).
Khalid filed the suit in December 2017 when he was still an ordinary Shah Alam Member of Parliament, claiming that Mahamad Naser had issued defamatory statements relating to the RUU355 issue.
He alleged that Mahamad Naser made the statement in a seminar organised by the Selangor Islamic Religious Department (JAIS), at Masjid Tengku Ampuan Jemaah, Bukit Jelutong, in Shah Alam at 9.50am on Sept 28, 2017.
Khalid alleged that Mahamad Naser's statement had given the impression that he was against RUU355 and that the statement had tarnished his reputation.
RUU refers to Syariah Courts (Criminal Jurisdiction) Act which PAS wants to amend through a private members bill.
Khalid is seeking general, aggravated and exemplary damages as well as an apology from Mahamad Naser.
On Jan 30, 2018, Mahamad Naser had filed an application to strike out Khalid's amended statement of claim on grounds that it was an abuse of the court's process.
He also claimed that the legal action was unreasonable and he had never named Khalid in his statement.
However, his application was dismissed by the High Court on May 30, 2018 as the court is of the view that there were issues that needed to be tried in the case.