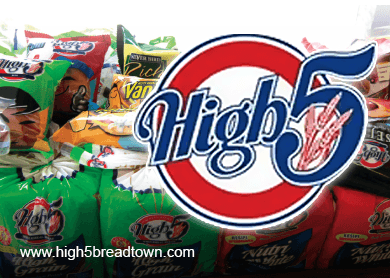 KUALA LUMPUR (June 27): High-5 Consolidated Bhd has confirmed it has closed down its operations, saying it is abiding by a court order requiring all occupiers to vacate the premises which the bread maker was operating from.
In a statement today, High-5 said since the court order required the group to vacate the premises by July 3, it had no alternative but to close down its operations.
The order was obtained by AmanahRaya Real Estate Investment Trust (Amanahraya REIT), being the property owner, through CIMB Islamic Trustee Bhd.  
Over the weekend, several dailies reported that High-5 (fomerly known as Silver Bird Group Bhd) had ceased its operations on June 23. Employees were quoted as saying their employment was terminated immediately, and that they were only given a half-month salary as compensation.  
In response, High-5 denied that the employees were terminated immediately, saying they were given a one month notice of termination of their employment, starting June 23. Hence, the termination date would be July 22, it said.  
"To improve their opportunity to find alternative employment, we have dispensed with the requirement for most of the employees to report to work during their notice period. A half month advance on their salary for the month of June has also been paid, as assurance to the employees of our earnestness to pay the remaining half month's salary before Hari Raya," it added.  
High-5 said liquidators are being appointed to operating companies, and that all employees will be treated equally in accordance with the law.  
It assured employees that it is making every effort to examine how the remaining employee salaries, benefits and allowances can be paid as soon as possible.
"In addition, we have contacted other agencies and employees to try to arrange employment for our people. A number of these are foreign nationals and efforts are being made to ensure their wellbeing," it added.  
Established in 1960, High-5 has over the years, become one of the dominant bakery and confectionery manufacturers in the country, via its products under the "High 5" and "Silverbird" brands. It had also acquired Pastryville, a retail chain of premium pastry selections, with presence in various locations in the Klang Valley.
But it has been a bumpy road to High-5 since 2006. Its factory was ordered to shut down for two weeks and its halal certification withdrawn, following an inspection by the Negeri Sembilan Health Department.  
Then in February 2012, High-5, whose substantial shareholders include Berjaya Corp Bhd (16.7%), Lembaga Tabung Haji (5.84%) and Koperasi Permodalan Felda Malaysia Bhd (12.7%), dropped a bombshell when it announced the discovery of a RM112 million (which later turned out to be RM297 million) hole in its finances.
The board of directors, led by chairman Datuk Gan Khuan Poh, immediately suspended Silver Bird's then group managing director Datuk Jackson Tan, executive director Ching Siew Cheong, and general manager of accounts and finance Lai Poh Mei.
Subsequently, it filed a RM125 million civil suit against Tan, Ching and Lai in August 2012.  
With its cash running low, the bread maker was forced to cut production to one shift, and downsize its distribution network from 12,000 to 7,000 outlets. This caused a sharp drop in its market share to 8%-10%, from as high as 18%, before it ran into trouble.
It was then made a Practice Note 17 (PN17) company. Its securities were delisted from Bursa Malaysia in 2014, after it failed to mend its financials, with over RM37.23 million in losses for the nine months ended July 31, 2014, compared with RM38.5 million in the previous corresponding period.