This article first appeared in Digital Edge, The Edge Malaysia Weekly, on June 27, 2022 - July 03, 2022.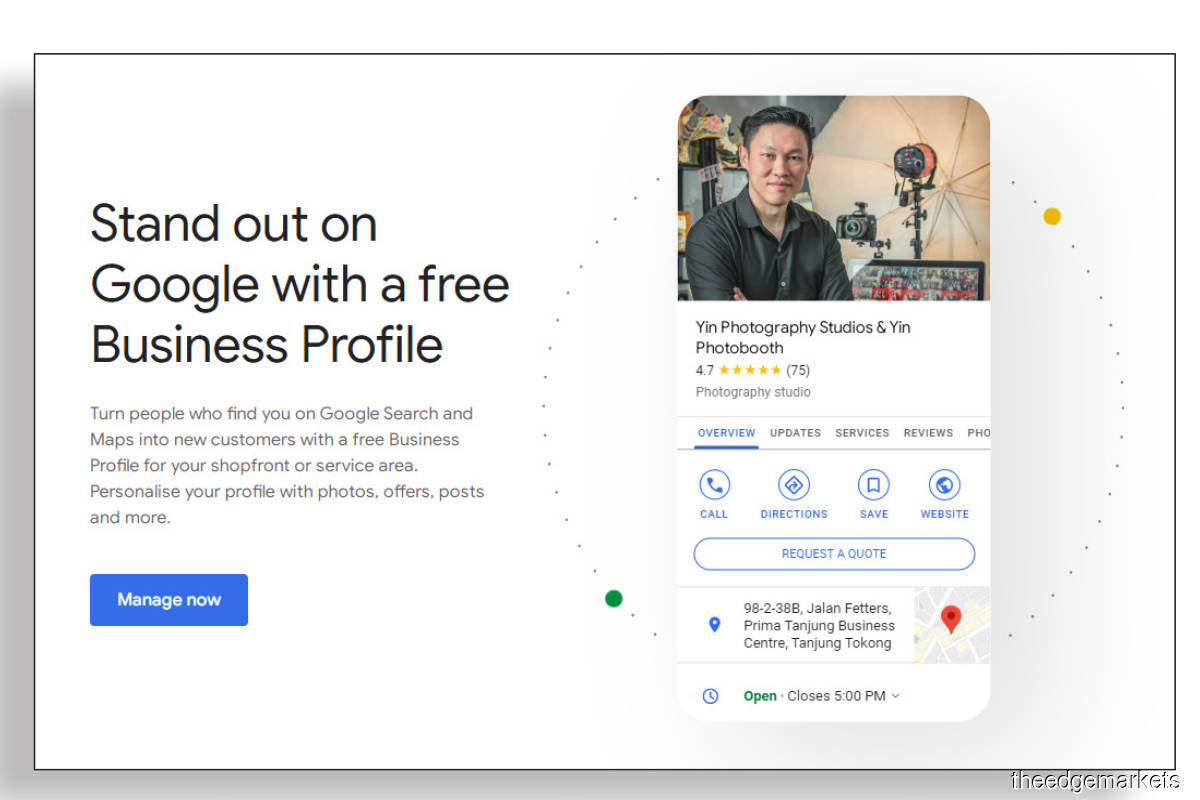 The internet has been a pivotal tool for businesses to grow a strong online presence, allowing them to build their brand and gain the credibility to attract more customers.
Google, the internet's most popular search engine, wants to make this easier with Google Business Profile, which simplifies the process of finding businesses on Google Maps and Search. Businesses are able to claim, verify and edit directly on Maps and Search. 
Small and medium-sized businesses (SMBs) make up almost 97% of all businesses and employ more than half of the workforce, especially in the Asia-Pacific region, according to the Asia-Pacific Economic Cooperation. Many SMBs, however, lack the resources and skills to establish their online presence. 
Google Business Profile is one such tool to help businesses kick-start their journey, says Fiona Herring, senior product manager of Google Business Profile, in the latest Google Decode Series.
Herring says that the functionality and navigation ultimately help SMBs provide information, be found for what they offer, add features of their business (such as wheelchair access, women-led or LGBTQ-friendly services) and connect with customers. 
Local SMBs have been undergoing digital skills training through "Mahir Digital Bersama Google". The programme, which is part of Grow with Google, provides free online training resources for Malaysian SMBs to utilise digital tools. It teaches users how to leverage on Google Ads, for instance. So far, 40,000 Malaysian small and medium-sized enterprises (SMEs) have undergone training to be future-ready. 
With the Google Business Profile tool, companies affected by the Covid-19 restrictions were able to survive the ordeal and reach out to customers online, says Herring. 
To keep the platform as customer-friendly as possible, Google Maps' group product manager Pavithra Kanakarajan says that a combination of policies, people and technology ensures that public reviews left on the platform are reliable. There are also policies around the type of businesses that can use the Business Profile. 
Reviews are important for both business and consumer, especially when a business is brand new. The reviews written by consumers guide potential new customers in discovering new places and services. 
For businesses, these reviews provide an opportunity to receive feedback and respond to customers directly. This inadvertently shows customers that the business values their opinion. 
According to Pavithra, Google uses machine learning (ML) to scan through all reviews for policy violations. When there are no apparent violations detected, the reviews often go live in a matter of seconds. 
The reviews are continuously monitored after that, too. Hundreds of signals are used by the ML models to learn and adapt patterns based on good and bad training data, backed by insights from people. A team of operators also helps with reviewing flagged content and applying proactive measures, especially during high-profile events. 
In 2021, the team blocked 100 million abusive edits and successfully removed seven million fake Business Profiles with the assistance of ML models, which improved Google's ability to trace bot activity and unearth suspicious activity.