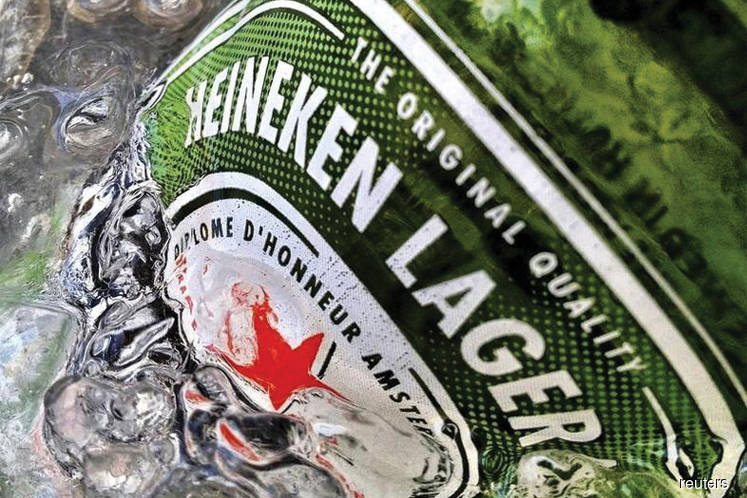 *This article has been updated to correct paragraph 4 on the items affected by the price increase*
KUALA LUMPUR (Feb 18): Heineken Malaysia Bhd, which had raised prices of its beers by up to 5% last April, is hiking up prices again from March 1 this year, due to rising costs.
In a letter to trade partners sighted by theedgemarkets, Heineken wrote that "this adjustment is necessary due to continued increase in operating cost", adding it has decided to "implement a selective price adjustment, after having considered all possible steps".
"We are mindful of consumer sentiments and the impact of a price adjustment on sales. We have done our best to keep the adjustment to be as minimal and least disruptive possible," Heineken said.
According to its new price list, Heineken is raising prices of some of its products — Anchor, Kirin, Tiger, Guiness, Paulaner, its namesake Heineken, as well as Strongbow British Dry — by between 5% and 7.14% per pack. Its non-alcoholic beverage Malta will also be raised by between 3.63% and 6.99%.
Last December, Heineken managing director Roland Bala had hinted that the brewer would increase its prices if necessary, and very selectively, when asked if there will be another round of price increase.
At the time of writing, there is no news as to whether Carlsberg Brewery Malaysia Bhd will follow suit with the price hike.
Heineken's shares closed 10 sen or 0.34% higher at an all-time high of RM29.58 on yesterday (Monday, Feb 17), valuing the company at RM8.94 billion. Over the past year, the counter has jumped 40.1% from RM21.12, adding RM2.56 billion to its market capitalisation.
According to Bloomberg, there are 10 research houses covering the stock with nine Buy calls and one Hold rating, and a consensus target price of RM29.19.
Carlsberg shares, which rose 20 sen or 0.56% to close at RM36.20 on Monday, are also at a record high. It has a market capitalisation of RM11.07 billion. The stock has surged some 63.2% from RM22.18 a year ago, which added over RM4 billion to its market value.
Not unexpected
UOB Kay Hian research head Vincent Khoo told theedgemarkets that the timing and quantum of the price hike are not unexpected, given the company's need to pass on annual cost increases.
In addition, there has been "decent" industry volume growth in recent years, which indicates consumers' ability to largely absorb the price hike, Khoo said.
"Timing-wise, price hikes have historically been taking place at the end of 1Q (the first quarter) or 2Q," Khoo said, adding that the latest price changes are in line with previous price increases.
Another analyst, who spoke on condition of anonymity, said the price hike would definitely lead to higher revenue and earnings, which would likely boost Heineken's share price even higher. "Investors may also see Heineken as cheaper alternative, compared with Carlsberg," the analyst said.
While the analyst is of the view that now "may not be a good condition to raise prices" given the economic situation, the analyst believes "the industry is quite protected in a way", and that the industry is "relatively recession-proof".
"Whether times are good or bad, people drink," the analyst added.