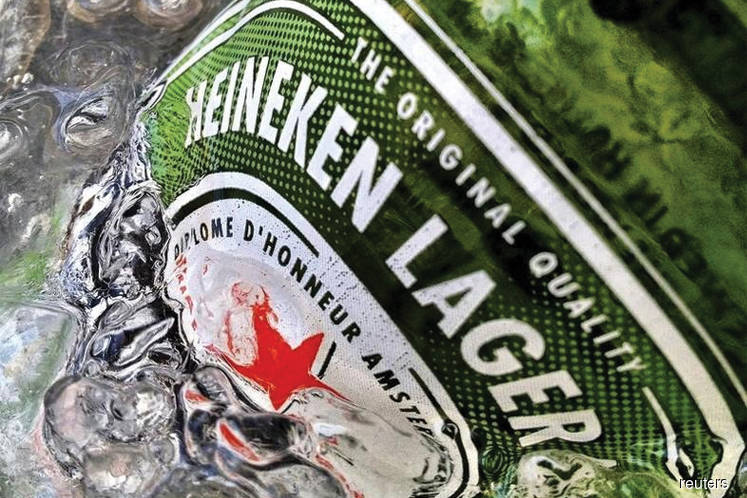 KUALA LUMPUR (Aug 28): Heineken Malaysia Bhd's second quarter net profit fell 10.85% to RM54.90 million, from RM61.58 million a year earlier, mainly on higher advertising and promotional expenses, timing of commercial spend in the execution of the group's football campaign and changes in product mix.
Earnings per share for the quarter ended June 30, 2018 dropped to 18.17 sen from 20.38 sen, the brewer said in a filing with Bursa Malaysia today.
Quarterly revenue rose 6.38% to RM421.57 million from RM396.27 million previously, mainly on effects of the month-long football campaign and increase in sales volume as a result of trade loading prior to a price adjustment on April 15.
The group declared an interim dividend of 40 sen per share, payable on Oct 25.
For the first two quarters of the year, net profit fell 6.24% to RM103.66 million from RM110.55 million in the previous corresponding period, while revenue rose 8.43% to RM855.38 million from RM788.87 million.
Heineken Malaysia managing director Hans Essaadi expects market conditions to remain challenging with intensifying competition and continued threat from contraband beer.
"The group will continue to pursue sustainable growth opportunities and drive efficiencies by strengthening its commercial strategies and execution whilst it remains cautious in managing changes in the external environment, including the impending reintroduction of the sales and services tax," Essaadi added.
Heineken Malaysia's share price fell 50 sen or 2.21% to close at RM22.08 today, valuing the group at RM6.67 billion.