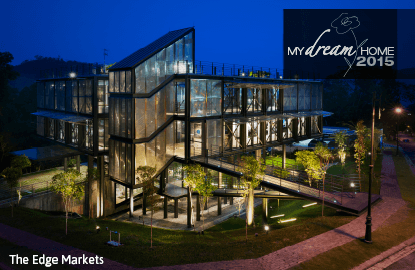 This article first appeared in haven,digitaledge Weekly, on Issue #75 October + November 2015.
A dream home
Urban living has seen the notion of home progress to one that goes beyond a purely physical need. Today, it has psychological and emotional connotations that embrace security, privacy, togetherness and peace. 
Like blank canvases, a home takes on the personality of its occupants who transform it into a haven that meets their various needs. Social areas and private corners have to be defined, everyday interaction with the décor has to be thought through and functionality has to meet aesthetics to create a pleasing yet practical sanctuary. Thus, the collaboration between architect and homeowner relies on mutual understanding and trust — the end result, after all, is a living, evolving space that will bear witness and cater for the journeys of those who reside within its walls.
In this edition of haven/The Edge My Dream Home, we showcase a sumptuous spread of ideas, materials, textures, colours and spaces. As you flip through the pages chronicling the stories of detached/semi-detached, terraced, condominium and green homes, we hope you, too, will draw inspiration and pleasure from these manifestations of a dream home.
Cantilevered above a grassy incline, this unique home fashioned from steel and glass has a constant connection with nature
IN simplicity, there lies great genius. When you scale things down, it is easy to see what matters most of all. That is the brilliance behind KS Liew's house in Country Heights Damansara — an unconventionally designed home that sits atop a web of columns and is cantilevered above a grassy incline. Although it looks complex and complicated, the distinctly modern home features a design that simply and elegantly pays homage to the land it sits on and to its owners' needs.
"I had moved a lot before and I had worked with other architects who never quite understood what I wanted," Liew says. "In creating my dream home, I wanted something unusual and unconventional, but which still offered me all the luxuries of a comfortable home. This parcel of land was one of the few that was left by the time I decided to buy something here, and the incline was something I knew I could turn into something really interesting — provided I had the right architect, of course."
Fortunately, he did. Architect John Bulcock of Design Unit Sdn Bhd looked no further than the natural terroir to work out a design that is both functional and uniquely expressive of both his and Liew's personalities. "The valley greatly informed my design," Bulcock begins. "Neither of us were interested in changing the terroir in any way, we just wanted to work with it. Liew's brief was quite clear in terms of what he liked and didn't like — he's a fan of cantilevers, for example. So that's how the house took shape."
Visually, the house looks complicated with its complex web of steel columns and glass structures. Yet, Bulcock insists that the architecture is quite simple. "It's just two L-shaped blocks, when you think about it, but arranged off-centre so the central courtyard isn't quite equal," he says, using his hands to illustrate his point. "The blocks are then supported by irregularly spaced columns to make it feel as if the whole house is floating atop the valley."
The two L-shaped blocks are arranged on top of each other — the higher, two-storey block contains the family's living space, including a kitchen, hall and bedrooms for the couple and their two young children. The master suite opens out to a small rooftop garden, with a bigger one on the top that's ideal for entertaining or even relaxing alone in the company of the view. The vista from this windy vantage point includes that of an empty plot of land that's overgrown in a beautifully haphazard way only nature could have designed.
A cool colour scheme pervades the hall area with darkened cement and steel accents, highlighted by plush light-coloured furniture and a colourful striped carpet. A library on the upper level overlooks the hall space, and although Bulcock has seen fit to install a steel ladder to access it, Liew vehemently discourages us from climbing it. "It is only for show, okay," he smiles. "The children aren't allowed to climb it so I wanted it removed, but John says to leave it there since it's a design element too."
Sharing the open-concept living space is an industrial and fully functional kitchen that's neatly packed into a floating island, and a lengthy dining table with remarkably comfortable chairs that make it far too easy to overstay one's welcome.
A focal point of this level is the powder room that doubles up as a witty design feature — on a background of white, small black tiles on the interior walls spell out the names of various architects, along with a quote from Sir Winston Churchill. What's even more interesting are the external glass walls, which provides zero privacy to anyone who wants to use the facility. "There are retractable blinds, of course," Liew laughs, adding that his four-year-old daughter is the only one who never bothers with them.
The bedrooms are designed as simply as the rest of the house — cupboards are replaced by exposed racks and shelves, while the bathrooms are merely extensions of the space, separated with just a glass wall at one end of the room. "No wasted space on doors and walls," Bulcock observes, and he's right as the additional space in each room is noteworthy.
The lower block is purely for entertainment — it houses a gallery to display Liew's impressive collection of movie and comic book memorabilia and a fully equipped home cinema. This block is topped by another rooftop garden along one stretch of the L, with an infinity swimming pool occupying another.
Access to the two blocks is via a series of suspended steel ramps that cut a zig-zag pattern into the valley below, meandering through adolescent trees that are slowly but surely making their way skyward.
The two L-shaped glass "boxes" that make up this home are meant to allow in as much light and air as possible, but Bulcock has put in place some ingenious solutions to temper the raw and unforgiving heat of the tropical sun. The glass walls come with a complex layer of sliding doors and louvres that can be shut to keep the rain out or opened to allow in the breeze. Everything can also be sealed shut for the air conditioning to be switched on, a structural feature that was adequately tested during the recent bout of hazy weather.
If the sun is too glaring, perforated steel sunshades provide some respite while maintaining an all-important link to nature. "The skin of the house is where the complexities are, I think," Bulcock muses. "There are multiple layers, so the family can react to the weather accordingly. And that's very much part of my ideals, which is to always have a seamless connection between the indoors and outdoors."