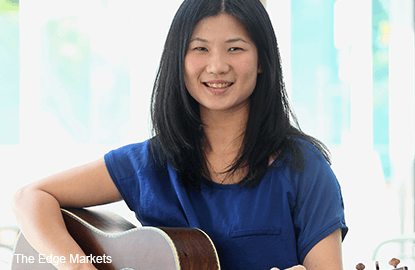 This article first appeared in Personal Wealth, The Edge Malaysia Weekly, on Jan 18 - 24, 2016.
Many of us understand the magic of music. It keeps us energetic while working out, gives us an uplift during our down days and in many instances, can even move us to tears. Music seems to have the capability to sway our emotions, but why exactly? 
Multiple research studies, including a 2013 study titled "Inter-subject synchronization of brain responses during natural music listening" by Danial Abrams and his colleagues, have shown that music is processed in all areas of the brain and that music has the ability to access and stimulate areas of the brain that may not be accessible through other modalities.
On this basis, the use of music as a form of treatment, commonly known as music therapy, was developed and introduced. Music therapy is defined as the evidence-based, scientific use of music intervention in a therapeutic relationship. Music therapists use music to actively link their clients to their psycho-emotional state to enhance social or interpersonal, affective, cognitive, and behavioural functioning. 
According to the American Music Therapy Association (AMTA), the practice of music therapy began after World War II. During the period, it was found that music was very effective in helping soldiers suffering from the physical and emotional trauma of war. Hospitals hired musicians to help the soldiers. 
Soon enough, a form of training was introduced in the 1940s and soon, it developed into an organised clinical profession. The first music therapy college programmes were developed at Michigan State University, followed by other prominent universities in the US and other countries.
Music therapy was introduced in Malaysia 20 years ago by a handful of Malaysians who had completed their formal courses abroad. Upon returning home, the therapists offered their services mainly to children with special needs. They also catered for adults with depression, psychological or emotional challenges, and those who needed palliative care, among others.
Sounds promising, but does it actually work? Countless research studies on the effectiveness of music therapy have been done, and found that it works in reducing muscle tension, improving self-esteem, decreasing anxiety, increasing verbalisation, enhancing interpersonal relationships and helping people to cope with traumatic triggers.
A 2013 study done by researchers from Singapore, titled "Music therapy as a non-pharmacological adjunct to pain management: Experiences at an acute hospital in Singapore", found encouraging results. 
Not music lessons
Registered music therapist Kuek Ser Sheen Tse says music therapists facilitate the acquisition of goals that are non-musical in nature. The goals are established according to the people with whom the therapists are working. 
"For example, in special education, the main goals we work towards are communication and social, cognitive and motor skills," says Kuek Ser, who has experience working with oncology patients at the Massachusetts General Hospital in Boston, US. 
She explains that before conducting a session, music therapists perform an assessment to find out the right approach for the client they are working with. "Before a session, we need to know the client's background, his medical history, what he can and cannot do, his musical preferences and any other useful information that he or his parents can provide." 
As music therapy is a very broad practice, different styles and approaches are used by the therapists. Thus, one therapist's sessions may differ from another. 
"We are trained by different institutions and in different ways. So, how a music therapist designs and conducts a session has to do with his strengths and preferences. How a session goes also depends on who he is working with and his relationship with the client," says Kuek Ser.
"In special education, for example, there are a lot of expressive and receptive goals such as how to listen and take instructions. Therefore, we use music to teach them how to express themselves because not all of them know how to express their feelings. In a way, we use music to open doorways for them to channel what they are feeling." 
As the sessions continue, music therapists will expand their repertoire to reflect their clients' preferences. The therapists will constantly assess their clients, observing how they respond to certain interventions to reach their intended goals. 
"If they like the music, they will immediately want to try it. When this happens, you want them to feel successful. I can choose a song they want to sing, or if they start to talk about something, I can even write a song about that. This is how we build a relationship with the patient," says Kuek Ser. 
There are different kinds of instruments a music therapist can use during the sessions. Kuek Ser says that while therapists need to know a bit of everything, most of them opt for mobile music instruments such as guitars or percussion instruments which they can easily teach someone to play in order to be effective.
"In some cases, the client can be someone with cerebral palsy who can only move a finger. So we have to be creative and design the therapy to facilitate his success. We use iPads, for example, so that he can move that finger to create music," says Kuek Ser. There are adaptive instruments available for music therapy as well.
There is a lot of misconception about what music therapy is, she adds. "When you tell people you are a music therapist, the first question is: 'So, if I am stressed, what songs should I listen to?' 
"What differentiates music therapy from other forms of treatment is that there is always a relationship between the therapist and the patient that facilitates whatever needs to take place in the session." 
Another common misconception is that music therapists are music teachers. Kuek Ser points out that while music therapy uses musical instruments to help patients learn skills by playing the instruments, it is aimed at reaching their intended goals more than anything else.