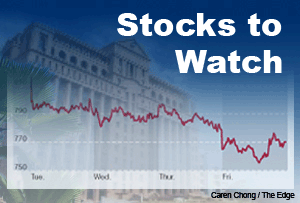 KUALA LUMPUR (Oct 16): Based on corporate newsflow and announcements made today, stocks in focus tomorrow could include HB Global Ltd, YFG Bhd, Dayang Enterprise Holding Bhd, Perdana Petroleum Bhd, 7-Eleven Malaysia Bhd and Global Carriers Bhd.
The securities of frozen food producer HB Global Ltd will resume trading on Bursa Malaysia at 9am tomorrow, after the firm submitted its outstanding financial year 2013 annual report today, a filing to Bursa revealed this afternoon.
The release of the FY13 annual report has been delayed since the June 30, 2014 deadline. The reason, HB Global said, was because it had only managed to complete and submit its FY13 audited financial statement to Bursa on July 22, 2014, instead of by April 30, 2014.
The company had said the delay in the submission of the FY13 audited financial statement was due to a change in its external auditors.
HB Global has been suspended from trading since Sept 11, 2014. The counter closed at 7 sen per share on Sept 10, giving it a market capitalisation of RM32.76 million.
YFG Bhd's wholly-owned subsidiary, YFG Engineering Sdn Bhd (YFGE), has been appointed as the nominated sub-contractor for a Klang Valley Mass Rail Transit (KVMRT) underground works package, worth RM36.72 million.
In a filing with Bursa Malaysia today, YFG announced it has accepted the appointment from KVMRT's project delivery partner, MMC-Gamuda KVMRT (T) Sdn Bhd, on Oct 7 for the "Underground Works Package for the Mechanical & Electrical Works For Package 3 (Stadium Merdeka Station)".
YFG expects the contract to contribute positively to future earnings and net assets per share of the group. It closed at 8.5 sen today, for a market capitalisation of RM57.86 million.
Oil and gas outfit Dayang Enterprise Holding Bhd has acquired an additional 7.34 million shares or a 1% equity stake in offshore marine services provider Perdana Petroleum Bhd, a filing with Bursa Malaysia revealed today.
The acquisition, done via two transactions on Oct 13 (3.34 million) and Oct 14 (4 million) at an undisclosed sum, has upped Dayang's stake in Perdana Petroleum to 25.49% or 188.24 million shares.
Shares in both Dayang and Perdana Petroleum dropped 15 sen and 13 sen today, closing at RM2.75 and RM1.53 respectively, giving them market capitalisations of RM2.41 billion and RM1.13 billion respectively.
7-Eleven Malaysia Holdings Bhd has received a consent judgment from the Kuala Lumpur High Court, that allows its convenience stores to continue to stay on, in 34 Shell stations across the country until June 2016, following a tenancy dispute with Shell Malaysia Trading Sdn Bhd that started in March 2012.
In a filing with Bursa Malaysia this evening, the convenience store operator said the consent judgment has been filed in the High Court on Oct 15, and that the two parties have achieved "a full and final global settlement of the claim and counterclaim" on a "without admission of liability basis".
This, however, is subject to a progressive handover of the sites back to Shell Malaysia, commencing July 2015, it added.
7-Eleven's counter ended 1.72% lower at RM1.71 today, giving it a market capitalisation of RM2.11 billion.
Global Carriers Bhd's securities will be suspended with effect from Oct 27, 2014, and de-listed on Oct 29, unless the company submits an appeal against the de-listing to Bursa Malaysia on or before Oct 24, a filing to Bursa revealed this evening.  
"Any appeal submitted after the appeal timeframe will not be considered by Bursa," said the exchange regulator in a statement.
Global Carriers, which provides shipping freight services, has failed to submit its regularisation plan on time.
The group posted a huge loss of RM177.53 million or RM1.06 per share for the six months ended June 30, 2014, on revenue of RM17.38 million. The loss was due to disposal of certain subsidiaries.
Its shareholders fund also showed a negative RM199.8 million or –RM1.31 per share, as at June 30, 2014.
Global Carriers shares were last traded on Oct 9 at 3.5 sen, with a market capitalisation of RM5.86 million.