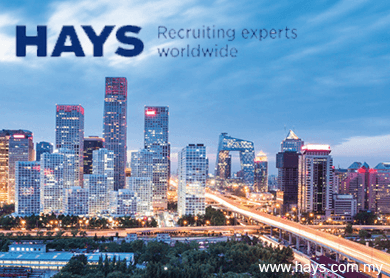 KUALA LUMPUR (Aug 23): The competition for good digital and e-commerce marketing professionals in Malaysia is expected to increase this quarter, as more international players move into the region, according to recruiting expert, Hays Malaysia.
Hays Malaysia regional director Tom Osborne said Malaysia remains a strong destination for many global businesses looking to move into Asia, with many companies choosing it as a launch pad into the region.
He added that the start-up and e-commerce ecosystem in Malaysia has benefited tremendously from the continuous support from government agencies, such as the Multimedia Development Corporation (MDEC) and Malaysian Global Innovation and Creativity Centre (MaGIC).
"The influx of investment has re-energised the market, particularly for e-commerce developments within the banking, finance technology and retail sectors.
"For example, we see traditional retail brands moving into e-commerce platforms to expand their customer sourcing channels and capture market share, as competition with mom-and-pop stores increases," said Osborne in a statement.
He added that customer experience experts are in great demand, as businesses seek to build and enhance brand association and engagement channels with customers.
"Customer experience has been a key topic on the agenda of many businesses, with social media forming a key part of a successful strategy.
"We see strong demand for marketing professionals with working knowledge of key social media channels and expertise in implementing successful social media strategies," he said.
Meanwhile, Osborne noted that as companies improve their digital platform, data collection and analysis also play an increasingly larger role.
"Curating such information and drawing insightful analysis is a top priority, as employers increasingly seek marketing professionals with data science and analysis skills to assist them in data-led decision making and shape business strategies in the long run.
"The talent pool unfortunately remains small in Malaysia", he commented.
However, Osborne said interest in the field is definitely strong and marketing professionals often make the effort to obtain relevant qualifications such as Google certifications, to improve their eligibility.
"For the right candidate, shortening of the interview process is not uncommon," he said.