This article first appeared in The Edge Malaysia Weekly, on March 25, 2019 - March 31, 2019.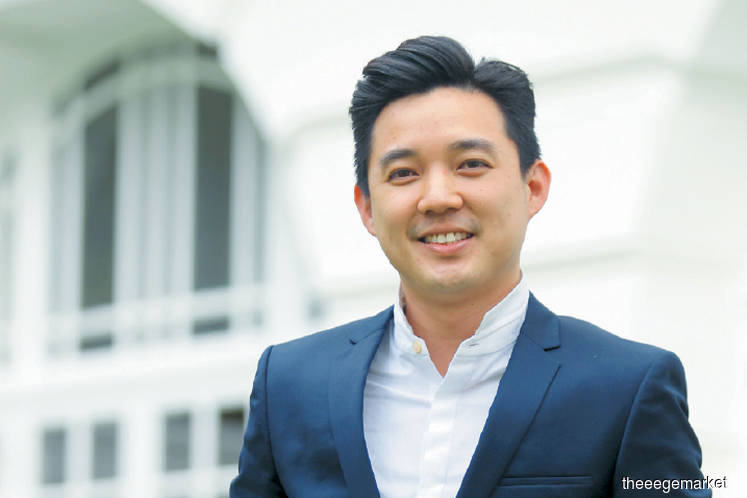 June Teng: Our listing status on the Catalist Board of the Singapore Exchange has helped to attract people from Indonesia, Vietnam, Laos and Australia, who are seeking to work with us to jointly develop projects.. Photo by Kenny Yap/Tthe Edge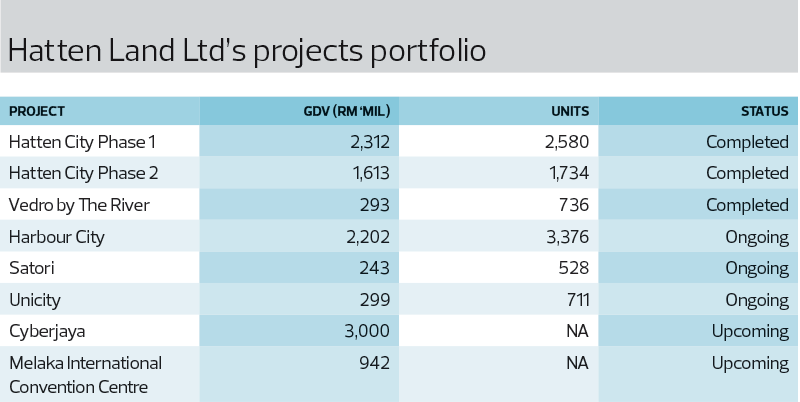 THE property market will continue to be challenging this year, says Hatten Land Ltd executive chairman and managing director Datuk Colin Tan June Teng, but this is by no means an indication that the Singapore-listed property developer will be less busy.
The 36-year-old June Teng says the group has been on the lookout for acquisitions since last year, as it anticipates that the slowdown will continue through 2020 and, with that, come opportunities to buy good companies at bargain prices.
The Melaka-based developer, which is controlled by June Teng and his family, who are from Singapore, with an 82.6% stake, is fresh off acquiring Velvet Valley Sdn Bhd for RM43 million. Velvet Valley is developing the 1.96-acre Unicity mixed-use development in Seremban, Negeri Sembilan, with a gross development value of RM299 million. The amount Hatten Land paid was a 20% discount to the independent valuation of RM53.8 million, and marked the group's maiden foray outside of Melaka.
"There are small developers who are looking to grow but are unable to given their limited means. We are on the lookout for them — we can acquire a controlling stake in their company via the issuance of shares and, with the support of our financiers, help them grow their business. They can still run the business on their own," June Teng tells The Edge in an interview in Melaka.
The group is in talks with several firms for a potential acquisition, but it will not rush into a decision. "We have to ensure it is a good deal before we say yes. These companies have developments across Peninsular Malaysia, including Kuala Lumpur."
Hatten Land will also explore opportunities abroad.
"Our listing status on the Catalist Board of the Singapore Exchange (SGX) has helped to attract people from Indonesia, Vietnam, Laos and Australia, who are seeking to work with us to jointly develop projects," says June Teng, adding that there is nothing firm as yet.
Meanwhile, the group has put new launches on hold as it waits out the slowdown in the property sector. It has postponed the launch of a mixed-use development in Cyberjaya, Selangor, with a GDV of RM3 billion, for 1½ years. The 25.55-acre project was to be Hatten Land's first venture into medical tourism and will feature retail, offices, residential and hospitality components, as well as a hospital.
June Teng says Hatten Land is mulling launching the Cyberjaya project in the third or fourth quarter this year, but much depends on market conditions.
"We have also deferred two projects in Melaka for almost two years as supply and demand conditions here have slowed. One project involves the construction of a RM942 million international convention centre on a 9.34-acre parcel in Melaka Tengah. For now, our priority is to clear off [all unsold properties] in our existing projects and wait for the property cycle to turn more favourable before we launch any new projects," he adds.
Hatten Land's current development portfolio comprises Hatten City (Phases 1 and 2), Harbour City, Satori, the Unicity and Cyberjaya projects, valued at a combined RM9.67 billion, and the RM293 million Vedro by the River retail mall.
Last year was a slow one for Hatten Land, which is reflected in its results for the first half ended Dec 31, 2018 (1HFY2019). Net profit fell 84.8% year on year to RM2.13 million, due to a one-off adjustment for lower project development cost for Hatten City Phase 2 in 2QFY2018. During 1HFY2019, the cost of sales was also higher, mainly due to higher discounts and promotional rebates to buyers for Hatten City Phase 2 and Harbour City.
June Teng also blames the group's dip in 1HFY2019 to the slower pace of expansion due to increased restrictions as a listed company. "Market conditions were also tougher."
Despite a fall in net profit, revenue for 1HFY2019 was up 8.8% y-o-y to RM108.72 million, thanks to contribution from Harbour City (57.7%), Imperio (30.7%) and Unicity (6.5%).
He notes that while this year is going to be difficult, the group expects to remain profitable for FY2019 ending June 30.
June Teng also points out that the group has unbilled sales of RM557.1 million, which will provide earnings visibility for the next two years.
For FY2019, the group's earnings will be driven by the completion of Imperio Mall, which is part of the Hatten City Phase 2 development, and Harbour City.
Hatten Land's net profit dropped 63.5% y-o-y to RM3.2 million for FY2018 while revenue fell 49.1% y-o-y to RM235.5 million due to lower revenue recognised for Hatten City Phase 2 and lower sales from Hatten City Phase 1.
The group recently set up a new mall management arm to complement its core property development business, providing an alternative revenue stream. This unit is expected to see revenue contribution from its maiden project, Elements Mall (a component of Hatten City Phase 1), from 2QFY2019.
This will be followed by Imperio Mall, where revenue contribution is slated to commence from 4QFY2019. Splash World @ Harbour City, a water theme park in Melaka, will further boost the group's recurring income after completion, expected by the end of this year.
Hatten Land also has the right of first refusal and call options to about 200 acres of land bank in Melaka, now parked under the Tan family's privately held company Hatten Group Sdn Bhd. Out of this, about 20 acres have been developed, says June Teng.
"We are also seeking investors or partners to jointly develop these 200 acres of land bank. We are open to ideas, especially in the areas of education and medical tourism," he says.
Hatten Land's cash and bank balances stood at RM105.6 million as at Dec 31, 2018, while total borrowings were RM500.6 million. Net gearing ratio was two times as at Dec 31, 2018 compared with 1.9 times a year ago.
A balancing act
June Teng is also managing director at Hatten Group. Hatten Group, which June Teng jointly owns with his brother Datuk Edwin Tan Ping Huang, who is executive director and deputy managing director of Hatten Land, is engaged in four businesses — hospitality, education, mall management and wellness.
"Currently, Hatten Group's focus is on the hospitality business. The company manages four hotels in Melaka owned by Hatten Land, with 3,000 rooms. We expect the number of hotel rooms to reach 5,000 in two years, with the addition of four new hotels in Melaka and Unicity. It is our plan to expand into the Southeast Asian market either through managing or opening our own hotels," says June Teng.
He adds that the hospitality unit may be listed in two to three years. "If things go according to plan, we will definitely do that. For now, we just want to grow it to a right portfolio size."
The company has also embarked on a project with the Sabah government to develop a floating city in Semporna.
In February, Sabah Deputy Chief Minister Datuk Dr Jaujan Sambakong, who is also the state local government and housing minister, had announced plans for a floating city, spanning 121.4ha of government land by the sea. He said the cost of the development is still being deliberated.
"The floating city will materialise within 15 years," Jaujan had said, adding that the idea and proposal for the floating city was conceptualised by Hatten Group.
June Teng says the proposed project is still in the conceptual stage. "When it is more stabilised, then we will see if it should be injected into Hatten Land."
While June Teng and his brother Ping Huang are at the forefront of Hatten Land and Hatten Group, their father Datuk Wira Eric Tan Eng Huat, who is chairman of Hatten Group, plays a big role in their success.
"It is thanks to his [Eng Huat] encouragement and foresight that we are where we are today," says June Teng.
Hatten Land's shares have fallen 61% to close at 11 Singapore cents last Thursday from 28.5 Singapore cents on its first day of trading on SGX on Feb 28, 2017, giving the group a market capitalisation of S$151.59 million.
Save by subscribing to us for your print and/or digital copy.
P/S: The Edge is also available on Apple's AppStore and Androids' Google Play.